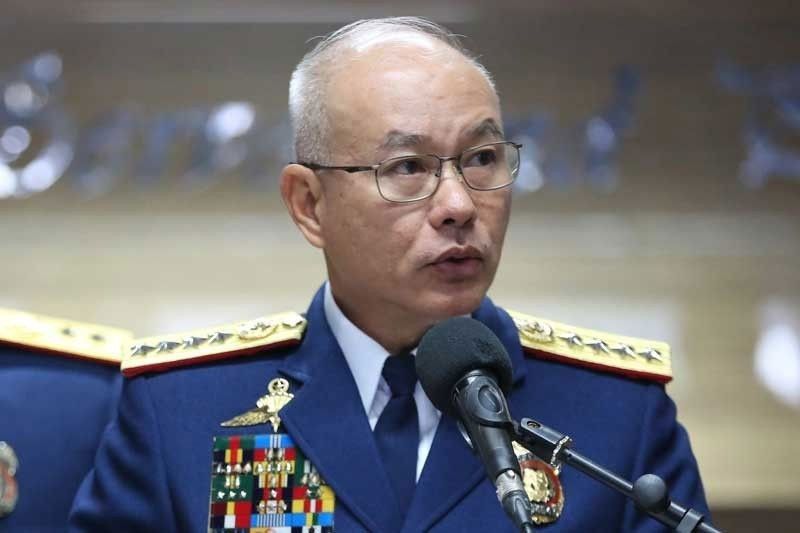 Former Police Gen. Oscar Albayalde first broached the idea to Año last Wednesday before attending the Senate hearing on the drug recycling issue.
Boy Santos
Albayalde not forced to resign – Año
MANILA, Philippines — Police Gen. Oscar Albayalde was not forced to resign as Philippine National Police (PNP) chief due to allegations he was a protector of "ninja cops" or police officers involved in recycling seized illegal drugs, Interior and Local Government Secretary Eduardo Año said yesterday.
He issued the statement even as Sen. Christopher Go, Duterte's long-time aide, told reporters the other day that the President and Año had decided to let Albayalde go on terminal leave three weeks ahead of his retirement. Go said it was Año who told Albayalde of the President's decision.
"He was not forced to resign because the President said he still has confidence and trust in General Albayalde," Año said in a television interview with GMA.
Albayalde on Monday bade goodbye to the PNP, which he led for one year and eight months amid allegations that he protected the policemen involved in an irregular drug raid in 2013 when he was Pampanga police director.
Contrary to insinuations that he was forced out of his post, Año said Albayalde voluntarily wanted to go on non-duty status to save and insulate the PNP from controversies he is facing.
Albayalde first broached the idea to Año last Wednesday before attending the Senate hearing on the drug recycling issue.
"I told him to think it over after this Wednesday's hearing and then I told him (to go) if he wanted to," Año recalled telling Albayalde.
The option of Albayalde going on terminal leave cropped up when Año had a conversation with Duterte after a Cabinet meeting on Friday.
Año said the President told him that it is up to Albayalde if he wants to go on terminal leave.
It was on Saturday that Albayalde gave his letter expressing intent to relinquish his post.
Albayalde, meanwhile, lamented that the people he expected to come to his defense abandoned him.
"Sometimes that's human nature, we tend to be judgmental," he told ABS-CBN.
Albayalde did not name the people he was referring to but sources said they could be some of his classmates at the Philippine Military Academy (PMA) Class of 1986 who did not appear to testify at the Senate hearings.
PNP officer-in-charge Lt. Gen. Archie Francis Gamboa admitted Albayalde had requested that he accompany him to the hearings at the Senate but he begged of.
Gamboa said administrative cases cannot be filed against Albayalde once he officially retires from the service on Nov. 8 and is no longer under the jurisdiction of the PNP.
Militant lawmakers said Albayalde should not be allowed to go scot-free despite his terminal leave.
Bayan Muna Rep. Ferdinand Gaite and former party-list representative Neri Colmenares said the move of Albayalde to go on "non-duty status" ahead of his retirement was an attempt "to minimize the damage that his involvement (in the ninja cops controversy) had done."
"Albayalde should not be allowed just to cool down and then be appointed to some juicy post. He must be held accountable for his actions," Colmenares said.
Gaite, for his part, believed Malacañang "may have talked to Albayalde over the weekend for him to resign and 'take one for the team' as they say."
Former Anakpawis congressman Ariel Casilao shared the same view.
"Albayalde must not escape accountability. The investigation against him must continue in the Senate and within the PNP legal procedure," Casilao said.
Senator Go said Albayalde did the right thing to quit ahead of his retirement next month.
With Albayalde out, the PNP should now move on and focus on fighting criminality, he said.
Go said he was not surprised by Albayalde's decision to go on "non-duty status" amid the ninja cops controversy.
"I know General Albayalde is also under pressure, but he did the right thing so that there'll be a new one to lead the PNP so they could now work," Go said.
"It would be difficult if you're carrying a heavy baggage… answering allegations in the ongoing (Senate) hearing," he said.
Go said he was satisfied with Albayalde's performance as PNP chief as he did everything to fight illegal drugs.
The controversy that Albayalde was embroiled in happened during the previous administration, he said.
Go called for an end to the bickering and urged all concerned to help in lifting the morale of the PNP.
He expressed his frustration over the alleged ninja cops and stressed that rogue policemen must be immediately held accountable.
"The rotten ones are only few so they must be separated from the rest so they can't infect others," Go said.
Sen. Sherwin Gatchalian, for his part, urged the Department of Justice (DOJ) to act swiftly on the reinvestigation of the policemen implicated in drug recycling.
Gatchalian said a swift and impartial investigation into the ninja cops issue would help salvage the image of the PNP.
Gatchalian added Albayalde's resignation would allow an impartial and credible investigation into the allegations against him and the other policemen involved in the November 2013 drug bust in Pampanga.
However, Albayalde's resignation should not let him off the hook from any criminal charges that may be filed against him should his involvement in the ninja cops issue be proven, Gatchalian said. – With Paolo Romero, Cecille Suerte Felipe, Edu Punay