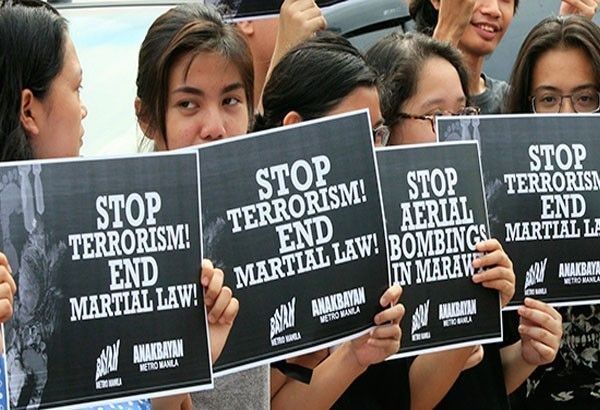 In this file photo, students hold a rally near Malacañang in Manila to mark the first month of President Duterte's declaration of martial law in Mindanao.
The STAR/Edd Gumban, File photo
Duterte is open to Mindanao martial law extension. Is that an effective response vs terrorism?
MANILA, Philippines — President Rodrigo Duterte last July expressed openness to retain martial law in Mindanao if local officials would recommend it, saying the restive region "continues to be a problem" despite being under military rule for two years.
That left the door wide open for a possible extension of what was already the Philippines' longest period of military rule since the draconian regime of late dictator Ferdinand Marcos. National Security Adviser Hermogenes Esperon Jr. had said he would propose another year of martial law in Mindanao to fight terrorists.
But analysts doubt that martial law alone would be enough to stop the growth of terror cells linked to Islamic State in the volatile south, adding that a comprehensive government response is needed to address violent extremism and insurgency.
"Martial Law sustains a climate of fear," Michael Henry Yusingco, a non-resident research fellow at the Ateneo Policy Center, told Philstar.com.
"Addressing terrorism, violent extremism, and even the communist insurgency for that matter, requires comprehensive action by government. This is not just the responsibility of the police and the military, but of all levels of government as well," Yusingco added.
Banditry, piracy and armed rebellions have plagued Mindanao for several years, stunting the region's economic growth and displacing thousands of residents who are mostly poor Muslim.
In May 2017, Duterte placed Mindanao under military rule after the principal Islamic City of Marawi was stormed by homegrown terrorists loyal to the Islamic State. It was extended for the third time last year and will expire by the end of 2019.
But despite heightened police and military presence in the region, a suicide bomber early this month died after detonating a bomb outside a military camp in Sulu province, the latest attack that rattled Mindanao this year.
"To say [martial law] is an effective response will depend on what you mean by 'effective.' I think it can be effective if we don't expect a 100% lack of terrorist events," Stephen Cutler, a security analyst and former Federal Bureau of Investigation officer, told Philstar.com in a separate interview.
"Even with the most draconian of martial law enforcement, things can still happen," Cutler added.
Not a harsh martial law
Martial law remains a sensitive issue in the Philippines after it was used by Marcos in the 1970s to perpetuate himself to power.
Many lawmakers had opposed any extension to martial law, with some arguing that a prolonged military rule cannot be "the new normal" for Mindanao.
But opinion polls suggest Mindanaons support martial law.
"I have gone on talks with people and research in various places within Mindanao and I get a sense that there is a sense among the people and the feeling among the people of improved security and safety," Cutler said.
"Now, is that only because of martial law? No, I think there's a whole lot of things that go into and martial law is only part of it," he added.
For Cutler, while the military rule in Mindanao has not been a harsh one, its implementation must be both "restrictive and constructive."
"If it's just going to be a matter of putting up roadblocks and throwing people in jail, then it's not going to be very effective," he said.
According to Yusingco, law enforcement and policing alone won't deter violent extremism, adding that the state should also work on implementing long-term and short-term solutions for Mindanao.
"Putting a premium in job creation and welfare protection in areas where people are vulnerable to recruitment by terrorist organizations is just one measure they should be seriously considering," he said.
As It Happens
LATEST UPDATE: September 21, 2019 - 11:02am
The Philippines is set to commemorate the declaration of martial law on Saturday, September 21. Monitor this page for activities and updates marking the 47th anniversary of Martial Law.
September 21, 2019 - 11:02am
Vice President Leni Robredo urges Filipinos to never forget the horror during the Marcos regime as the country marks the 47th anniversary of the declaration of Martial Law.
"Higit sa pag-alala, ang araw na ito ay isang panawagan sa ating lahat na maging kasangkapan ng katotohanan at katarungan. Isang panawagan na gampanan ang ating iisang tungkulin na siguruhing walang lugar ang kahit sinong diktador sa isang bayang malaya. Tandaan natin na walang pinuno ang mas makapangyarihan sa kaniyang sambayanang pinagsisilbihan," Robredo says.
"May magtangka mang ulitin ang madilim na yugtong ito ng ating kasaysayan, sama-sama tayong titindig nang taas-noo at sasabihin: Hindi natin hahayaang umiral muli ang kadiliman sa ating bayan. Hindi dito, hindi ngayon, at hindi kailanman," she adds.
September 20, 2019 - 3:35pm
Former Rep. Lorenzo "Erin" Tañada expresses alarm over the increasing instances of red-tagging and political harassment as the Philippines commemorates the 47th year of Martial Law.
"Every martial law anniversary is an occasion to stand for truth and spread the real stories of the dark days of terror and injustice under the 21-year Marcos dictatorship," Tañada says.
"There are no so-called alternative truths or tales from the other side of the coin. Martial law suppressed rights, caused disappearances, torture, and killings, and perpetrated systematic plunder," he adds.