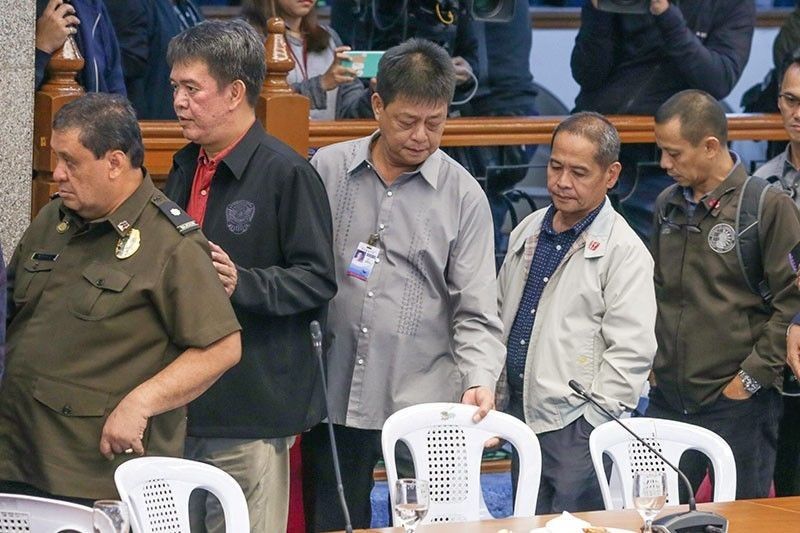 IN CONTEMPT: Bilibid hospital doctor Ursicio Cenas (left photo), Bureau of Corrections legal chief Frederic Santos and documents chief Ramoncito Roque (right photo) are escorted by Senate security officers after they were ordered detained at the Senate for contempt during a hearing last September 12 on prison irregularities.
The STAR/Geremy Pintolo
A week after detention, Senate to release BuCor officials cited in contempt
(Philstar.com) - September 19, 2019 - 6:13pm
MANILA, Philippines — Sen. Richard Gordon has ordered the release of the three Bureau of Corrections officials the Senate cited in contempt last week.
Gordon on Thursday afternoon signed the release order of BuCor officials Dr. Ursicio Cenas, lawyer Fredric Anthony Santos and documents processing chief Ramoncito Roque.
Senate releases from its detention, three Bureau of Corrections officials, who were cited in contempt for being evasive and "lying" before an inquiry into corruption at the bureau. | @PaoloSRomero

— The Philippine Star (@PhilippineStar) September 19, 2019
The Senate Committee on Justice and Human Rights had just ended its sixth legislative inquiry into the Good Conduct and Time Allowance law controversy.
"Pursuant to the provision on the Order of Arrest that they will be released if and when they [cleanse] themselves of their contumacious conduct and testify truthfully, the Committee hereby orders the immediate release of [Santos, Roque and Cenas]," the order read.
The three BuCor officials were cited in contempt on September 12. They have since been held at the Senate.
READ: All BuCor officials face ax; 3 execs detained for contempt
Senators cited the three prison officials for contempt for their conflicting testimonies before the Senate Blue Ribbon committee investigating the irregular release of prisoners under the Good Conduct Time Allowance (GCTA) law.
Sen. Ronald dela Rosa had moved to cite the three prison officials in contempt for their conflicting testimonies.
Sen. Panfilo Lacson pointed out their conflicting statements when confronted by their accuser during the hearing. He also accused them of "lying" to their faces.
The three BuCor officials on Wednesday sought relief from the Court of Appeals through a petition for writ of habeas corpus.
They asked the court to direct Senate sergeant-at-arms, Maj. Gen. Rene Samonte Jr. to "produce the body" of the petitioners and summon the respondents—Sen. Richard Gordon and Senate President Tito Sotto— before the court.
RELATED: SC: Senate's power of detention over persons cited in contempt 'not definite'
During the legislative inquiry earlier Thursday, Sotto mentioned the petition they filed before the appeals court. He also cited the Supreme Court ruling on the petition filed by fratman Arvin Balag, who was also detained, that recognized the Senate's power to cite persons in contempt. — Kristine Joy Patag with report from The STAR/Paolo Romero