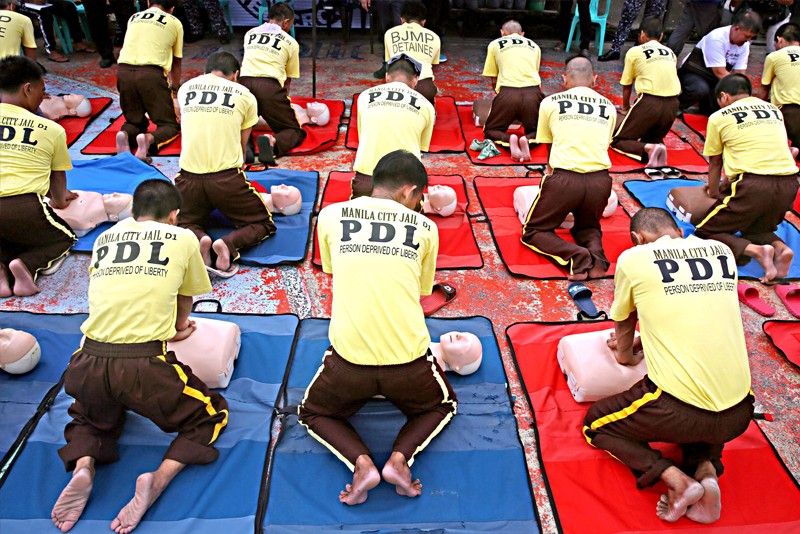 Inmates at the Manila City Jail train in first aid procedures in observance of World First Aid Day yesterday.
KJ Rosales
1,100 Manila jail inmates undergo first aid training
MANILA, Philippines — A total of 1,100 inmates at the Manila City Jail yesterday underwent basic first aid training under the Philippine Red Cross.
One of the inmates was 41-year-old Darwin, a former seaman, who said he was excited to go through the training.
He stressed it is important for people like them who have limited access to health services to gain knowledge how to save lives.
"As a seaman, I've been trained to do emergency responses like CPR (cardio pulmonary resuscitation) undergoing this training made me so excited. It was like a refreshers' course for me and I'm happy about it," he told The STAR in Filipino.
Darwin, who is facing charges of serious physical injury, said by learning first aid they could attend to their fellow inmates in case of an emergency.
He recalled that in one of his voyages as a seaman, he was able to attend to a colleague who collapsed by applying CPR on him. The patient survived.
Red Cross manager for safety services Von Ryan Ong said the training highlights the celebration of the World First Aid Day, which is commemorated every second Saturday of September since 2000.
Ong stressed the importance of learning first aid.
Ong said for this year, under the theme "First Aid and excluded people," they decided to do the training at the city jail in partnership with the Bureau of Jail Management and Penology.
"Who are the 'excluded' people? They are the persons deprived of liberty, the people with disabilities and homeless who hardly get the opportunity to learn first aid," he said.
The inmates were taught how to do CPR, Heimlich maneuver to prevent choking, bandaging, how to make splint and how to stabilize or properly carry a patient, among others.
Ong said it is important for every individual to know how to apply first aid as life-saving response in times of emergency.
"At detention facilities, if the inmates know how to do first aid, they can prevent death or minimize the damage in case help arrives late. Time is very important in an emergency," he said.
And even if ambulance arrives early, Ong said transporting the patient to a hospital can also be challenging due to traffic problems in the country.
"For example there is an injury, if you know how to stop or minimize the bleeding, it will already be a big help for the patient... During the time when the responder is not around, the first-aider plays a big role in saving the patient," he said.