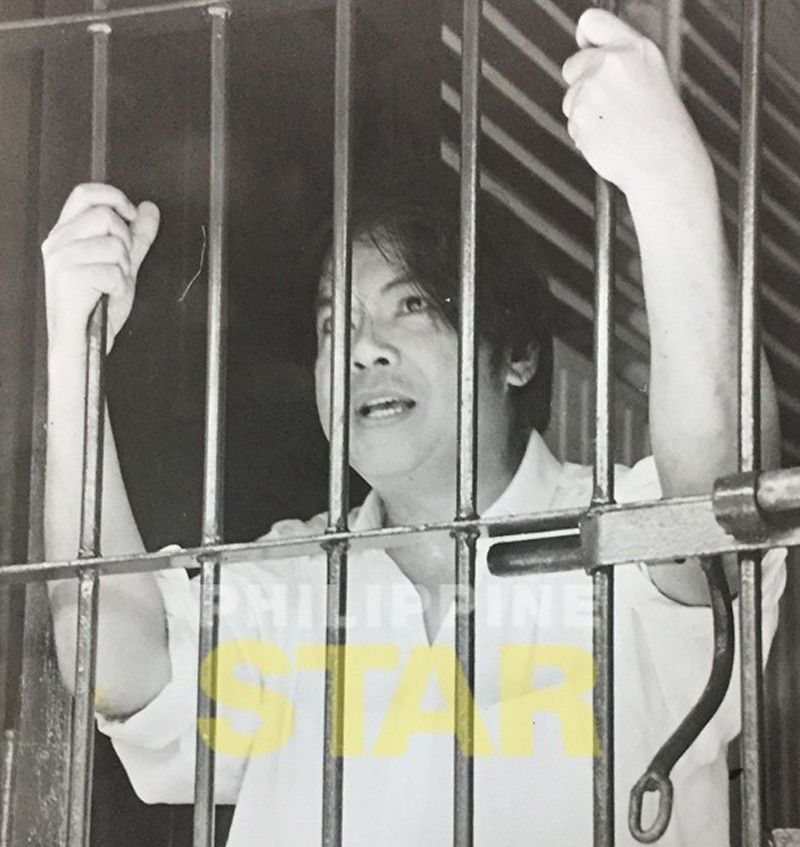 Antonio Sanchez is a former Laguna town mayor who was convicted for the murder of two college students, one of whom he also raped, more than two decades ago—a crime dubbed as a "plot seemingly hatched in hell."
The STAR/file
Imelda Marcos' 2017 letter asks Duterte to consider Sanchez's application for executive clemency
MANILA, Philippines — Imelda Marcos was among the officials who helped the family of former Laguna town Mayor Antonio Sanchez reach out to President Rodrigo Duterte and ask for executive clemency, the wife of the convicted rapist and murderer told senators Tuesday.
Speaking at a congressional probe into the implementation of the law on Good Conduct and Time Allowance, or GCTA, Elvira, Sanchez's wife, said her family sought then-Ilocos Norte Rep. Marcos' help in applying for executive clemency.
Board of Pardons and Parole Executive Director Reynaldo Bayang, for his part, said Marcos' letter to the president was endorsed to him.
In 1993, Sanchez's henchmen grabbed UP Los Baños students Allan Gomez and Eileen Sarmenta. Sanchez, who was sentenced to seven counts of reclusion perpetua, raped Sarmenta while his men beat up Gomez — a crime dubbed as a "plot seemingly hatched in hell."
The Department of Justice earlier said Sanchez would benefit from a law rewarding prisoners for good conduct by deducting days from their sentences, triggering public outcry that forced authorities to stop his early release.
In the May 29, 2017 letter — a copy of which was reported by the media — Marcos told Duterte that Sanchez's case "represent a valid attention as regards his behavior, character antecedents, mental health condition which likewise justify a recommendation for executive clemency."
"Your utmost consideration on the case of Former Mayor Antonio Sanchez is highly appreciated," Marcos wrote.
READ: Letter of then Ilocos Norte Rep. Imelda Marcos in May 2017 to President Duterte asking him to consider granting executive clemency to rape and murder convict Antonio Sanchez @PhilippineStar pic.twitter.com/Tb6QfazNEK

— Paolo S. Romero (@PaoloSRomero) September 3, 2019
Executive clemency can be in the form of a reprieve, an absolute pardon, a conditional pardon or commutation of sentence and can be granted by the president of the Philippines upon the BPP's recommendation.
In same Senate hearing Tuesday, Bayang said Duterte's chief legal counsel, Salvador Panelo, wrote to the BPP to refer a request of the Sanchez family for executive clemency for their patriarch.
The BPP dismissed the request.
Panelo — Sanchez's former lawyer — earlier denied involvement in the reported release of the convicted rapist-murderer. At a press conference also on Tuesday, Panelo denied that he tried to intervene in the case of his former client.
"It has been the standard operating procedure of the Office of the Chief Presidential Legal Counsel to respond to all letters received by it and refer them to the appropriate department or agency which has the authority to act on the writer's concern," Panelo said.
READ: Board of Pardons and Parole: Panelo wrote letter referring Sanchez request for executive clemency
— with reports from The STAR/Paolo Romero and Gaea Katreena Cabico