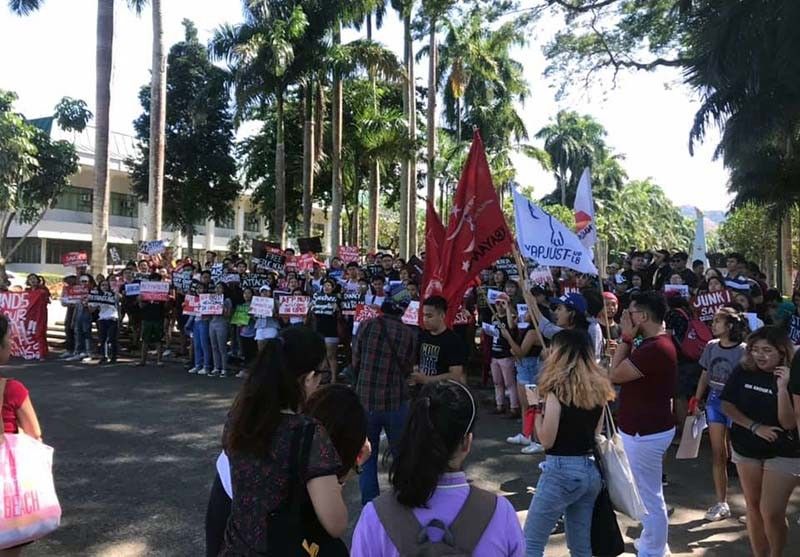 In this file photo from March 2019, students of UP Los Baños hold a protest on campus.
UPLB University Student Council Facebook page
A quick walk-through of the UP Day of Walkout and Action
MANILA, Philippines — Students of the University of the Philippines have set a walk out on August 20, Tuesday, in protest of what they say are intrusions on academic freedom.
In Memorandum 2019-01, Student Regent John Isaac Punzalan declared August 20 as the "UP Day of Walkout and Action."
"Our academic freedom is at high risk of being taken away from us as we become vulnerable to baseless accusations, intimidation and harassment," the memorandum read.
The student regent is nominated by the General Assembly of the Student Councils and sits on the Board of Regents, the policy-making body of the University of the Philippines System.
Here is a quick walk-through of the walkout
What prompted the call for a walkout?
Punzalan, in his memorandum, cited a proposal for police and military personnel to enter state universities like UP.
The proposal is linked to concerns that students are being recruited to join communist rebels, a concern that the Armed Forces of the Philippines raised last year when it said students were being recruited for a "Red October" plot against President Rodrigo Duterte.
Punzalan warned that letting police officers and soldiers into UP's campuses may result in "massive surveillance and monitoring on our students, faculty, and officials, especially those who are vocally critical."
The proposal to allow military into the campuses was recently raised at the Senate hearing on recruitment by national democratic activist groups.
WATCH: UP students hold noise barrage to encourage others to join the walkout. The university declared today as UP Day of Walkout and Action against campus militarization. | via @jvrmateoSTAR pic.twitter.com/PnMKtoVT2i

— Philstar.com (@PhilstarNews) August 20, 2019
READ: The Anti-Subversion Law, explained
Parents told the Senate committee on public order that their children had gone missing after being recruited by activist groups.
Two of the supposedly missing children—they are actually not minors—have since surfaced at the Commission on Human Rights and said they are not being held against their will.
The Department of Interior and Local Government is preparing a position paper on its proposal to bring back the repealed anti-subversion law, which outlaws membership in the Communist Party of the Philippines and its allied organizations.
Interior Secretary Eduardo Año earlier said "leftist groups should be banned for being subversive and illegal."
Anakbayan, one of the activist groups tagged at the Senate hearing, is a legal group and membership in an activist organization does not mean membership in or even endorsement of the Communist Party of the Philippines or the New People's Army.
READ: 'Being leftist is far from being a terrorist,' Justice secretary stresses
What is the goal of the walkout?
In 1982, UP and the Department of National Defense signed an agreement that police and military presence are prohibited from entering any UP campus, without authorization from UP administration.
It stated: "Prior notification shall be given by a commander of an AFP, PC-INP (Philippine Constabulary-Integrated National Police, since replaced by the Philippine National Police) or Citizens' Armed Force Geographical Units intending to conduct any military or police operations in any of the UP Campuses...to the UP President or the Chancellor of the constituent university or the Dean of the regional unit concerned."
Sonia Soto, the student leader who signed the agreement decades ago, said in a recent Facebook post that her views and principles have not changed since then.
"Noon at ngayon, hindi kailangang magkaroon ng detachment ( permanente o pansamantala) ang militar o pulis sa loob at harapan o sa malapit ( within 50 meters) ng anumang eskwelahan sa alin mang bahagi ng bansa," she said.
(Then and now, there is no need for a military or police detachment in front of or within 50 meters of any school anywhere in the country)
She said that police and military personnel should not interfere with campus activities related to their democratic freedoms of expression, their freedom to be critical of or to criticize policies and issues that affect them as students.
"Ang kasunduang ito ay ipinaglaban ng mga kabataang estudyante noon at maging sa mga taong sumunod pa. Dugo, pawis at luha ang kanilang naging puhunan. Paulit-ulit na tinangkang bawiin ito sa mga mag-aaral noon, sa mga taong nagdaan at ngayon," she said.
(Students then and after fought for that agreement with their blood, sweat and tears. There have been many attempts to revoke it then and in years after)
"I appeal to the youth to not let this happen. Do not let the state grab what rightfully belongs to you," she also said.
'UP as a zone of peace'
The Office of the Student Regent also said that they aim to push for the declaration of UP as a zone of peace.
It is unclear what Punzalan meant, but the Special Protection of Children Against Abuse, Exploitation and Discrimination Act defines zones of peace as "a site with sacred, religious, historic, educational, cultural, geographical or environmental importance, which is protected and preserved by its own community."
It added that zone of peace custodians, members, participants and visitors "exemplify mutual respect and nonviolent behavior while on the site, and share their resources for furthering peace and cooperation."
The municipality of Sagada in the Mountain Province also has a long-standing declaration as a peace zone, which required the pullout of all armed groups and detachments from the town. The declaration, signed in 1989, also bans armed encounters, harassment and the carrying of arms in the town.
According to a report on Sun.Star Baguio, the declaration "was made after three children died - one caught in the crossfire between New People's Army rebels and the Armed Forces of the Philippines and two shot by drunken government soldiers within the market compound of Sagada in late 1988."
Who supports the rally?
Prior to Punzalan sharing the copy of the memorandum, the UP Office of the Student Regent said UP Diliman Chancellor Michael Tan pledged his unity with the UP community.
Tan received the UP Office of the Student Regent's Unity Statement to Defend the Academic Freedom against Campus Militarization in UP and noted that he is "endorsing in solidarity."
UP Cebu Chancellor Liza Corro has also endorsed the Day of Walkout and Action.
UP Administrators and faculty members across different campuses are also throwing support behind the mass action.
Where is it happening?
Students in all UP campuses have announced they are participating in the walkout protest.
Students will assemble in the following areas, in their respective campuses:
UP Baguio: Oblation grounds, noon
UP Cebu: AS steps, 8:30 a.m.
UP DEPP: UP Depp Lobby, noon
UP Diliman: AS Steps, 11:30 a.m.
UP Los Baños: Humanities steps, 4 p.m.
UP Manila: College of Arts and Sciences gate, 11:30 a.m.
UP Mindanao: Atrium, 1 p.m.
UP Visayas: CUB Mushroom, 11:30 a.m.
UP Visayas, Tacloban Campus: McDiola, 2:30 p.m.
UP Diliman students will march to Mendiola at noon, and then to Liwasang Bonifacio.