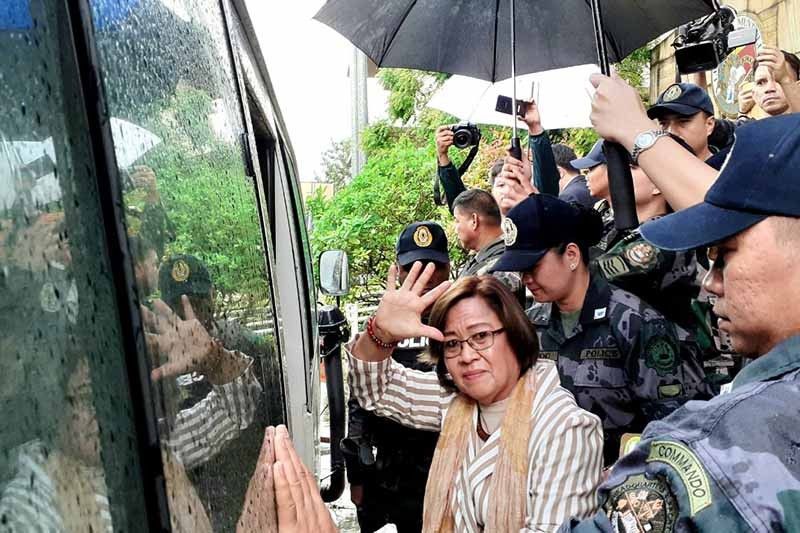 Opposition Sen. Leila de Lima in front of her supporters and members of the media earlier on August 9 at the continuation of her trial at the Muntinlupa Regional Trial Court Branch 205.
Office of Sen. Leila de Lima/Released
De Lima in Iriga to visit ailing mother
(Philstar.com) - August 15, 2019 - 9:28am
MANILA, Philippines — Sen. Leila De Lima arrived in Iriga City in Camarines Sur on Thursday morning to visit her ailing mother.
The senator secured a 48-hour furlough from the Muntinlupa regional trial courts handling the government's drug cases against her.
Her office said the senator landed in Legazpi City, Albay at 6:25 a.m. and arrived in Iriga City at 7:20 a.m.
The senator will be going to their residence to visit her 86-year-old mother, Norma De Lima.
Muntinlupa RTC Branch 256 Gener Gito gave De Lima a maximum period of 48 hours of furlough on August 14 and 15. The senator must return to the Philippine National Police Custodial Center, where she has been detained for more than two years, by August 16.
Meanwhile, Presiding Judge Liezel Aquiatan of Muntinlupa RTC Branch 205 said that the senator's stay at the hospital should be limited to only eight hours.
There are two pending drug charges against De Lima before Aquiatan's sala.
Aquiatan also ordered De Lima to refrain from giving interviews to the media and from using communication gadgets during her furlough.
Last week, De Lima had asked the courts to allow her to visit her mother possibly for the last time.
The senator said that her mother was brought to Villanueva Tanchuling General Hospital in Iriga City on August 4, and was admitted for "body malaise, altered level of consciousness, hyponatremia."
"As a daughter, she owes everything to the woman who gave her life and, in her present predicament, the only way she could show her deepest love and appreciation for her mother's love and care over the last 60 years is to be with her in her last moments on earth," De Lima implored the court.
The two courts granted the request for furlough, which the government did not oppose, on humanitarian reasons. — Kristine Joy Patag