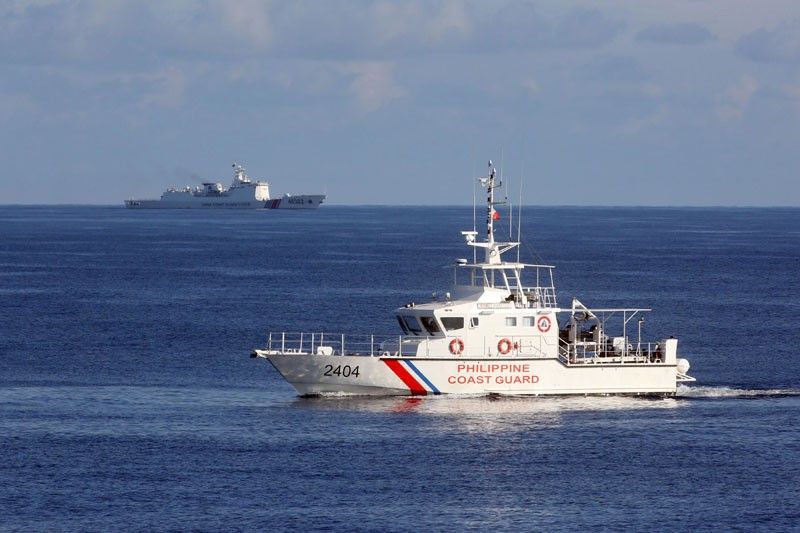 Duterte justified his decision to allow China to fish in Philippine waters, saying he was shielding the country from conflict.
KJ Rosales
Duterte: Philippines owns WPS, but Chinese can fish
MANILA, Philippines — Amid accusations that he is being too soft on China, President Duterte on Tuesday said he asserted the Philippines' sovereign rights in the West Philippine Sea and merely granted fishing rights to Beijing.
Duterte justified his decision to allow China to fish in Philippine waters, saying he was shielding the country from conflict.
"They said: 'Why did you allow China?' I said: As far as I'm concerned, I'm the owner and I'm just giving the fishing rights,'" Duterte said in an interview with Pastor Apollo Quiboloy in Davao. The President, who has been seeking Chinese loans to fund his infrastructure projects, said Beijing won't heed him even if he bars its fishermen from entering parts of the West Philippine Sea.
"Kasi tayo ang kawawa ngayon eh, kung hindi tayo magpasok doon (We will be disadvantaged if we don't invoke) traditional fishing rights, we cannot fish there... I will not only be able to protect the fishes… and the butete (puffer fish) and the danggits (rabbit fish), I will blow this entire nation to pieces," he said.
He dared critics who accused him of violating the Constitution to file impeachment complaints against him. "They said I committed a constitutional transgression. Then they want to impeach me, really? Try."
Duterte previously said he would not go to war with China over the West Philippine Sea issue.
He said it would result in a massacre of Filipino forces.
Officials have claimed that holding bilateral negotiations is still the best way to resolve the dispute.
Earlier this month, Duterte disclosed that he and Chinese President Xi Jinping had forged a mutual agreement on fishing in the West Philippine Sea.
He said Filipino fishermen are now allowed to enter Panatag (Scarborough) Shoal because of the agreement, which he said was forged in 2016.
Duterte "invoked" the Mutual Defense Treaty (MDT) between the Philippines and the US as he challenged American forces and his critics to join him in confronting China over its activities in the disputed West Philippine Sea.
After saying that the Americans do not interfere in territorial controversies, Duterte called on the US to gather troops in front of China and promised to join the expedition. He said Supreme Court Senior Associate Justice Antonio Carpio and former foreign affairs secretary Albert del Rosario – two of the outspoken critics of his policy on China – should witness the deployment.