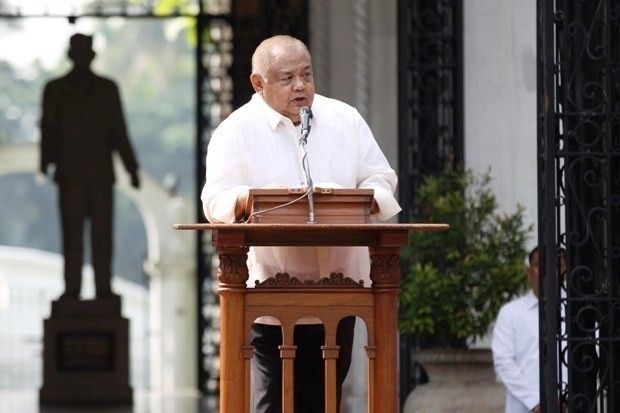 Executive Secretary Salvador Medialdea filed a libel rap against Ramon Tulfo in June.
File photo
Medialdea files another libel rap vs envoy, columnist Ramon Tulfo
MANILA, Philippines — Executive Secretary Salvador Medialdea on Tuesday filed another libel complaint against Special Envoy for Public Diplomacy to China Ramon Tulfo.
Medialdea went to the Manila Prosecutors Office to file the complaint alleging two counts of libel and two counts of cyberlibel against Tulfo, who writes for the broadsheet The Manila Times.
The executive secretary also named the following as respondents in his complaint:
Dante Ang II, executive director
Blanca Mercado, chief operating officer
Nerilyn Tenorio, publisher-editor
Leena Chua, news editor
Lynette Luna, national editor
The five are connected to the publication, the complaint read.
Medialdea assailed Tulfo's column published on July 20 and July 23.
In the July 20 article, the executive secretary said Tulfo, "in an apparent attempt to discredit my honor, integrity and reputation, maliciously implied that I am corrupt and involved in a scandal which I absolutely had no participation in."
Medialdea also said that Tulfo, in the July 23 piece, "categorically declared that I (Medialdea) am using the power of my office to harass journalists."
"Clearly, respondent Tulfo's unfounded, baseless and malicious allegations gravely injured my reputation, diminished the esteem, confidence and respect of the public for me and my Office, and incited derogatory opinions about me and the Office I hold," the complaint also read.
Medialdea also noted that the two assailed articles were part of a "series" written by Tulfo who is "clearly on a sinister mission."
The executive secretary earlier confirmed that he filed a libel suit against Tulfo last June.
On Monday, presidential spokesperson Salvador Panelo distanced the Palace from the libel suits, saying that the rift between the two goverment officials is "personal."