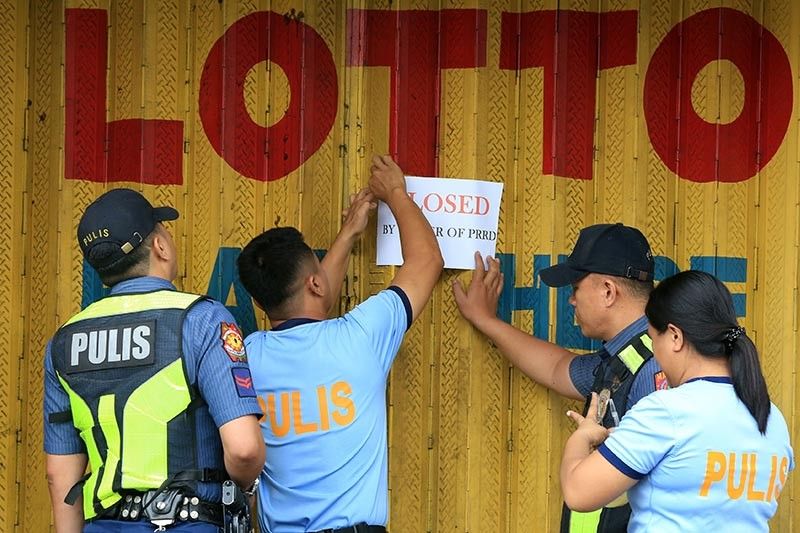 Police post a "closed" sign on a lotto outlet on Saturday, July 27, 2019, a day after President Rodrigo Duterte ordered the suspension of operations of all gaming schemes granted by the Philippine Charity Sweepstakes Office due to "massive corruption."
The STAR/Boy Santos
Palace says halt in PCSO gaming operations won't affect medical assistance to poor
Manila, Philippines — Malacañang Sunday allayed fears that revoking the gaming franchises issued by the Philippine Charity Sweepstakes Office would affect the giving of medical assistance to poor patients, saying the government could tap other funding sources to help the needy.
President Rodrigo Duterte has ordered the immediate stopping of PCSO's gaming operations, including lotto and small-town lottery, citing what he described as "massive" corruption in the agency.
Under the law, 30% of PCSO's net receipts shall go to a charity fund, which is used for the payments and grants for health programs, medical assistance and services and charities. More than half or 55% of the net receipts will go to a prize fund while the rest will serve as the agency's operating fund. There have been concerns that the directive to cease PCSO's gaming operations would mean reduced assistance for indigent patients.
READ: PNP: Over 23,000 lotto, PCSO gaming outlets now closed
Presidential spokesperson Salvador Panelo, however, said the government could still help poor patients despite the stopping of all PCSO-licensed gaming operations.
"PCSO is one of our funding sources for public service, to help those who need money for their health and those who have problems with livelihood. It helped. But if the funding source is involved in widespread corruption and if the people we trust are involved, perhaps we really need to close it," Panelo said in a radio interview.
"We have PAGCOR (Philippine Amusement and Gaming Corporation). The Office of the President, the president has discretionary funds," he added.
Panelo said needy patients might be referred to other agencies providing health assistance.
"To those who need help, just write a letter, we will just direct your request sa PAGCOR and the Office of the President. You can be assured that the government is still ready to help you," the presidential spokesman said.
READ: PCSO asks lotto, Keno winners to claim prizes amid suspension
Panelo claimed an executive order is not needed to implement Duterte's directive.
"It needs to be enforced immediately," Panelo said.
"For now, the corruption is massive. He does not want it to continue. Besides, the president believes that gambling is not good for our nation. We have become addicted to that system," he said about the halt order, which is also expected to affect the livelihood of people working for gaming operators.
'Grand conspiracy'
In its latest accomplishment report, PCSO said it generated a total of P63.56 billion from its lotto, keno, small-town lottery, traditional sweepstakes and instant sweepstakes last year, higher by 20% than the revenues from the said games in 2017.
More than 528,000 patients benefited from PCSO's individual medical assistance program while more than 200 requests for medicines were granted under the medicine donation program. The agency also granted medical equipment to three facilities last year.
Malacañang, however, said as much as 70% of PCSO revenues are lost to corruption, which it claimed was made possible by a "grand conspiracy of all players and participants of all gaming operations."
"It was massive enough to make him decide to stop all of it because the government is being cheated of its rightful shares. Maybe about 60 to 70 percent is lost. If scoundrels are allowed to earn, why are we implementing this kind of project?" Panelo said.
"Can you imagine 70 percent is being taken away from the government? Why continue that? Let's get that from other sources. We have other sources," he added.
Panelo said the president suspects that local officials, members of the judiciary and influential people are involved in the corruption scheme.