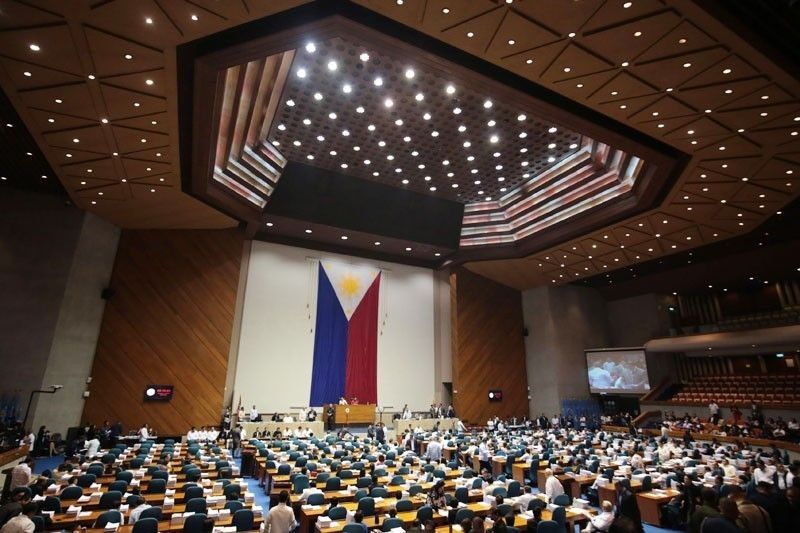 This file photo shows the House of Representatives.
The STAR/Michael Varcas, File
Congress can still railroad 'repressive' measures before June, rights group says
(Philstar.com) - May 20, 2019 - 2:39pm
MANILA, Philippines — The 17th Congress may be winding down business but a human rights group said it could still pass legislation that could legitimize repression and human rights violations as it resumes session Monday.
The measures, which rights group Karapatan called draconian, include amendments to the Human Security Act, lowering of the minimum age of criminal responsibility and efforts to revive the death penalty.
Both the Senate and the House of Representatives are expected to rush passage of key bills before Congress adjourns on June 7. Pending legislation will need to be filed again in the 18th Congress.
"Recent statements of Senate President Vicente 'Tito' Sotto III indicate that the administration is indeed hellbent on passing proposed policies that will hasten the constriction of whatever is left of the so-called democratic space in the country," Cristina Palabay, Karapatan secretary general, said.
Sotto said one of the priorities of the Senate is to pass amendments to the Human Security Act, which redefines and provides additional penalties to terrorist acts. The measure was sponsored on the floor by Sen. Panfilo Lacson, chair of the Senate committee on public order and dangerous drugs, in February.
"Unless some important bill escapes me, what I know is that one of the important bills that we have to approve is the anti-terrorism act," he said during the Kapihan sa Senado press forum last week.
Palabay called Sotto's pronouncement "alarming" considering the Human Security Act of 2007, as it is, "already poses a great risk to the people's civil and political rights, and is prone to abuse."
Karapatan previously said it is opposed to provisions that will allow the state to "arbitrarily arrest and legally detain persons for 14 days, making them vulnerable to all forms of rights violations." The group said provisions in the Human Security Act that hold state forces accountable for arrests that do not lead to convictions have been "surreptitiously removed."
Lowering of MACR
The Senate is also expected to resume its debate on the proposal to lower the minimum age of criminal responsibility.
"We are extremely concerned that the Senate is poised to adopt a similar version to that of the House of Representatives bill, aimed at lowering the MACR from 15 years old to 12 years old," Palabay said.
The lower chamber in January approved on final reading a proposal that lowers the age of responsibility to 12 years old.
"We should remain vigilant as lives of millions of children are at stake with this proposed legislation that is based on unscientific and baseless grounds. Filipino children deserve protection, care and social services that will help them in their most difficult circumstances," Palabay said.
READ: Unicef urges rejection of lower age of criminal liability
Reimposition of death penalty
The rights group also raised concerns on the proposal to revive death penalty.
Sotto on last Thursday said the reimposition of death penalty may be marked as priority in the 18th Congress but noted this would not necessarily mean passage in the upper house.
READ: Sotto: Death penalty bill may be marked priority, but passage is uncertain
Death penalty was outlawed in 1987, reinstated six years later and then abolished again in 2006.
The allies of President Rodrigo Duterte are headed for a resounding election win—seen to fortify the chief executive's powers and pave a path for his controversial legislative agendas.
"These acts and the proposed amendments to the 1987 Philippine Constitution are the reasons why Duterte and his allies have worked for a new Senate that will rubberstamp its anti-people policies," Palabay said.
Sotto has assured the public that the Senate will remain independent even if the results of last week's elections indicate that there will be even more administration allies in the upper house of Congress.
"Si Nancy (Binay), hindi pro-administration yan, independent-minded yan. Yung number 11, si Bong Revilla, independent-minded din yan. Lalo na si Grace Poe," he said.
(Nancy Binay is not pro-administration. She is independent-minded. The one at Number 11, Bong Revilla, he is also independent-minded. Grace Poe is even more so)
He said that the Senate will not hesitate to oppose policies that will not benefit the public.
"Public office is a public trust, so publiko ang bida, hindi ang Pangulo. Pag tama 'yung pangulo, (unclear) dahil gusto ng publiko yun. Suportahan mo, ika nga. Huwag yung tama ang pangulo, kokontrahin mo dahil hindi mo gusto," he also said.
(Public office is a public trust, so the public is at the center, not the president. If the president is right... support it. But it's not right that even if the president is correct, you will oppose it because you don't like him) — Gaea Katreena Cabico