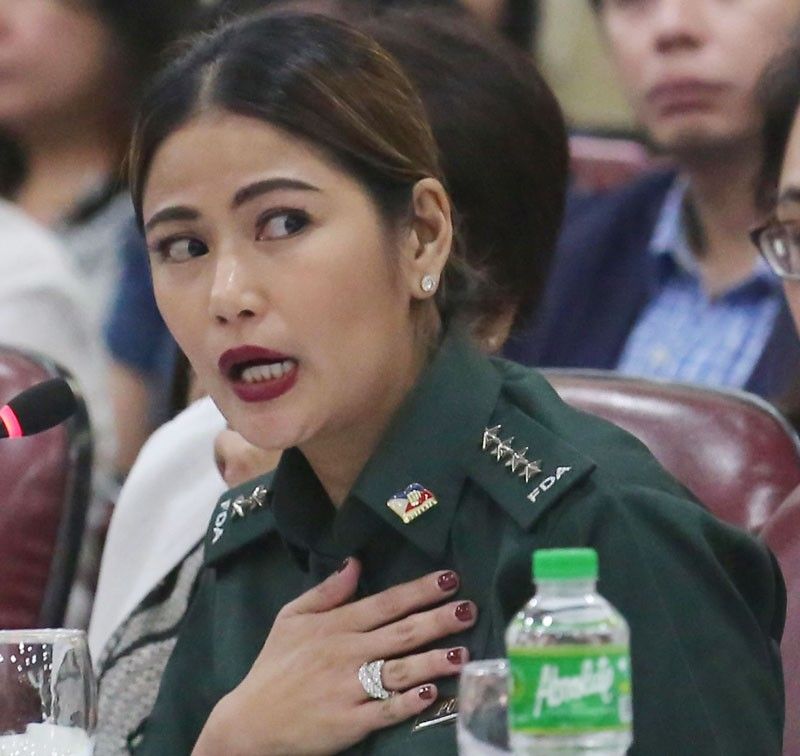 Food and Drugs Administration (FDA) director general Nela Charade Puno speaks during a hearing on Dengvaxia case at House of Representative yesterday.
Michael Varcas
Sacked FDA chief ready to face probe
MANILA, Philippines — Fired Food and Drug Administration (FDA) chief Nela Charade Puno yesterday denied accusations of corruption, saying she is ready to face any investigation.
"I received my letter of termination yesterday afternoon. As a presidential appointee, I serve at the pleasure of the President and therefore I accept his decision without any ill-feelings," Puno said in a statement.
She thanked President Duterte for the opportunity to serve as head of the FDA, but she maintained that she takes exception to the mention of corruption allegations "because I am clueless as to what these are."
"I have not been charged in any legal proceedings nor am I aware of any official investigation being undertaken in relation to corruption involving me," she added.
Puno said she left the FDA with "a clear conscience and what I believe to be a clean record."
"It is completely unnecessary to sully the personal and professional reputations of people who sacrifice to render public service," she said.
Quoting a one-page dismissal order dated May 15 and signed by Executive Secretary Salvador Medialdea, presidential spokesman Salvador Panelo on Thursday announced that Puno was terminated for corruption.
The order said the move was part of Duterte's campaign against corruption in government.
Before she was appointed to the FDA in 2016, Puno said she was with the private sector and "completely unfamiliar with the political maneuverings in the bureaucracy."
She gave assurance that she led the agency for almost three years with "complete honesty, diligence, dedication and loyalty."
Puno said it was during her term that the FDA gained three ISO certifications and was recognized by the ASEAN as the fifth member-state whose regulatory standards were ISO accredited, among other accomplishments.
"I also decentralized and regionalized the FDA, digitized its registration process, supported the MSMEs in a joint effort with the Department of Trade and Industry and strictly enforced FDA regulatory laws in cooperation with the Philippine National Police," she said, referring to micro, small and medium enterprises.
Puno said she "consciously and vigorously resisted the regulatory capture of the FDA."
Last year, Puno survived an ambush by unidentified men in Camarines Sur that killed three of her police escorts and wounded three others.
She was diagnosed with breast cancer early last year and has since advocated for early cancer detection.
'Too many complaints'
There were reportedly too many complaints against Puno.
"They were all big and small companies alike. They have been sending complaints and these reached the President," a source told The STAR.
Based on the alleged complaints, monetary consideration was involved for every act that needed approval of the FDA.