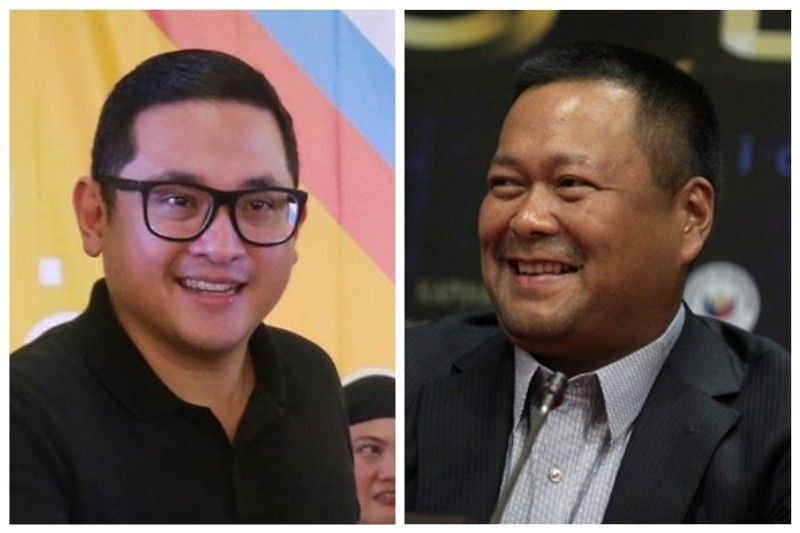 This composite photo shows reelectionist Sens. Bam Aquino (left) and JV Ejercito (right).
The STAR/Michael Varcas, File; Senate PRIB File
JV Ejercito kicks Bam Aquino out of 'Magic 12' in official, partial tally
MANILA, Philippines — Reelectionist Sen. JV Ejercito entered the winners' circle of the Commission on Elections' partial and official count of the May 2019 senatorial race, removing opposition candidate Sen. Bam Aquino from the winning circle of 12.
According to the official and partial tally of the National Board of Canvassers, Ejercito—endorsed by the administration-backed Hugpong ng Pagbabago—landed at 11th spot with 6,079,028 votes.
The movement knocked down reelectionist Aquino, the last hope of the Otso Diretso coalition, who fell to 13th place with 5,722,776 votes. Aquino managed to enter the so-called Magic 12 during the first canvassing session of the NBOC.
Ejercito also overtook Sen. Nancy Binay, who is not part of the administration coalition. She is barely hanging at the 12th spot with 5,949,885 votes.
The canvassed votes as of Thursday midnight represent the 89 of the 167 certificates of canvass.
Comelec Transparency Server's partial and unofficial count as of 4:26 a.m. Thursday, however, showed that both Ejercito and Aquino remained outside of the top 12.
With less than 3% of election returns remaining to be processed in the partial and unofficial tally, Ejercito placed 13th with 14,106,347 votes, while Aquino ranked 14th with 13,986, 085 votes.
Villar, Poe still in the lead
Leading the partial and official count was reelectionist Cynthia Villar, who received 10,416,332 votes. She was followed by another reelectionist Grace Poe with 9,151,162 votes.
Administration-backed PDP-Laban and HNP had nine candidates in the Magic 12.
Former presidential aide Bong Go ranked third with 8,549,086 votes, while Taguig Rep. Pia Cayetano placed fourth with 8,417,229 votes.
They were followed by former top cop Bato Dela Rosa (5th) with 8,025,527 votes, Sen. Sonny Angara (6th) with 7,699,782 votes, late dictator's daughter Imee Marcos (7th) with 7,157,978, "Ang Probinsyano" star Lito Lapid (8th) with 6,607,637 and former MMDA chief Francis Tolentino (9th) with 6,552,739 votes.