2 Chinese ships enter Phl waters off Subic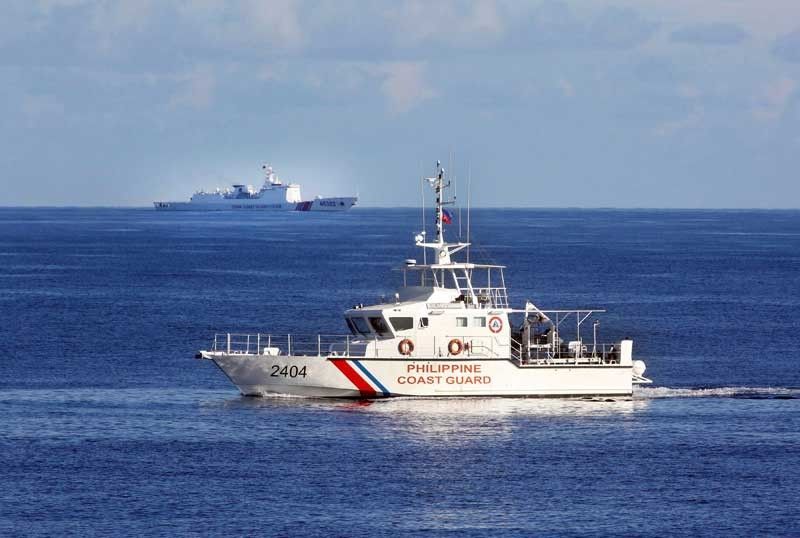 WEST PHILIPPINE SEA – Two Chinese Coast Guard maritime surveillance ships that have been shadowing a visiting US Coast Guard (USCG) cutter crossed into Philippine waters on Tuesday near Subic Bay.
Philippine Coast Guard (PCG) search and rescue vessel BRP Batangas and escort vessel BRP Kalanggaman tracked the two Chinese vessels around 50 nautical miles from the nearest coastline of Zambales since early morning the other day.
USCG cutter Bertholf has been deployed to the Indo-Pacific and is under the operational control of the US Navy's 7th Fleet.
BRP Batangas under the command of Commander Gary Dale Gimotea and BRP Kalanggaman had been dispatched to the West Philippines Sea to meet Bertholf under the command of Capt. John Driscoll for the launch of a joint point maritime search and rescue drill between Panatag Shoal and Subic Bay.
The Chinese ships with bow numbers 46303 and 46302 did not alter their position at four and six nautical miles away from the PCG and US vessels.
"We are not really concerned. Whatever they're doing, it's not our concern as long as we do our own mandate in accordance with the law," Gimotea said.
Gimotea pointed out that almost all coast guards worldwide aim to maintain maritime security and safety as well as enforce environmental protection.
"The joint maritime rescue drill was aimed at further enhancing the Philippine and US coast guards maritime law enforcement and maritime security (operations) as well as developing a working harmony involving mutual interests of both countries," he said.
Gimotea said he could only assume that the Chinese vessels were around to monitor the bilateral search and rescue drill of the Philippines and the US.
It could not be immediately determined if the Chinese vessels came from Panatag Shoal or from their base at Woody Island in the Paracels.
"Our oath (is) to protect our coastal waters and if it is legal and it is to the best interests of the Philippine Republic," Gimotea told local and foreign journalists on board BRP Batangas.
Bertholf arrived in Manila yesterday for the first visit by a US cutter in more than seven years.
Security, counterterrorism
The Association of Southeast Asian Nations concluded this year's ASEAN Defense Ministers' Meeting-Plus Maritime Security Field Training Exercise 2019 (ADMM-Plus MARSEC FTX) in Singapore.
A total of 19 warships, 10 aircraft and over 1,500 personnel participated in the exercise off the waters of Busan, South Korea and Eastern Singapore from April 29 to May 13.
The second part of the ADMM-Plus MARSEC FTX took place with the Singapore Navy as co-host, during which an exercise on information sharing to track vessels of interest was conducted along with cross deck landings and replenishment at sea drills.
Australia, Japan, Thailand and Vietnam joined the second part of the exercise where a photo exercise culminated the activity.
"This year's exercise continues with the same aim of focusing on practical cooperation and build up trust and confidence within the ADMM plus navies," said Singaporean Chief of Defense Force, Lt. Gen. Melvyn Ong.
The Philippine Navy (PN), while in Singapore, is expected to participate in other activities such as the Maritime Information Sharing Exercise, which coincides with the 10th anniversary commemoration of the Information Fusion Center and the International Maritime Defense Exhibition.
PN contingent commander Capt. Roy Vincent Trinidad said the Navy's participation manifests its commitment to promoting multilateral cooperation in a multinational environment for peace and stability among ASEAN and other regional navies. – With Pia Lee-Brago, Michael Punongbayan