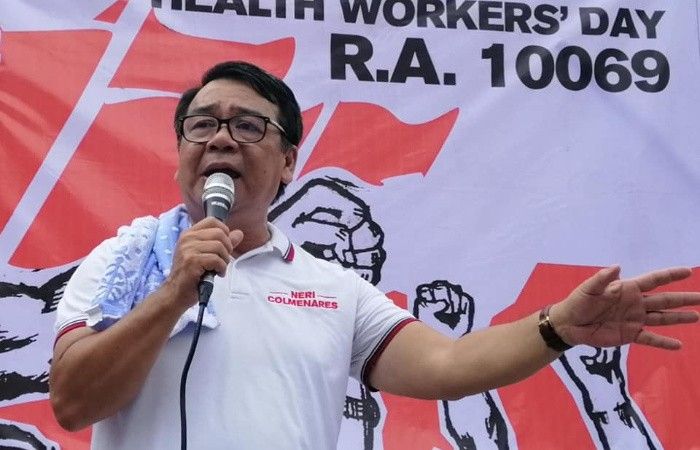 Rep. Neri Colmenares (Bayan Muna party-list), a senatorial aspirant, on the campaign trail in May 2019.
Colmenares campaign
Colmenares won't concede defeat, says polls favored 'worst leaders imaginable'
(Philstar.com) - May 15, 2019 - 1:46am
MANILA, Philippines (Updated 10:27 a.m.) — Senatorial candidate Neri Colmenares, the Bayan Muna party-list representative, denounced the results of the senatorial race and said he will "never" concede defeat.
In a tweet Tuesday night, Colmenares called the midterm election held Monday a "rotten exercise that has basically deceived bribed, intimidated and manipulated our people into electing the worst kinds of leaders imaginable."
"The fight continues!" Colmenares wrote.
The Makabayan stalwart, who ran for a seat at the Upper House for the second time, is at 24th place in the partial, unofficial tally of the Commission on Elections at past midnight of Wednesday.
He gained 4,588,758 votes so far. (View full results)
Colmenares, the two-time senatorial aspirant, decried false information given out to voters on Election Day that he had been disqualified from the race.
Illicit paraphernalia distributed on polling day also falsely claimed that other progressive groups such as Bayan Muna, Gabriela and Kabataan have been ousted from the list. The groups have been among top party-lists for the House of Representatives in previous elections.
Speaking in a video released on May 13, Colmenares urged political opponents to stop black propaganda against allied left-leaning groups accused of having ties with communists rebels of the New People's Army.
READ: Cops giving flyers red-tagging groups caught on cam
"Don't load the dice against us anymore. The playing field has been very unequal, and our resources [have been depleted]. We're hoping that the Comelec takes action. This harassment should not continue," Colmenares says in the video in mixed Filipino and English.
Other opposition candidates ranking below 18th place, such those who are part of the Otso Diretso slate already accepted defeat earlier on Tuesday. These included human rights lawyer Chel Diokno, Marawi civic leader Samira Gutoc and election lawyer Romeo Macalintal.
(Editor's note: An earlier version of this article had the headline "Calling winners 'worst leaders imaginable,' Neri Colmenares refuses to concede defeat". It has been reworded to make clear that Colmenares was critiquing the conduct of elections)