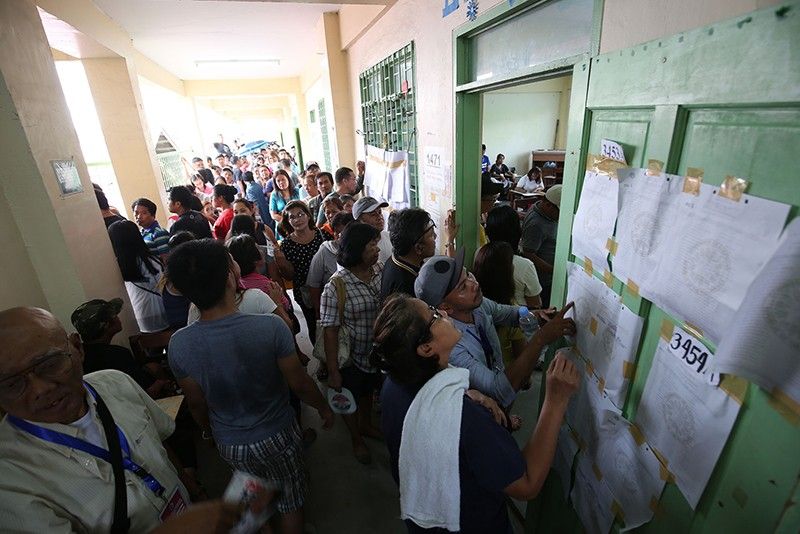 Ahead of Monday's midterm elections, at least 147 people, most of them from Metro Manila, were arrested for buying and selling votes.
The STAR/Michael Varcas
Vote-buying an 'integral part' of Philippine polls, Duterte claims
(Philstar.com) - May 13, 2019 - 7:05pm
MANILA, Philippines — President Rodrigo Duterte on Monday said the problem of vote-buying, a crime under the Omnibus Election Code, is an "integral" part of elections in the Philippines, where, he said, all candidates buy votes.
He did not provide proof of his assetion.
"The practice of buying votes has been an integral part of an election in the Philippines," Duterte told reporters after casting his vote in his home town in Davao City.
"'Yang pagboto, lahat yan. Walang hindi nagbibili ng boto dito, maniwala ka... Ituro mo kung sino ang hindi nagbili ng boto (Everybody is guilty of vote-buying here. Believe me. Tell me who here never bought votes)," he added.
Ahead of Monday's midterm elections, at least 147 people, most of them from Metro Manila, were arrested for buying and selling votes.
The Omnibus Election Code of the Philippines defines vote-buying as:
"Any person who gives, offers or promises money or anything of value, gives or promises any office or employment, franchise or grant, public or private, or makes or offers to make an expenditure, directly or indirectly, or cause an expenditure to be made to any person, association, corporation, entity, or community in order to induce anyone or the public in general to vote for or against any candidate or withhold his vote in the election, or to vote for or against any aspirant for the nomination or choice of a candidate in a convention or similar selection process of a political party."
Duterte said giving money does not necessarily mean that one is buying votes.
"You know when you start to give money, as I told Comelec (Commission on Elections), that's not because I'm buying the vote of the fellow. It's because I'm giving him money to go to the precinct, cast his vote, and go home. Not all people have money. Or you send food to your leaders who are here sacrificing and waiting for the food to eat so they can last until the last vote is counted," the president said.
'Vote-buying remains as long as Filipinos are poor'
The president said that vote buying is a complex issue since poverty is a factor.
"It can take many forms... for as long as the Philippines remains to be a poor country, for as long as the feudal system exists lalo na sa (especially in) rural areas aggravated by the communists... We are becoming poorer and poorer," he added.
Communists believe that feudal relations between tenant farmers and landowners are among the social issues that have kept many Filipinos poor. Negotiations towards an agreement on socio-economic reforms have been shelved and peace talks between the government and communist rebels have been stalled since November 2017.
"Nobody can till the land, improve the land, and the communists are there asking for money, asking for food and everything. And they think they are on the right track," the president said.
Filipinos are electing 12 members of the 24-seat Senate, the entire House of Representatives, as well as the country's governors and vice governors, provincial board members, mayors and vice mayors, and councilors. — Ian Nicolas Cigaral with The STAR/Alexis Romero