PNP: 147 arrested for vote buying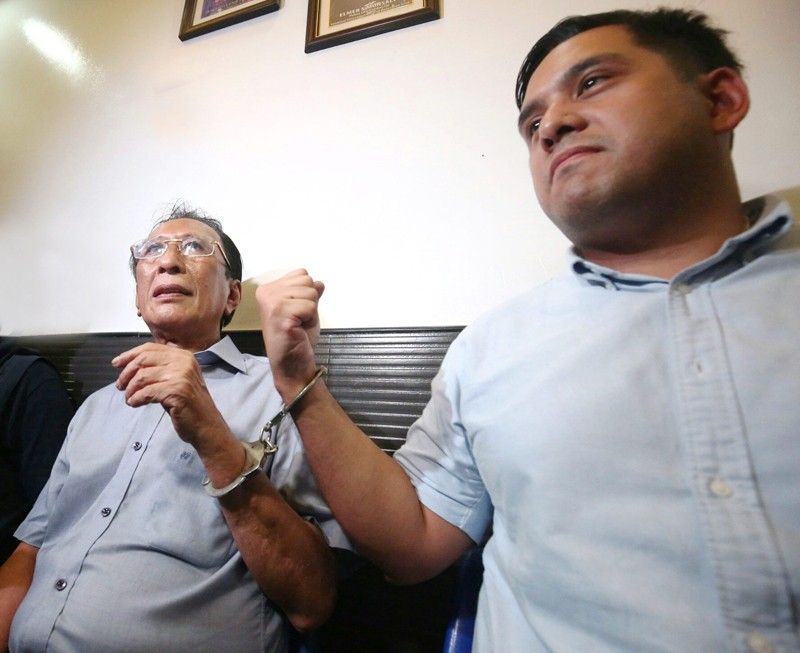 Quezon City bet Bingbong Crisologo arrested
MANILA, Philippines — At least 147 people, most of them from Metro Manila, were arrested for buying and selling votes over the weekend, the Philippine National Police (PNP) reported yesterday.
PNP spokesman Col. Bernard Banac said most of the violators were either caught red-handed while accepting money in exchange for their votes or handing out cash to voters in favor of some candidates.
Meanwhile, Quezon City mayoral candidate Vincent "Bingbong" Crisologo was arrested on charges of obstruction of justice during a police operation against vote buying in Barangay Bahay Toro last night.
Brig. Gen. Joselito Esquivel, Quezon City Police District (QCPD) director, said that aside from obstruction charges, he wants to file charges of slander against Crisologo for allegedly threatening his men.
From the separate operations of 105 special police teams created to focus on vote buying and selling, 60 were arrested in Makati City, 17 in Muntinlupa, six in Quezon City and one in Malabon.
There were also 23 apprehensions in the Calabarzon (Cavite, Laguna, Batangas, Rizal and Quezon) region.
"This may serve as a warning to all other candidates and supporters (not to bastardize our election process). Our PNP chief and the Comelec have given clear instructions… to run after those involved in vote buying," said Maj. Gen. Guillermo Eleazar, National Capital Region Police Office (NCRPO) director.
Aside from the special units, the PNP has assigned 16,000 policemen to secure today's balloting in Metro Manila.
Banac urged the public to help the police document election violations, preserve the evidence and immediately inform authorities after each incident.
Of the 60 persons caught in Makati City, the police said eight were
arrested for facilitating vote- buying and selling activities in the San Isidro barangay hall on Saturday night. The 52 others—including a number of senior citizens—were also picked up and brought to the NCRPO regional special operations unit for investigation.
Members of the Southern Police District and the Makati City Police Office swooped in after receiving tips about the activities at the barangay hall. They seized 820 P500 bills, 19 identification cards, 10 cell phones, listS of voters with their addresses and precinct numbers, and two boxes containing brochures of "Ulat sa Bayan" by incumbent Makati Mayor Abigail Binay.
Three barangay officials—treasurer Karen Matibag, secretary Medlyn Ong and administrative officer Marie Capistrano—denied they were into vote buying and maintained that the cash totaling P410,000 would be paid to "outside watchers" who would either be tasked to distribute sample ballots during today's elections or deliver food to volunteers.
The STAR is still waiting for a statement from Binay on the incident. She will try to secure her second term as mayor against her brother—former mayor Junjun Binay—and candidates Renato Bondal, Ricardo Yabut, Wilfredo Talag and Carmelle Ainne Alanzalon.
In Romblon's Odiongan town, complaints of vote buying—a violation of the Omnibus Election Code—were filed against an incumbent councilor, a barangay chairman and her relative, said Lt. Colonel Socrates Faltado, the Mimaropa (Mindoro, Marinduque, Romblon, Palawan) region police spokesperson.
The three—re-electionist town councilor Michael Arevalo, chairwoman Darlene Lachica and relative Ezra Fornal—reportedly had a hand in the distribution of envelopes, each containing a P1,000 bill, a pink sample ballot and a pocket calendar of party-list group Ako Bicol with a stapled P50 bill.
Faltado said the cases were filed by Barangay Pato-o residents Mely Domingo, Jovis Urbano and Monalie dela Cruz, who claimed that Lachica invited them to her residence where the alleged distribution of envelopes reportedly took place.
All three presented their envelopes to the police as part of their evidence.
"The items were turned over to the police for documentation while the suspects are still at large," Faltado added.
Substantiate allegations
Brig. Gen. John Bulalacao, the Western Visayas police chief, reminded the public to always substantiate their allegations as he pointed out that accusing is one thing and substantiating it in court is another.
After receiving numerous complaints of vote-buying incidents last week—including photos and videos sent to his phone— Bulalacao explained that mere photos and videos "could not substantiate anything" when brought to the courts.
For an incident to be considered as vote buying, he said it must first meet certain requirements and the complainants must prove that there is a promise of anything of value in return for voting a candidate.
"It will also be considered (vote buying) if someone gives or promises any office or employment; franchise or grant in public or private; gives or offers expenditure directly or indirectly or cause an expenditure to be made to any person, association, entity, or community; and the act was done to induce anyone or the public in general to vote for or against any candidate," Bulalacao said.
He stressed that the pictures of money and things in kind being circulated in social media won't suffice as "these will not prove anything."
"The complainant must execute a statement claiming he was promised by this candidate in exchange for his vote or he was given this amount in exchange for his votes," he said, adding that people could also do a citizen's arrest if they actually witness a vote-buying incident.
He said there were numerous reports of rampant vote-buying activities in Iloilo province, especially in the first and fifth districts, as well as in some areas of Capiz, Guimaras and Negros Occidental.
Vice President Leni Robredo expressed concern over reports of "rampant" vote buying across the country.
"What I observed yesterday, through the messages I received in my phone, the reports of vote-buying, particularly at the local level, have heightened in this year's elections," she said in her weekly program over dzXL.
Robredo was in her hometown Naga, where she will cast her vote this morning.
"It's alarming because if this will not be prevented, only those who are rich will be able to run and corruption will worsen," she said.
Robredo, who is a lawyer, pushed for amendments to the election laws, including stiffer penalties for the offense of buying or selling votes.
"The best deterrent to money is the people. In my experience, while voters get the money offered to them, they still choose the candidates whom they know personally… I won by a big margin here in our district even if I didn't release money," Robredo said, citing her experience as a local candidate.
More cash seized
In Pangasinan province, the National Bureau of Investigation-Commission on Elections (NBI-Comelec) joint monitoring team seized almost P500,000 in cash from four persons, including two provincial government employees, who were allegedly doing vote buying for a group of candidates.
They also confiscated campaign paraphernalia or flyers bearing the names and photos of reelectionist Gov. Amado Espino III, vice gubernatorial candidate Angel Baniqued Sr., Bugallon Mayor Jumel Espino who is running for congressman of the Second District of Pangasinan, Beth Ballesteros for mayor and Ramon Sison for vice mayor of Aguilar, Pangasinan.
As of press time, a disqualification case is set to be filed at the provincial Comelec in Dagupan City and another criminal complaint for vote buying at the prosecutor's office in Lingayen – initially against Governor Espino and his brother, the Bugallon mayor.
The complainants against the Espinos are their opponents – Alaminos City Mayor Arthur Celeste and Board Member Raul Sison, who are running for governor and congressman, respectively.
The NBI said it was Sison "who caught them in flagrante delicto" in possession of money and campaign materials.
In North Cotabato, the police on Friday night foiled an attempt to smuggle P260,000 in cash allegedly for buying votes in M'lang town.
Brig. Gen. Eliseo Rasco of the Police Regional Office-12 said they arrested Mateo Cuarteros, Sonny Pasquin, Joel Bolero and Christine Esparagoza—all identified with a prominent politician—after receiving tips that they were headed to the interior barangays to buy votes.
A separate case for disobedience to persons in authority will also be filed against the four for allegedly refusing to get off their vehicle until after their counsel arrived. – With Non Alquitran, Ed Amoroso, Helen Flores, Ghio Ong, Romina Cabrera, Jennifer Rendon, Eva Visperas, John Unson
Disclosure: Vice Mayor Joy Belmonte, who is running for mayor of Quezon City, is a shareholder of Philstar Global Corp., which operates news site Philstar.com. This article was produced following editorial standards.