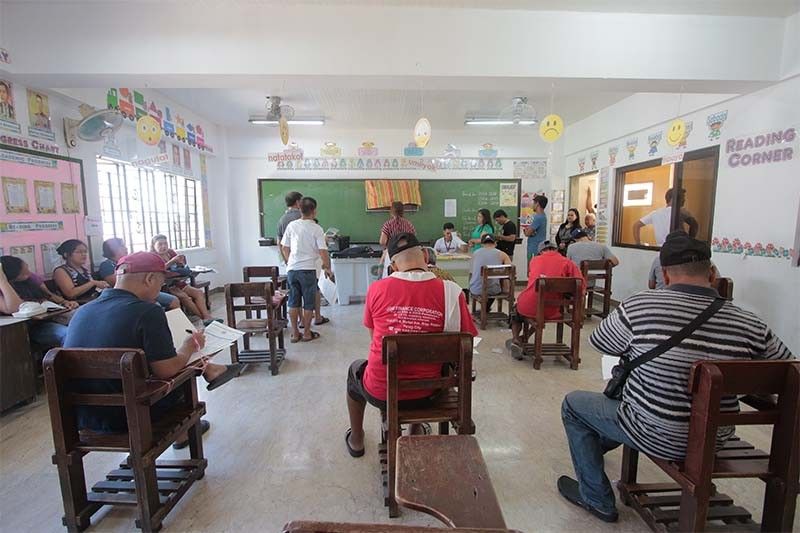 This photo taken May 13, 2019 shows a polling precinct at Pitogo Elementary School in Manila City.
Philstar.com/Erwin Cagadas
Malfunctioning machines, power outage cause delay in morning of election
MANILA, Philippines — Malfunctioning automated poll machines and power outages caused delay in the first four hours of the 2019 midterm elections.
In a statement, LENTE—the lead convenor of the manual audit for the polls—noted that while most poll precincts across the country opened on time, 6 a.m. on the dot, delay was recorded in some places.
FOLLOW: Live updates: Senatorial election in the Philippines | Live updates: Metro Manila local elections
The malfunctioning of vote counting machines and/or voter registration verification machine caused delay in the opening of some polling precincts in the following areas:
National Capital Region: South Cembo Elementary School
Ilocos Sur: Puro Elementary School
Pangasinan: Magsaysay Elementary School, Narciso Ramos Elementary School, East Central Elementary School
Albay: Lacag Elementary School, Bagumbayan Central School
Bohol: Mabini Central Elementary Scool
Maguindanao: Tenorio Elementary School
Lanao del Sur: Amay Pakpak Elementary School, Moncado Colony, Datu Naga, Lumbaca Madaya, East Marinaut
A report from The STAR also said the Teachers' Dignity Coalition noted that it has received around 40 reports of election-related concerns which were mostly about malfunctioning automated machines.
"In many reported cases, voters just left the polling precincts because of dismay after queuing for hours and not be able to vote," TDC added.
They added that teachers, who are serving for the polls, often receive the blame for the technical glitches.
The Teachers' Dignity Coalition says they have received around 40 reports of election-related concerns, mainly on non-working vote counting machines. #BilangPIlipino2019 | @jvrmateoSTAR

— The Philippine Star (@PhilippineStar) May 13, 2019
LENTE also noted that there were also power outages in Bohol (Tubigon West Central Elementary School) and Misamis Occidental (Dapacan Alto Elementary School) that pushed back the voting time.
"In the Bangsamoro Autonomous Region of Muslim Mindanao, the strict security caused by Martial law has forced the [Armed Forces of the Philippines and the Philippine National Police] to be present in polling places, causing delays in the voting process," the statement further read.
The lawyers and paralegals' group serves as the Commission on Elections' partner for this year's poll. It is replacing the National Citizens' Movement for Free Elections, which declined its accreditation as the citizen's arm for the elections.
The report covered the first four hours, or until 10 a.m., of the election day.
RELATED: After repeated ballot rejection, ex-VP Jejomar Binay casts vote anew
Senior citizens voting
LENTE said that Emergency Accessible Polling Places (EAPP), initiated by the Comelec, were able to accommodate senior citizens but lines continue to grow.
Some senior citizens voters also went to polling precincts without assistors and without identification cards or photocopies of their IDs. This prolonged voting time for some elderly voters.
It also noted that Haven for the Elderly Special Polling Precinct in Tanay, Rizal let voters to feed their ballots in the VCMs "contrary to the prescribed procedure of Comelec."
Late delivery of election paraphernalia also caused an hour delay to voting of senior citizens in Hospicio, Manila.
Vulnerable sectors
LENTE said that while Electoral Boards are not as "well-versed" with EAPP protocol, their volunteers help in ensuring procedures are followed.
It also noted there was also delay in voting of prisoners due to delivery of ballots in detention centers, but said this is not uncommon.
"Internally Displaced Persons in Marawi were able to vote through the regular process," the group noted. Senior citizens were also given priority for voting.
Delays were still recorded in some areas in war-stricken Marawi City due to malfunctioning of voter registration verification machines.
Meanwhile, LENTE said that casting of votes by indigenous peoples in accessible voting center in Karahume Tribunal Center "has been good" though there were also reports of "unlawful electioneering" near polling places.
Report irregularities in voting
The group also noted that it received reports of indigenous peoples on the way to their accessible voting centers in Katuray Elementary School in Palawan "were intercepted."
LENTE urged voters to report election law violations and other forms of irregularities to their volunteers on the ground or to their helpdesk:
Hotline: (02) 502-15-91
Globe subscribers: 0917-1066265
Smart subscribers: 09471644158
Twitter: @lente_ph
Facebook: LENTE Philippines
Poll precincts are open until 6:00 p.m., May 13. — with reports from The STAR/Janvic Mateo