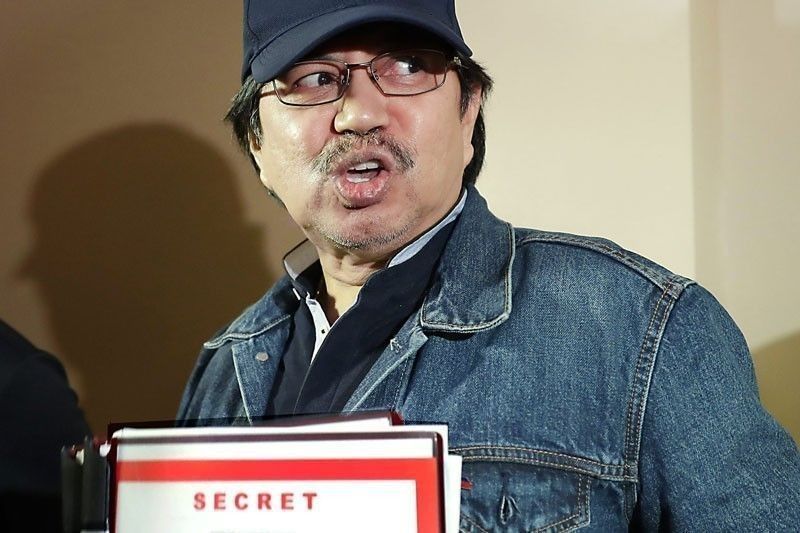 Justice Secretary Menardo Guevarra said that the Palace is offering the bounty.
File
Palace puts up P10-M bounty for info on ex-cop Acierto
MANILA, Philippines — The government is offering a P10-million bounty for information that could lead to the arrest of former policeman Eduardo Acierto, whom a court has ordered arrested over a drug importation case.
Justice Secretary Menardo Guevarra confirmed this in a message to reporters. He clarified that the monetary reward is offered by Malacañang and that he is not privy to the source of the money.
"The amount is certainly much larger than what the [Department of Justice] could offer," Guevarra added.
A Manila court has issued a warrant of arrest against Acierto, former Philippine Drug Enforcement Agency deputy director for administration Ismael Fajardo, importers Chan Yee Wah and Zhou Quan, consignees Vedasto Baraquel Jr. and Maria Catipan of Vecaba Trading and Emily Luquian over a multibillion-peso shipment of shabu smuggled into the country in magnetic lifters.
RELATED: HDO issued vs Eduardo Acierto, 6 others
Former Customs intelligence officer Jimmy Guban, an accused in the case, has been detained at the National Bureau of Investigation after the DOJ terminated his contract with the Witness Protection Program.
The Philippine National Police has also already launched a manhunt for Acierto and the others.
Acierto's coddlers to face suits
Guevarra also explained that the DOJ will be focusing on those who may be helping or hiding Acierto.
"As to Acierto's coddlers, we'll have them arrested wherever Acierto may be found hiding and brought into inquest immediately," he said.
The Justice chief earlier explained that people who harbor persons facing warrants may be held liable for obstruction of justice.
"More specifically, coddlers or protectors of persons accused of violating Section 4 of the Dangerous Drugs Law (importation of illegal drugs) are likewise criminally liable under Section 4 and stand to suffer imprisonment of up to 20 years and a fine of up to P500,000," he added.
The DOJ is also looking into the "leak" of the resolution indicting Acierto and seven others that may have foiled an NBI manhunt of Acierto.
A STAR report quoted an unnamed NBI official that said: "[B]ecause it came out in the media, the operation for the arrest of Acierto was foiled. Nasunog tayo dun (We got burned)."
Acierto, earlier this month, called for a press conference with select media outfits and revealed that former presidential economic adviser Michael Yang is linked to the illegal drug trade.