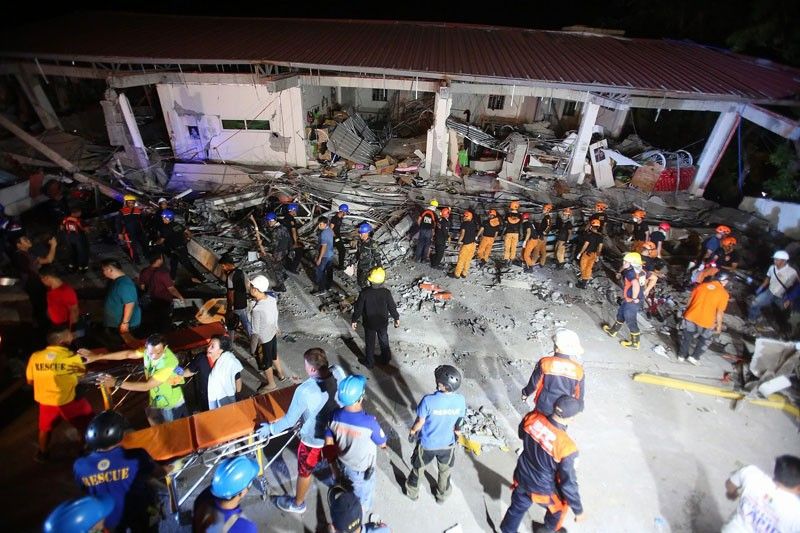 Chu and local officials who issued the building permits could face criminal charges for reckless imprudence resulting in multiple homicide and physical injuries if there is substantial evidence to prove that the supermarket was constructed using substandard materials.
Russell Palma
PNP eyes raps vs Porac execs, supermarket owner
MANILA, Philippines — Charges could be filed against local officials of Porac, Pampanga and the owner of a supermarket that collapsed during a strong earthquake last Monday, Philippine National Police (PNP) chief Gen. Oscar Albayalde said yesterday.
He said Samuel Chu, owner of the four-story Chuzon Supermarket in Porac, could face a civil suit after at least 12 people died in the incident.
Chu and local officials who issued the building permits could face criminal charges for reckless imprudence resulting in multiple homicide and physical injuries if there is substantial evidence to prove that the supermarket was constructed using substandard materials.
Albayalde said Porac officials who issued the permits to the supermarket might have violated the Building Code.
He clarified that probers of the PNP Criminal Investigation and Detection Group (CIDG) are still gathering statements from survivors and relatives of the dead as well as documents related to the supermarket's construction.
"We will file a case once we get all the statements of those who are interested to file," Albayalde said.
He said they are also waiting for the assessment of engineers from the Department of Public Works and Highways (DPWH).
The PNP has activated search and rescue teams to assist in rescue operations in Porac, Pampanga.
Maj. Gen. Ma-O Aplasca, PNP director for operations, ordered the deployment of teams from the National Capital Region Police Office, Special Action Force, Maritime Group, Crime Laboratory Ilocos Region police to assist in search and rescue.
National Disaster Risk Reduction and Management Council (NDRRMC) spokesman Edgar Posadas said that as of yesterday, there was no sign of life underneath the rubble.
"We are still on search and rescue operations as we have yet to account for the 14 individuals who were reported missing," Posadas said.
He said search and rescue continue floor to floor, starting from the rooftop of the establishment.
The operations, he added, will continue until the last areas where these missing individuals could possibly be found have been thoroughly searched.
"We Filipinos never say die. What's important for us now – good or bad – is to return the missing individuals to their respective families," Posadas.
He added that for now, all they could hope for is that the missing 14 were somewhere else and not inside the supermarket when the quake struck.
Five persons died while nine others were rescued from the Chozun Supermarket, where 86 others sustained injuries.
As of yesterday, the NDRRMC reported that 542 houses, 142 of them totalled, were damaged by the magnitude 6.1 quake that jolted Central Luzon, specifically Pampanga, Bataan and Zambales provinces.
The quake also affected 1,203 families or 4,991 individuals in the affected cities and towns in Central Luzon.
In Samar, 21 persons were injured when a magnitude 6.5 quake shook the province Tuesday. The strong tremor also affected 68 families or 272 persons from 13 villages in Eastern Samar.
The quake also damaged 67 houses, four of which were totally destroyed, the NDRRMC, in an updated report said.
Damaged bridges
Public Works Secretary Mark Villar said that three bridges, including the Guadalupe Bridge in Makati City, sustained minor cracks as a result of the magnitude 6.1 earthquake last Monday.
In a statement, Villar said that they have so far inspected 275 national bridges, flyovers and viaducts in Metro Manila wherein they noted three bridges to have sustained minor damage.
The Guadalupe Bridge had a crack on the girder while the Tenejeros and Tanza bridges both in Malabon City suffered minor cracks at the railings.
But the DPWH explained that the Guadalupe Bridge is already being prepared for major retrofitting under the department's Unified Project Management Office.
Tanza Bridge will undergo a second stage inspection while the minor damage on Tenejeros Bridge does not require immediate repair since the railings do not carry load.
The DPWH had also inspected 452 school buildings and 142 other public buildings in the metropolis.
A total of 53 school buildings in Metro Manila have minor damage, mostly cracks on walls, columns, beams and ceiling, but three school buildings in Las Piñas were recommended for immediate structural evaluation.
The DPWH identified one of the schools as the Las Piñas National High School (M. Villar Building) that reportedly sustained large cracks on the corridor wall and flooring from the second to third floor. Cracks were also seen at the separation of the wall from beam to column.
The other schools are the Las Piñas North National High School (Department of Education [DepEd] Building) found with multiple major cracks and wall near the stairs; while the Captain Albert Aguilar (CAA) National High School High School (Annex Building) had major cracks from ground floor to the second floor.
Villar said they are coordinating with DepEd for the restoration especially of structures with major damage.
DPWH-National Capital Region director Ador Canlas yesterday said that based on their ongoing assessment of national roads and bridges, Metro Manila sustained minor damage and only had "minimal impact" from the tremor last Monday.
Immediately after the quake, the department deployed rapid assessment teams to check on the condition of the national roads and bridges in the metropolis.
The DPWH also has an ongoing retrofitting program of bridges that helps strengthen these structures and ensure that they would be able to withstand strong earthquakes.
On the leaning building of the Emilio Aguinaldo College (EAC) in Ermita, Manila, Canlas said there is a composite team conducting further investigation into the condition of the structure.
Immediately after seeing posts in social media that the EAC building along San Marcelino Street was leaning on another building, they sent a rapid assessment team and closed it off to students.
As to reports that parts of Metro Manila are prone to liquefaction, Canlas said that there are hazard maps, even those that pinpoint the areas prone to liquefaction, that are with the Philippine Institute of Volcanology and Seismology (Phivolcs) and the Department of Environment and Natural Resources (DENR).
But he believes that even if there are areas prone to liquefaction, there are remedies that would improve a building's resiliency against strong earthquakes. "As far as I know, there are building designs that have provisions for liquefaction factor, seismic factor and others."
The Trade Union Congress of the Philippines (TUCP) pushed for the adoption of a new policy to protect workers during earthquake and other calamities.
TUCP president Raymond Mendoza said there are no existing government standards that address workplace safety and health during emergency situations such as earthquake, fire and other disasters.
Mendoza said mandatory workplace emergency protocol standards are necessary after the recent earthquake showed that many employers refused to evacuate their employees and maintained a business as usual attitude.
He said some companies adopt their own evacuation protocols and hire safety officers and implement safety evacuation plans voluntarily, but many firms do not have or are even unaware of such employee evacuation procedures.
The Act Strengthening Compliance With Occupational Safety and Health Standards and Providing Penalties mandates employers and contractors to provide a safe and healthy workplace. However, Mendoza said there's still a need to craft specific implementing rules and regulations of the law that governs this emergency scenario such as earthquakes.
Reelectionist Sen. Sonny Angara renewed his call to make disaster risk education mandatory in the curriculum of primary schools to improve the young learners' understanding of preparedness and response, as well as hone their readiness in dealing with natural calamities to foster a culture of preparedness among Filipinos.
"Since we live in a country where earthquakes and typhoons are very common, it is imperative that every Filipino is equipped with the basic understanding and knowledge of disaster preparedness and response," Angara said.
"We can start by teaching our children how to prepare for and respond to different types of calamities. We have to produce a generation that knows how to deal with threats posed by natural disasters and climate change," said Angara.
Angara's proposal to require disaster awareness and mitigation education in primary schools formed part of Senate Bill 1994 which he filed last year.
The bill primarily seeks to create the Department of Disaster Resilience – a single, independent and permanent government agency devoted to disaster management.
Bataan Rep. Geraldine Roman, chair of the House committee on disaster management, called on the Senate to hasten approval of their long-approved bill that seeks the creation of a Department of Disaster Resilience (DDR), especially after a series of major earthquakes hit the country.
"There is no need to further explain why we need this department now," Roman said in reference to House Bill 8165 establishing the DDR.
"I strongly advocate for the speedy passage of HB 8165, the bill creating the DDR," she said of the measure that has been approved in plenary in 2018 with a vote of 181-5 and two abstentions. "This bill has already been approved by the House."
She likewise called on "all government departments, offices and officials concerned to conduct inspections in all affected areas without delay."
The Philippine Charity Sweepstakes Office (PCSO) will provide a calamity fund for Pampanga to help residents affected by the tremor.
Sandra Cam, member of the PCSO board of directors, said the amount of calamity funds they will allocate will be determined after the conduct of an assessment.
Cam and a team of PCSO officers went to Porac, Pampanga the other day to inspect the damage caused by the quake. – With Evelyn Macairan, Delon Porclla, Mayen Jaymalin, Cecille Suerte Felipe, Jaime Laude, Rainier Allan Ronda
Related video: