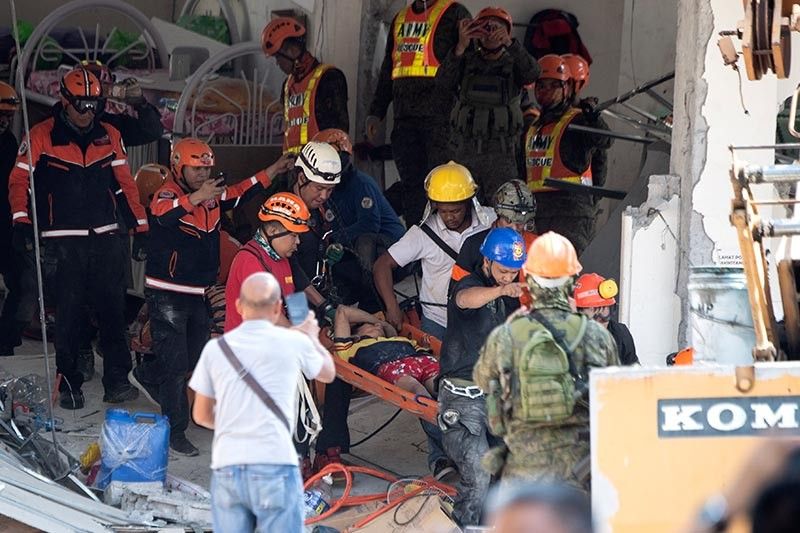 Rescue workers carry a survivor out of the collapsed Chuzon supermarket in Porac, Pampanga province on April 23, 2019, a day after a 6.3 magnitude quake. Philippine rescuers were scrambling April 24 to reach dozens of people feared buried under a building near Manila that collapsed a day earlier in a powerful earthquake, as the death toll climbed to 16.
Noel Celis/AFP
How much stronger? Upgraded magnitudes of powerful Eastern Samar, Zambales quakes, explained
MANILA, Philippines — Two strong quakes hit the country a day apart, sending thousands to flee out of buildings to their safety and collapsing structures.
A strong tremor jolted the town of Castillejos in Zambales, north of Manila, at 5:11 p.m. Monday. It was initially measured by Phivolcs at 5.7 magnitude with strong shaking felt at Intensity 5.
It was soon upgraded to a magnitude 6.1 with the strongest shaking reported in Lubao, Pampanga at Intensity 7—a scale where tremors can be destructive and trigger limited land liquefaction, a process which causes the ground to temporarily behave like a liquid.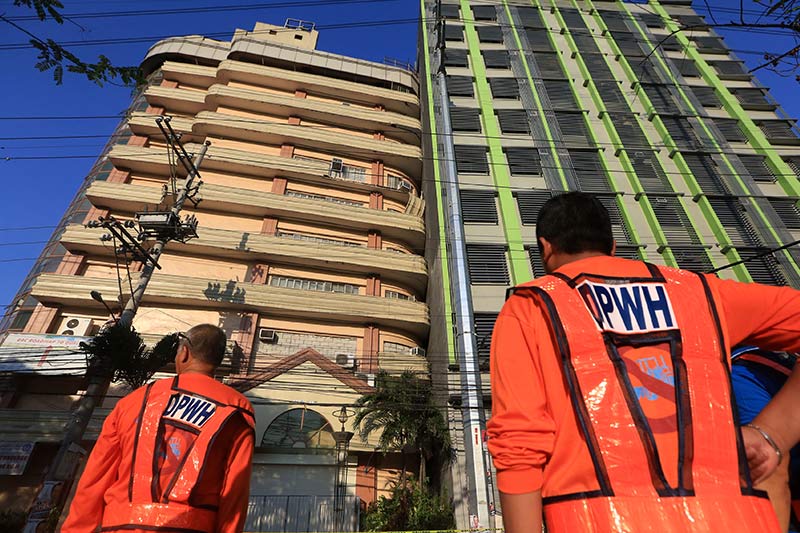 READ: Engineers: EAC building tilt could be caused by 'liquefaction,' 'proximity of establishments'
The next day, a 6.2 magnitude quake hit the Visayan town of San Julian in Eastern Samar with Intensity 5 as the strongest reported shaking felt.
It was later upgraded to a magnitude 6.5 with "very strong" tremors of Intensity 6 felt in the towns of San Julian and Maydolong, and Borongan City in Eastern Samar.
The two earthquakes are unrelated, Phivolcs Director Renato Solidum said.
LIVE UPDATES: Effects of magnitude 6.1 Zambales earthquake
How much stronger?
The Phivolcs intensity scale measures earthquakes from a scarcely perceptible shaking of 1 to a completely devastating 10 where practically all man-made structures are destroyed.
Magnitude and Intensity scales rate earthquakes differently. Magnitude measures the energy released at the earthquake's source while Intensity measures the strength of shaking.
Although theoretically, a magnitude scale has no upper limit, it has so far never exceeded the 9.5 measured in Chile in 1960.
READ: Powerful Zambales quake: Death toll rises, hunt for survivors continues
Based on calculations from the United States Geological Survey, the magnitude 6.1 Zambales earthquake is around four times stronger than its initial measurement of 5.7. This means it will take about four 5.7 magnitude tremors to equal the energy released by a single 6.1 event.
The 6.5 Eastern Samar quake, meanwhile, is 2.8 times stronger than the initially measured 6.2.
The Philippines sits on the Pacific Ring of Fire making it prone to earthquakes and volcanic eruptions.