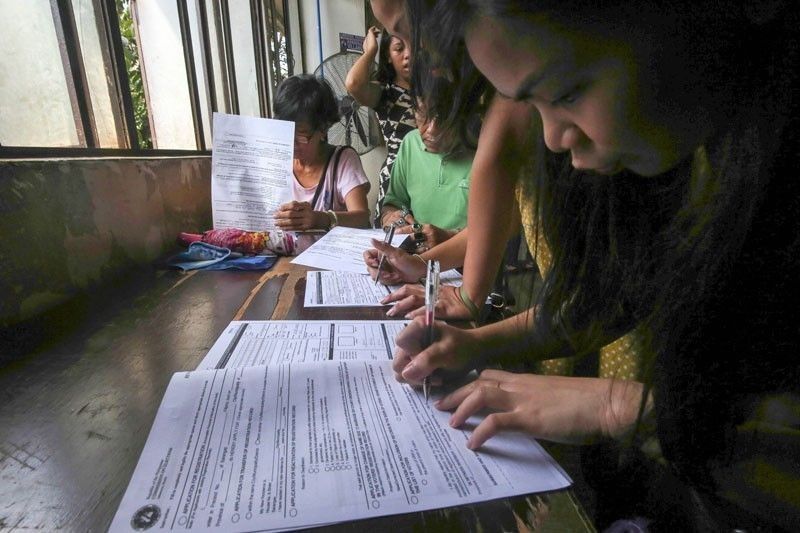 Members of the Cabinet met last week to check on the power situation after the Luzon grid went on red alert early this month due to lack of efficient power supply.
COMELEC FB Page
'No power outage during midterm polls'
MANILA, Philippines — The Department of Energy (DOE) has given assurance that there will be no power outage during the May 13 elections.
Cabinet Secretary Karlo Nograles said the DOE has said there will be no problem on election day.
"According to the DOE report, there are several new power sources that will be inaugurated soon. The DOE is confident that we will not have any problem come election day," Nograles said over the weekend.
Members of the Cabinet met last week to check on the power situation after the Luzon grid went on red alert early this month due to lack of efficient power supply.
"We see that the Department of Energy is doing their mandate to address the energy security in the country. The DOE has been aggressive in starting the power generation projects," Nograles said.
"There are many power generation projects in the pipeline. It is just unfortunate that one of our bigger plants, Sual, went on forced outage… Because of that there is a supply gap and we went on red alert," he added.
Nograles said the Cabinet members, who attended a recent meeting in Malacañang, were given assurance that elections will go on smoothly next month without power interruption.
The weather bureau had also issued an "El Niño advisory" last February.
"I think that was the worst incident that may happen in the summer months. Everything now is… we are also looking at contingencies on the uninterruptable load program," he said.
President Duterte declared he wants the peaceful and orderly conduct of the elections.
Nograles assured the public there is no need to plan to seek presidential intervention to address energy concerns.
Blackout schedules
This developed as Manila Electric Co. (Meralco) announced several areas in Metro Manila, Bulacan, Cavite, Laguna and Rizal will experience blackouts this week for its scheduled maintenance work to improve its distribution network.
Power interruptions are scheduled in Metro Manila, Bulacan, Cavite and Rizal from April 23 to 28 due to Meralco's maintenance program.
In its advisory, Meralco said it would implement poles replacement in the following areas:
• Replacement of poles and upgrading of facilities along M. Gregorio street in Barangay Canumay West, Valenzuela City, which could lead to five-hour blackouts on April 22.
• Along Apitong street in Barangay Comembo, Makati City, which may lead to a three-hour blackout in the area from 11:30 p.m. of April 22 to 2:30 a.m. of April 23.
• Replacement of pole and line reconstruction works in St. Francis Homes Subdivision Phase 7, Barangay San Antonio, Biñan City, Laguna, where the affected areas may experience up to four hours of blackouts on April 23.
• Along Langit Road in Barangay Bagong Silang – Kaliwa, Caloocan City which may lead to loss of power from 11 p.m. of April 24 to 5 a.m. of April 25.
• Along Col. Estacio street in Barangay Palingon, Taguig City, which may cause a six-hour blackout on April 26 in areas affected.
• Replacement of poles and line reconductoring works in Barangay Teachers Village West, Quezon City on April 26 which may cause blackouts that may last for four hours.
• Replacement of primary lines along Tolentino corner D. Jorge streets in Pasay City which may cause brief power outage on April 27.
Brief power interruptions may occur in Sampaloc, Manila in the evening of April 23 and morning of April 24 due to line reconductoring works and installation of additional lightning protection devices along M. V. Delos Santos and San Anton streets in Sampaloc, Manila.
Between 11:30 p.m. of April 25 to 4:30 a.m. of April 26, the power distributor would implement line reconductoring works and replacement of poles for the flexibility improvement of Las Piñas circuit 45XA and Pamplona circuit 47XD along Naga Road in Barangay Pulang Lupa II, Las Piñas City.
From 11 p.m. of April 23 to 4 a.m. of April 24, Meralco would conduct line reconductoring works and replacement of poles for the flexibility improvement of Dasmariñas circuit 414DM and FCIE circuit 43WB along Cantimbuhan street in Barangay Poblacion, Dasmariñas City, Cavite. – With Danessa Rivera