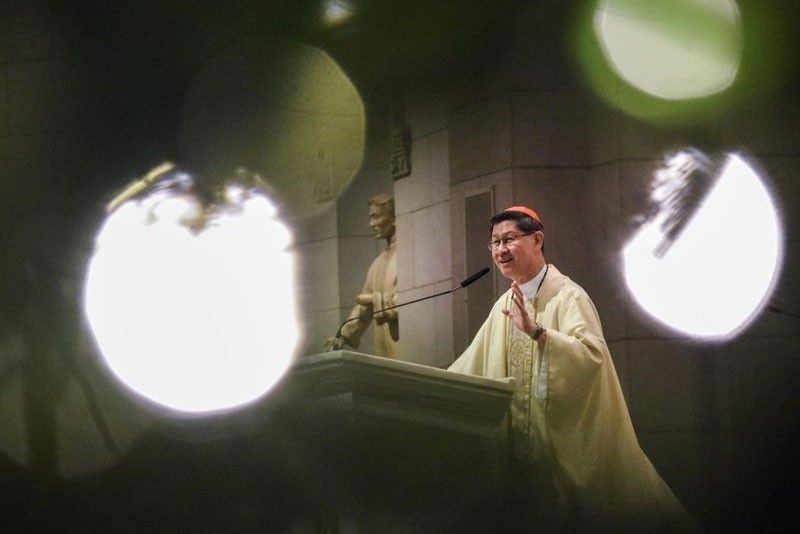 In this file photo, Manila Archbishop Luis Antonio Cardinal Tagle leads the celebration of the Holy Mass at the Manila Cathedral.
Facebook/Manila Cathedral
Tagle urges Catholics: Proclaim good news amid hate speech, fake news
(Philstar.com) - April 18, 2019 - 12:22pm
MANILA, Philippines — Manila Archbishop Luis Antonio Cardinal Tagle urged the Catholic faithful to be bearers of good news in his homily Thursday at the Manila Cathedral.
"We are consecrated, anointed by the Spirit. Parents, teachers, go live for consecration. Proclaim good news," Tagle said as he led the celebration of the Chrism Mass on early Maundy Thursday.
News5 streamed the mass Thursday morning.
He added in Filipino: "There are so many who are bearers of bad news, fake news, hate speech.
Tagle also urged the Filipino to proclaim: "'I will not deliver fake news, hate speech. I am consecrated by the Spirit.'"
The Manila archbishop recalled how many of the young Filipinos "live their lives in bad news," and have difficulty in finishing their studies sometimes due to bullying in school where they receive hate speech, or when they bear high expectations from their family.
"So many young people never hear good news. They only hear criticism, they only hear their incapacity to meet the expectations," Tagle added.
He also said that there are many different kinds of enslavery, and the youth does not know that they have already been held captive.
Tagle urged: "Those consecrated by the Spirit, proclaim liberty to captives. Those consecrate by the Spirit will not led others to further captivity and imprisonment, especially the young."
The Manila archbishop delivered the homily during the celebration of the Chrism Mass, attended by priests of the diocese, when the bishop consecrates or blesses the chrism or the holy oil. The Chrism mass is a Catholic ritual during Holy Week. — Kristine Joy Patag with reports from News5/Greg Gregorio