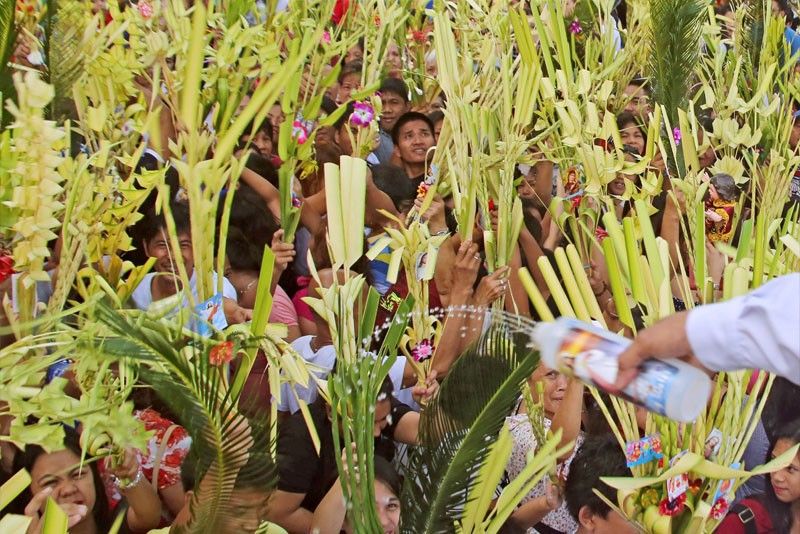 Devotees have their palm fronds blessed at the St. Peter Cathedral in Quezon City
Michael Varcas
Tagle:Holy Week not just for vacation
Edu Punay
(The Philippine Star) - April 15, 2019 - 12:00am
MANILA, Philippines — Manila Archbishop Luis Antonio Cardinal Tagle yesterday called on the Filipino faithful to spend the Holy Week reflecting on the passion of Jesus Christ.
In his homily during the traditional Palm Sunday mass at the Manila Cathedral, Tagle reminded Filipino Catholics that the Holy Week observance is not just an opportunity to take a vacation.
"While we also get to rest during Holy Week, I hope it will not remain merely as a break or vacation, but rather a time to deeply know Jesus," he stressed.
"I hope those of you here will inform your children, grandkids, relatives, friends that Holy Week is a time to look at Jesus," he added.
Tagle also urged the faithful to follow Christ's example. "Listen to Him. Allow His words, His sufferings, love transform our whole being... Let us get to know Him so we can follow Him. It won't be easy but with God's grace, hopefully, we will love and follow Him."
Catholics observe traditional activities during the Holy Week, such as visiting churches or "visita iglesia."
Tagle has repeatedly called on Catholics to practice charity during Lent.
Caceres Archbishop Rolando Tirona echoed Tagle's appeal and urged the faithful not to forget the importance of the Holy Week observance.
"It is to remember in prayer and in conversion, the loving and total sacrifice of Jesus on the cross for our salvation," the prelate said in his message for Holy Week.?"I call on you my dear faithful to enter more deeply and spiritually embrace the meaning of our Lord's Passion, Death and Resurrection," he added.
Tirona also asked the faithful in his archdiocese to actively and devotedly participate in all the liturgical services in their parish churches.
"May God bless our Holy Week celebrations, and make us renewed in our spiritual life," he added.
Palm Sunday kicks off the observation of Holy Week, which ends next Sunday with the Easter celebration.
Meanwhile, detained Sen. Leila de Lima has urged Filipinos to reflect on what she said was the dire state of the nation and the sufferings of their countrymen, especially those from poor families, this Holy Week.
The solemn occasion is a chance for "everyone regardless of religion to ask for the forgiveness of their sins and restore their hopes and drive to fight against anything unjust and oppressive."
"Every Holy Week, we recall the glorious sacrifice and love of the Lord when he offered His own life to save all from evil. Part of this is the invitation for contrition for our sins and strengthening of our faith," De Lima said in a statement.
The detained senator also asked her fellow Filipinos to pray for the future of the country and its leaders, for repentance of sinners who are yet to face the consequences of their crimes and for the election of officials who will deliver honest public service. – With Paolo Romero