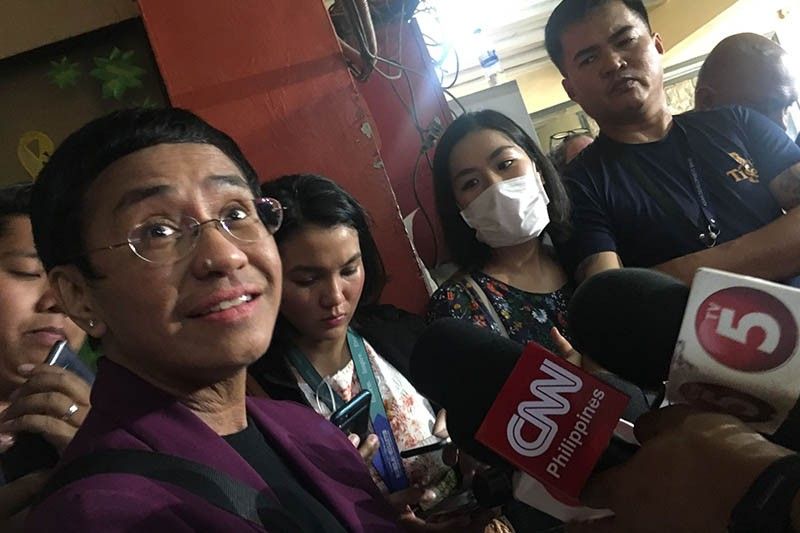 Rappler CEO Maria Ressa tells reporters that the case against her and Rappler "is about anyone who posts on the web."
Philstar.com/Kristine Joy Patag
Court defers Ressa's arraignment on cyberlibel charge
MANILA, Philippines (Update 2, 10:17 a.m.) — The Manila court handling the government's cyberlibel charge against Rappler CEO Maria Ressa and ex-researcher Reynaldo Santos Jr. deferred the arraignment on the said case.
Manila Regional Trial Court Branch 46 deferred the arraignment of Ressa and Santos as the accused said they would file an appeal on the court's dismissal of her motion to quash.
Lawyer Joseph Banguis, counsel for private complainant Wilfredo Keng, said the court set the arraignment on May 17.
This was later confirmed by Ressa's counsel, lawyer Theodore Te.
Ressa's camp is set to file a motion for reconsideration on the court's April 12 ruling that junked her motion to quash due to lack of merit.
Te told reporters that the court gave them 10 days to file their motion for reconsideration.
Te, who is also a former spokesperson of the Supreme Court, said that they would focus on the points raised by the court when it junked their motion to quash.
April 12 ruling
Manila RTC Branch 46 Presiding Judge Rainelda Estacio-Montesa, in her earlier ruling, stressed that the SC-issued temporary restraining order against the cybercrime law only halted its implementation.
"The TRO merely suspends the implementation and enforcement of RA 10175, so that crimes committed during the said period cannot be prosecuted. However, it did not suspend its effectivity," the court held.
"So while the crimes committed during the said period cannot be prosecuted during the effectivity of the TRO, they may be prosecuted after the lifting of the same just like what is done in this case," the court added.
In the same ruling, the court said that the period of prescription for cyberlibel is up to 12 years.
The court said that RA 10175 did not provide a specific penalty for the violation but a provision of the act stated that it must be "one degree higher than that prescribed under the Revised Penal Code for ordinary libel."
"Considering that one degree higher of prision correccional in its minimum and medium periods is prision correccional in its maximum period and prision mayor in its minimum period or 4 years, 2 months and 1 day to 8 years, the offense shall prescribe after 12 years following the provision of Section 1 of Article 3326," the court said.
"Considering that all the essential elements of the offense as defined under RA 10175, were sufficiently established in the Information, the allegations contained therein, indeed, constitute an offense," the court also held.
Ressa, for her part, told reporters that the case against her and Rappler "is about anyone who posts on the web."
"That's why it's incredibly important to look at it and what we hope and pray for is judicial independence," she added.