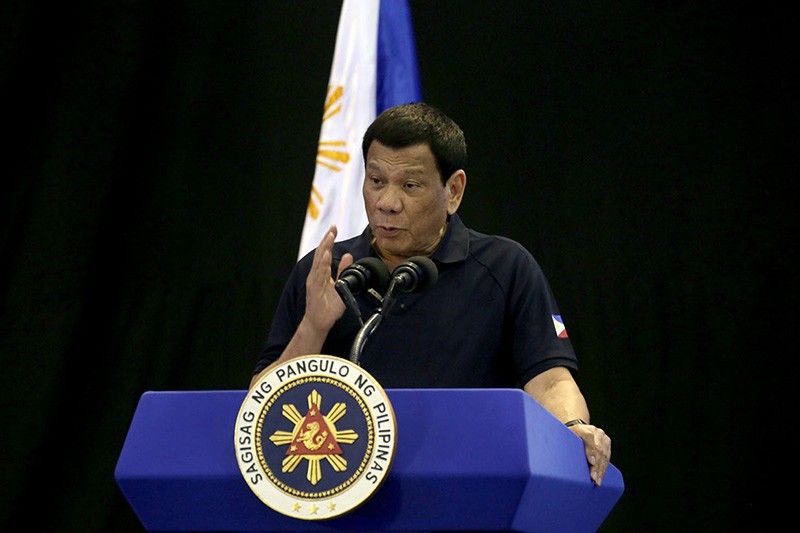 President Rodrigo Duterte delivers his speech during the 25th National Federation of the Motorcycle Clubs of the Philippines Annual National Convention at the Iloilo Convention Center in Iloilo City on April 6, 2019.
Simeon Celi Jr./Presidential Photo
'Pera-pera lang': Duterte hits PCIJ for report on family wealth
MANILA, Philippines (Updated 6:52 p.m.) — President Rodrigo Duterte on Saturday criticized the Philippine Center for Investigative Journalism after the organization released a three-part report on his family's wealth.
In his speech at the 25th annual convention of the National Federation of the Motorcycle Clubs of the Philippines in Iloilo City, Duterte accused the PCIJ of being bribed in exchange of releasing the series of reports on his family.
ICYMI: PCIJ's three-part report on "The Dutertes: Wealth Reveal & Riddles" - because the people have a right to know https://t.co/EM1mqOhPrR

— PCIJ (@PCIJdotOrg) April 7, 2019
"Eh ngayon, tinitira kami ng mga anak ko. All about lawyering. Ano ba naman pakialam nila na what happened to my law office," Duterte said.
(Now, my children and I are being attacked. All about lawyering. What do they care about what happened to my law office?)
"So 'yung… Makita mo 'yung utak ng mga investigative journalism kaya… Pera-pera lang. Binabayaran 'yan kung ganun kalaki. Pati nung lawyering ko," he added.
(Look at how those in investigative journalism think… It's just about money. They get paid a huge sum if the story is that big. They even included my lawyering.)
Duterte, children had inconsistent SALNs
One of the PCIJ reports released late last week found that the 10-year-old Carpio & Duterte Lawyers entity, which has Duterte's daughter Sara Duterte and husband Manases "Mans" R. Carpio as partners, has not been registered with the Securities and Exchange Commissions.
The PCIJ furthered that Duterte and his two children, Sara and Paolo, Davao City mayor and vice mayor, respectively, failed to disclose some of their business interests in their Statements of Assets, Liabilities and Net Worth. Some of them are part of companies that are not registered with the SEC and the Department of Trade and Industry.
Under the law, all public officials and employees, whether regular or under temporary status are required to file their respective SALNs which states their business and financial interests.
The PCIJ also reported that Duterte, Sara and Paolo marked big spikes in wealth and cash while in public office. Prior to his presidency, Duterte served seven mayoral terms or more than 22 years in Davao City.
In 2018, the president's declared net worth rose to about P1.1 million based on his SALN. His net worth in December 2016 was at P27.82 million while it was at P28.54 million by the end of December 2017.
READ: Duterte net worth up by P1.1M
In 2017, the Office of the Ombudsman lodged a probe into the alleged hidden wealth of Duterte, prompted by a complaint filed by Sen. Antonio Trillanes IV.
The ombudsman, however, terminated the probe in November 2017 "after the Anti-Money Laundering Council declined to provide a report or confirmation on the requested vital data."
Duterte wealth 'hard-earned'
Despite the findings of the PCIJ, Duterte asked the investigative journalism center to mind its own business, citing that his family's business interests were hard-earned.
He defended having a law office, citing that there is a need for it.
"Huwag na kami. Kasi kami what we earned outside is none of your business actually. Yung ano na may mga negosyo kami, may mga law office kami. What a g***** s***," Duterte said.
(Spare us because what we earned outside is none of your business actually. We have businesses, we have law offices. What a g***** s***.)
"You know you have to have a law office because there is an election every three years. And it's so short. Kung matalo ka ngayon election na ito, where would you go? Kaya talagang meron kami (If we lose in the elections, where would you go? That's why we have one)," he added.
The president mentioned this despite the Supreme Court and the Local Government Code's rule prohibiting mayors and governors from practicing their professions.
Duterte, who was inconsistent in disclosing the origins of his wealth, also credited his wealth to his late mother Soledad Roa Duterte.
"P***** i** ninyo. Hoy, 'yung mga dilaw, all the time I was with my mother. Maski na noong mayor na ako, ang nagpapakain sa akin nanay ko. 'Yung nanay ko ang may pera. 'Yun ang nanay ko nag-iwan ng pera sa amin. Pero kung magkano, eh bakit sabihin ko sa inyo?" Duterte said.
(Mo**********s. You yellows, all the time I was with my mother. Even when I was still a mayor, my mother fed me. My mother had the money. My mother left money for us. But as to how much, why would I tell you?)
"SALN? Hindi naman ninyo pagod 'yun. Ikaw ba napagod? Bakit ko ilagay sa SALN? (It's not our hard work. Was it us who worked hard for it? Why will we include that to our SALN?) he added.
This is not the first time the president credited his parents for his wealth. Duterte said he earned money from the sale of real property he had inherited from his father, former Davao governor and Marcos Cabinet member Vicente Duterte.
PCIJ: 'We exerted best effort to get their side '
PCIJ said it has reported on the wealth and the controversies that had hounded of all five presidents before him — Benigno Aquino III, Gloria Macapagal Arroyo, Joseph Estrada, Fidel Ramos and Corazon Aquino.
PCIJ added that it would have been better if Duterte and his children responded to its request for comments and sit-down interviews before the story ran.
"PCIJ exerted best effort to get their side — by courier, fax, and email, we sent them two batches of request letters in October 2018 and in January 2019," PCIJ Executive Director Malou Mangahas said in a statement.
"PCIJ had wished only for the Dutertes to offer clear, direct, straightforward replies to our queries. Instead of blaming PCIJ for the report. Mr. Duterte should turn his attention at his deputies, notably Presidential Legal Counsel Salvador Panelo, for the failure of Office of the President to attend to PCIJ's request letters, over the last five months," she added.
"In truth, the President did not have to lose his cool; the PCIJ report was built on the Dutertes' own declarations in their SALNs, and data from official government records," PCIJ concluded.