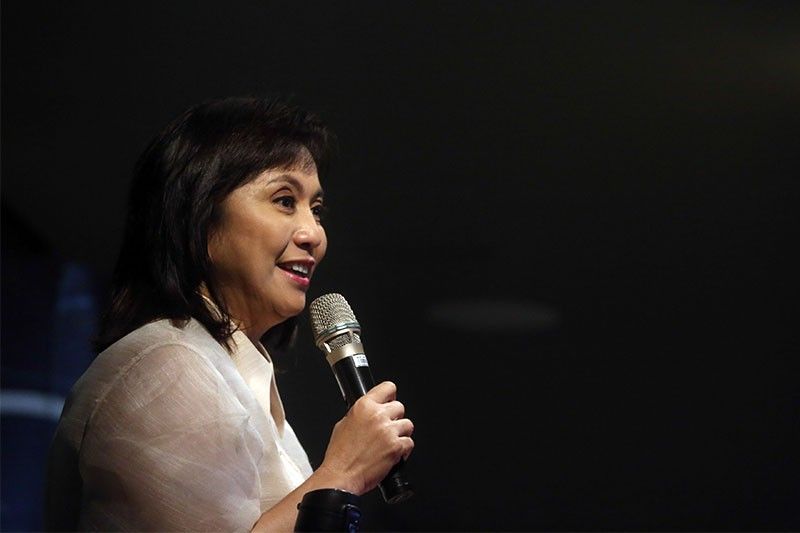 In this Feb. 26, 2019 photo, Vice President Leni Robredo talks during the Ka Pepe Diokno Human rights award at De La Salle University in Manila.
The STAR/KJ Rosales
Robredo: Declaring 'revolutionary government' unconstitutional
MANILA, Philippines — Vice President Leni Robredo said she was shocked at President Rodrigo Duterte's threat to declare a "revolutionary government."
The president said he might declare a war in response to Sen. Franklin Drilon's statement that the government should exercise extreme caution in reviewing government contracts.
Duterte also warned he wuld suspend the writ of habeas corpus "if pushed against the wall."
"Iyong pagdeklara ng Pangulo ng revolutionary government, medyo nagulat ako dahil abogado siya, at alam niya na labag ito sa Konstitusyon," Robredo told reporters in Bohol.
(I was a little shocked at the president's statement about declaring a revolutionary government since he is a lawyer and he knows that violates the Constitution)
The vice president stressed that both she and Duterte swore to protect the 1987 Constitution.
"Kapag nagdeklara siya ng revolutionary government, ang gusto ba nito sabihin inaabandona niya iyong kanyang pinanumpaan?" she added.
(If he declares a revolutionary government, does this mean that he is abandoning his oath?)
Robredo said that Duterte's response to Drilon's statement was inappropriate.
The vice president reminded the president that all government officials face challenges while in office.
"Hindi puwedeng dahil parang nag-alburuto ka... parang tatakutin iyong taumbayan sa isang paraan na hindi constitutional," the vice president said.
(You cannot threaten the country with unconstitutional methods because you are angry)
Macalintal: Robredo becomes president if 'RevGov' declared
Election lawyer and senatorial bet Romulo Macalintal, on the other hand, said Robredo would become president if Duterte declares a revolutionary government.
"Such act will pave the way for Vice President Leni Robredo to take over the vacant position of president and assume the functions and the Office of the President," Macalintal said in a statement.
Macalintal pointed out that if this happens, Duterte would become the leader of a revolutionary government while Robredo would become president of the duly-constituted government.
Declaring a revolutionary government is not a function of the president, the opposition senatorial candidate said.
"If President Duterte really declares a revolutionary government, then it will be a show of force between his government and the government led by Robredo, being the successor president of a democratic government," Macalintal said.
The opposition bet also stressed that Duterte's envisioned revolutionary government cannot be compared with that of former President Corazon Aquino.
Duterte's pronouncements was just a "knee-jerk reaction" against his critics while Aquino's revolutionary government was a result of the people's uprising to overthrow an "abusive and graft-laden government," Macalintal said.
"In a word, while President Duterte can declare a revolutionary government, it will still depend upon the people if they will accept such kind of government since the present government is the result of a democratic process as provided for under our constitution," he said.