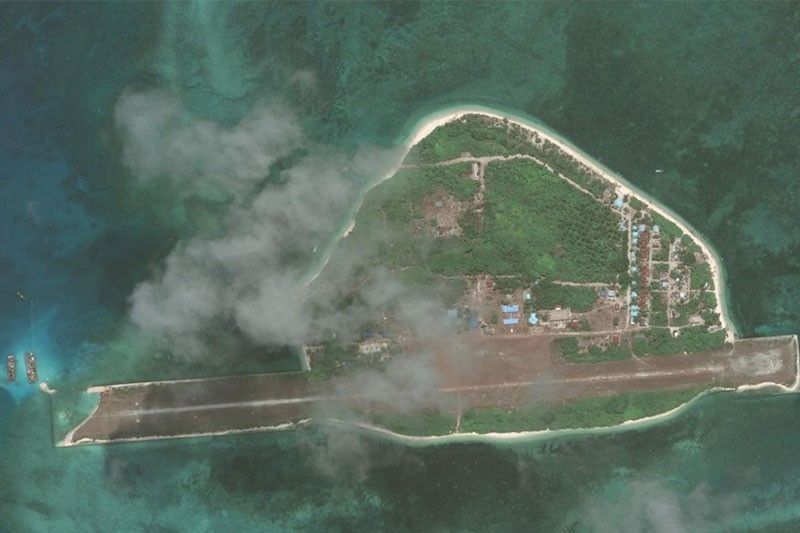 This May 2018 satellite imagery from Washington-based Asian Maritime Transparency Initiative show minor upgrade to facilities on Pag-asa Island, one of the largest features in the Spratlys.
CSIS/AMTI via DigitalGlobe
China investigating vessels in Pag-asa Island vicinity
(Philstar.com) - April 2, 2019 - 10:19am
MANILA, Philippines — The Chinese government is looking into the reported presence of hundreds of vessels near Pag-asa Island in the West Philippine Sea.
Presidential spokesperson Salvador Panelo said this was what Chinese Ambassador Zhao Jianhua told him when they met last Monday.
"According to the Chinese Ambassador, they will investigate. That's what he said," Panelo told ANC's "Early Edition."
According to Panelo, Zhao told him that this issue should be discussed in the bilateral consultation mechanism between the Philippines and China.
The Chinese envoy, however, insisted that the vessels surrounding the vicinity of Pag-asa Island, one of the largest features in the Spratly Islands, were fishers.
"He said that those were fishermen, not militia and they're investigating it. Well, I told him that according to the Western Command, our DFA has already filed a diplomatic protest or note verbale," Panelo said.
Zhao told the Malacañang mouthpiece that he has not yet received the protest from the DFA.
The Chinese envoy requested for a meeting with Panelo to discuss the Philippine government's position on the communication that Foreign Affairs Secretary Albert del Rosario and former Ombudsman Conchita Carpio-Morales submitted before the International Criminal Court.
The two former high-ranking government officials urged the ICC to open a preliminary examination into the culpabilities of Chinese President Xi Jinping on Beijing's island-building activities in the West Philippine Sea.
"He told me yesterday the reason why he went to my office was to express the government's opposition of China, on our stand on the ICC," Panelo said.
The Duterte administration has distanced itself from the communication against Chinese leaders before the international court.
"Our position is that it's a futile exercise because of lack of jurisdiction but we told the Chinese government that we have nothing to do with that because it's a private complaint," Panelo said.
Hitting back at Panelo, Morales said Malacañang spokesperson was misinformed on his remarks over the ICC communication.
"He is misinformed or he misread, if at all he read, the Rome Statute," Morales said in an interview with ANC's "Headstart."
Under the Rome Statute, the ICC may exercise jurisdiction if the "State on the territory of which the conduct in question occurred or, if the crime was committed on board a vessel or aircraft, the State of registration of that vessel of aircraft."
The Philippines was still a member of the ICC when Del Rosario and Morales submitted the communication weeks ago. — Patricia Lourdes Viray