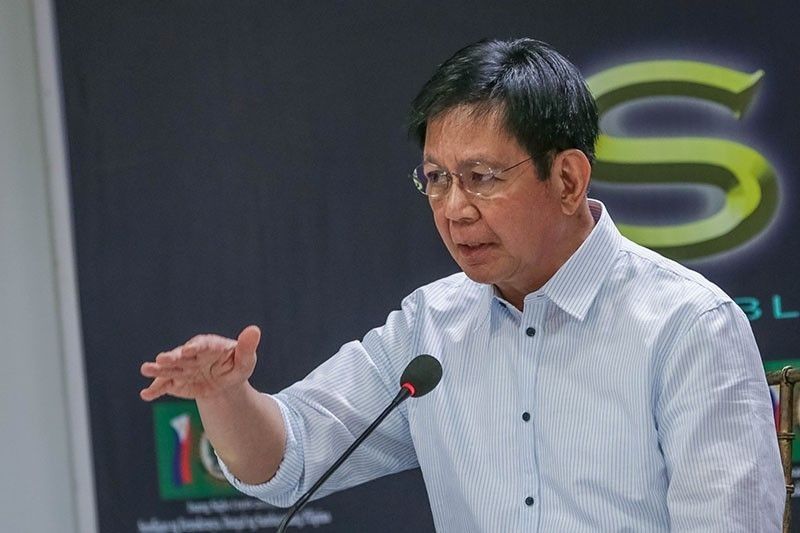 File photo shows Sen. Panfilo Lacson in a Kapihan sa Senado forum.
The STAR/Geremy Pintolo
Lacson doubts timing of ex-cop Acierto's claims
(Philstar.com) - March 28, 2019 - 3:17pm
MANILA, Philippines — Sen. Panfilo "Ping" Lacson said the timing of former police officer Eduardo Acierto's release of documents alleging drug links of President Rodrigo Duterte's former economic adviser Michael Yang is suspicious.
On Thursday's Kapihan sa Senado, which was streamed by the Senate, Lacson said that he is wondering what took Acierto, a dismissed police colonel, so long to divulge information on the alleged drug links of Yang.
"What took you so long between 2004, when President Duterte was still a mayor (of Davao City) and he being a president was far from imagination. Why didn't you pursue (probe) then if that is such a big issue?" he said in a mix of English and Filipino.
Acierto, a former official of the Philippine National Police Anti-Illegal Drugs Task Force, recently showed to reporters photographs of Duterte with Yang—whose contract as presidential economic adviser expired last year—and a certain Allan Lim, who are allegedly involved in illegal drugs.
The former cop said that he is unaware what government action has been taken after he submitted his report about the Chinese men to top law enforcement officials in December 2017.
Senate hearing
Lacson also raised: "The manner of his release of the documents is suspect because what is the motive?"
"Before he had all the opportunity to come out—because he was yet to be arrested—to make the document public in a formal hearing which is the blue ribbon committee hearing. Why didn't he do it?" the lawmaker added.
Acierto claimed he has been unfairly included in the drug watch list after he revealed Yang's alleged illicit dealings.
Duterte had tagged Acierto in an alleged drug matrix last year.
Acierto's name also cropped up during the Senate investigation last year into the entry of drugs concealed in magnetic lifters into the country.
The Philippine Drug Enforcement Agency had claimed that Acierto was part of the group that facilitated the smuggling of P6.8 billion worth of shabu hidden inside magnetic lifters that slipped past the Bureau of Customs and ended up in a warehouse in General Mariano Alvarez, Cavite.
"I am really wondering because he was in hiding but what is his motive in coming out and accusing President Duterte?" Lacson added.
READ: Gordon urges Acierto to come out, surrender
Duterte, in a speech late Tuesday night, confirmed that Acierto submitted a report that included Yang but he dismissed it due to the former cop's shady background.
He also vouched for Yang, noting that top Chinese officials, who would not let persons linked to drugs besmirch their integrity, are associated with the Davao-based trader.
READ: Duterte trains guns on Acierto anew | PDEA chief: 'Michael Yang' in drug database not Duterte ex-adviser
Government should still look into Acierto's claims
The senator, a former PNP chief, also said that he believes it would be better if a government agency, such as the PDEA, would launch a fact-finding investigation into Acierto's claims.
He pointed out that some parties that are already riding the issue.
"Now, isn't it that most of those who are seeking investigation, most are opposition, Liberal Party members. From there, you could see that there is a shade of politics," he said.
READ: Senate bets urge ombudsman to probe Duterte, other execs amid allegations by ex-cop Acierto
Lacson said that a probe could dispel doubt and would give a conclusion into the issue.
PDEA Director General Aaron Aquino, in an interview with CNN Philippines' "The Source" earlier on Thursday, said that they are still looking into Acierto's reports. — Kristine Joy Patag