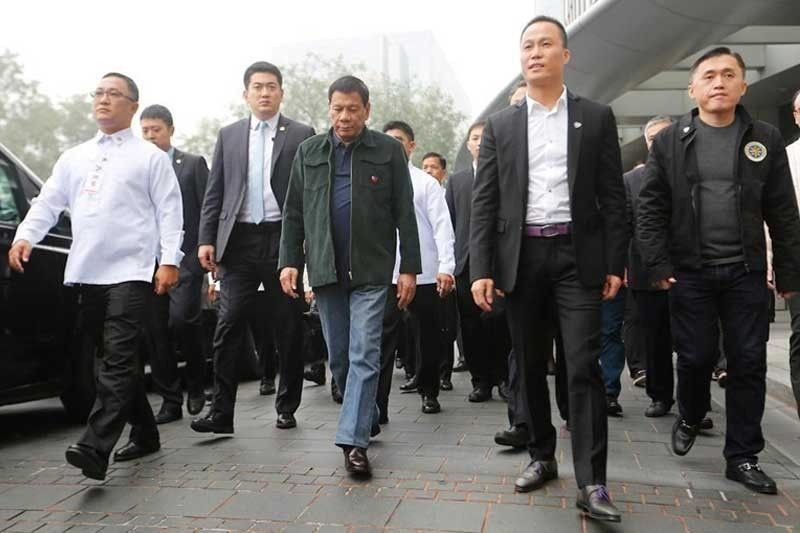 In this file photo, President Rodrigo Duterte is seen with his economic adviser Michael Yang and former assistant Bong Go.
Presidential Photo/Toto Lozano
Panelo: Unless there's proof of drug links, Michael Yang has Duterte's trust
(Philstar.com) - March 26, 2019 - 3:25pm
MANILA, Philippines — Presidential economic adviser Michael Yang, accused of having links with the illegal narcotics trade, will continue to have the president's trust as long as there is no proof to back up the allegations, presidential spokesperson Salvador Panelo said.
In a press conference, Panelo said that President Rodrigo Duterte has his own sources of information on Yang. "Unless you can show proof that he is involved (in drug trade), the trust and confidence remain," he added.
Duterte had earlier cleared Yang of alleged drug links, recalling that Chinese Ambassador Zhao Jianhua admitted to sleeping at Yang's residence in Makati. Panelo reiterated this on Tuesday's briefing.
"We all know that Chinese government is against illegal drugs... Zhao would not associate with someone linked to narcotics," he also said.
"The fact alone that you are an ambassador... How can you be associating with somebody you know to be involved in drugs?" Panelo added.
Former senior superintendent Eduardo Acierto in a news conference late Sunday night said that Yang is involved in the illegal drug trade. He also showed photos of the president with two Chinese men allegedly involved in the drug trade and reported the alleged links of the two men to top police officials.
But Panelo said that if what Acierto is true, he should have filed a complaint with the Philippine Drug Enforcement Agency.
Acierto decried now facing illegal drug complaints that he said prompted him to go into hiding.
In January, the National Bureau of Investigation has filed importation of illegal drugs, graft and grave misconduct complaints against Acierto and 50 other Bureau of Customs officials before the Department of Justice.
The DOJ has yet to resolve the complaint.
Acierto just wants to 'get back'
He also said that Acierto is only "pointing fingers at whoever" since he has been accused of the illegal drug trade.
"He wants to get back," Panelo said.
If investigation however proves that Yang is involved in the drug trade, Panelo assured that the presidential adviser would be put behind bars.
"Charges will be filed against him if that is validated.... We're (Malacañang) waiting for the validation of any allegation on involvement," added the Palace spokesman. — Kristine Joy Patag