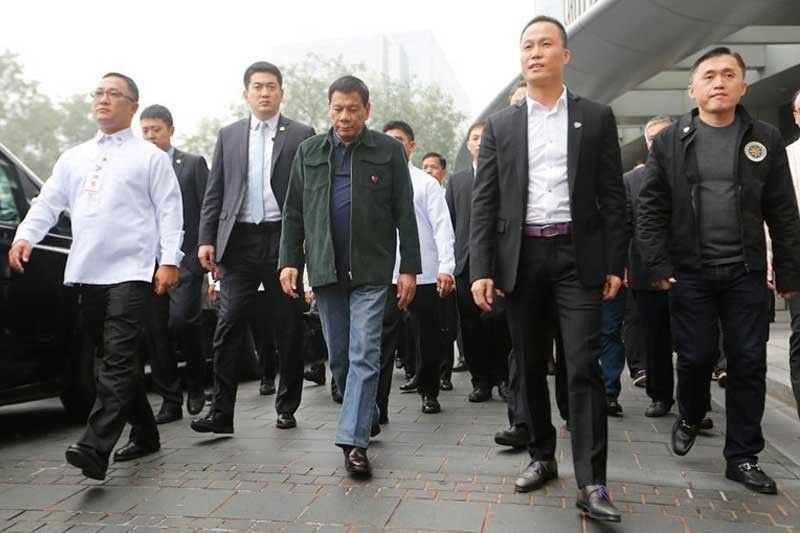 Presidential spokesperson Salvador Panelo on Tuesday confirmed that Yang is an economic adviser of Duterte, about a month after the president denied it "because he (Yang) is Chinese."
Presidential Photo/Toto Lozano
LP asks Palace for transparency on Michael Yang's role as adviser
MANILA, Philippines — The Liberal Party on Wednesday questioned the appointment of Davao-based Chinese businessman Michael Yang as an economic adviser to President Rodrigo Duterte—an appointment the president previously said was impossible.
LP's statement came a day after presidential spokesperson Salvador Panelo confirmed that Yang is an economic adviser of Duterte and about a month after the president said Yang cannot be an adviser "because he is Chinese."
Panelo said that Yang "is just one of those advisers that the president consults on a particular matter."
LP vice president for external affairs Erin Tañada, a candidate for senator, asked Malacañang to be more transparent on the Chinese national's involvement in Duterte's decisions.
"We call on the Palace to be transparent about Michael Yang's involvement in presidential decisions, particularly on economic affairs. We urge the Palace to clarify the extent to which Michael Yang is allowed access to information sensitive to the interests of the state," Tañada said.
The LP officer also questioned Yang's competencies and qualifications to become an economic adviser.
"Is it really a position they cannot find a qualified Filipino to fill? Where does his loyalty lie?" Tañada asked.
When asked a similar question during the press briefing Tuesday, the president's mouthpiece said that this was "between the president and his economic advisors."
He gave the same answer when asked about the type of sensitive information that the businessman has access to.
Republic Act 9184 Government Procurement Reform Act, states that it is legal for the government to hire foreigners as consultants but the process should undergo public bidding.
According to Commission on Audit rules, the hiring of foreign consultants is justified only if the technical expertise needed for the position cannot be filled by a Filipino.
Yang's alleged drug links
The LP executive also raised alarm over Yang's alleged link to the illegal drugs.
"Are these links connected to the ease and audacity within which billions of pesos worth of shabu are being smuggled into Bureau of Customs right under the noses of Malacañang's key appointees?" Tañada asked.
Last month, Duterte cleared Yang of alleged links to the illegal drug trade, saying the Chinese businessman could not be involved in the drug trade as he is often with the Chinese Ambassador to the Philippines Zhao Jinhua.
RELATED: Duterte did not link Chinese envoy to 'drug pusher,' Palace clarifies