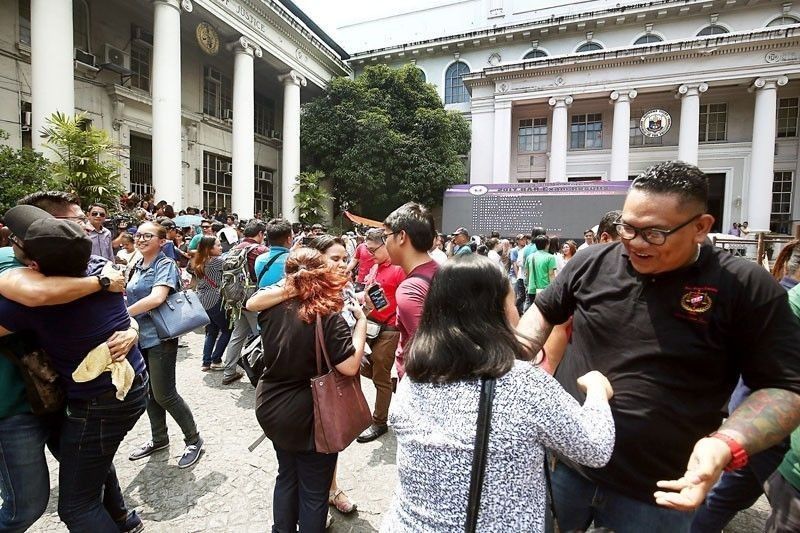 Law graduates react after seeing their names as the list of successful bar examinees was posted at the Supreme Court compound in Manila on April 26, 2018.
The STAR/Miguel de Guzman
SC allows non-PhiLSAT passers to enter law school, pending next admissions test
(Philstar.com) - March 18, 2019 - 7:08pm
MANILA, Philippines — The Supreme Court is allowing non-passers of the centralized law admissions test to enter law school temporarily, pending the next scheduled Philippine Law School Admission Test.
The SC Public Information Office on Monday released a copy of the court's en banc resolution issuing a halt order against a directive of the Legal Education Board on the conduct of PhiLSAT.
The TRO is effective immediately, pending further action from the court.
The halt order was issued specifically against LEB Memorandum No. 18 that removed the conditional enrolment of law students.
The SC told the LEB: "You, respondents, your agents, representatives, or persons acting in your place or stead, are hereby commanded and directed to cease and desist from implementing the LEB Memorandum Circular No. 18 dated June 8, 2018, effective immediately and continuing until further orders from this Court."
The tribunal, in its resolution issued after it held oral arguments, said that the following may now be allowed to "conditionally enroll" as incoming freshmen law students "under the same terms of LEB Memorandum No. 11:"
those who have not taken the PhiLSAT prior to the beginning of the Academic Year 2018 to 2019
those who have taken the PhiLSAT but did not pass
those who are honor graduates in college with no PhiLSAT exemption certificate
those who are honor graduates with expired PhiLSAT exemption certificate
LEB Memorandum No. 11, however, states that students who have yet to pass the PhiLSAT may conditionally enroll in law schools provided that they take the next scheduled admission test.
The LEB on its Facebook page said that it received the SC's order on Monday.
"The LEB advisory on the April 7, 2019 PhiLSAT will follow," the board posted.
The SC held oral arguments on the two petitions filed by retired Makati Regional Trial Court Judge Oscar Pimentel and a group of law students in 2017 and 2018, respectively. They are questioning Republic Act 7662 or the Legal Education Reform Act that was the basis of the memorandum that ordered the conduct of PhiLSAT.
During the oral argument, justices quizzed the petitioners and respondents on whether the conduct of a centralized law admissions exam violates a citizen's right to knowledge and academic freedom. — Kristine Joy Patag