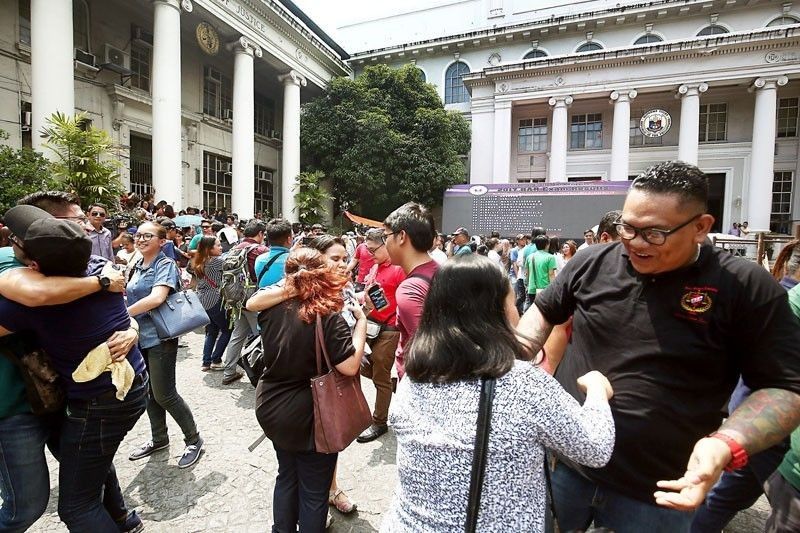 Law graduates react after seeing their names as the list of successful bar examinees was posted at the Supreme Court compound in Manila on April 26, 2018.
The STAR/Miguel de Guzman
Justices ask: Does PhiLSAT exclude those who want to pursue knowledge?
MANILA, Philippines — Would a national examination on law school admission violate a citizen's right to knowledge?
Senior Associate Justice Antonio Carpio posed a hypothetical situation to the respondent-government on Tuesday's oral arguments: A person would want to enroll in a law school to expand his knowledge or use it for promotion purposes, but he would not be allowed to enter the law school for flunking the Philippine Law School Admission Test.
"If the person who flunked PhiLSAT cannot study law, you are depriving him of his right to knowledge which cannot be stopped," Carpio told Solicitor General Jose Calida.
But Calida said the petition they were discussing does not raise the situation being propounded by Carpio.
The oral argument was set on the two petitions filed by retired Makati Regional Trial Court Judge Oscar Pimentel and a group of law students in 2017 and 2018, respectively. They are questioning Republic Act 7662 or the Legal Education Reform Act that was the basis for the memorandum that ordered the conduct of PhiLSAT.
"I will wait for that person to go to the SC," Calida added.
But the justice pressed: "As a matter of law, can Congress or the Legal Education Board pass a regulation saying you can never enter a law school, even if you don't want to be a lawyer?"
Chief Justice Lucas Bersamin ordered the parties to expound on Carpio's hypothetical situation in their respective memoranda to be submitted in 20 days.
State's interest
Associate Justice Marvic Leonen, for his part, asked Calida: "What is the state's interest in interfering with law schools' decision on who they want to take?"
Calida explained that the basis for PhiLSAT is to improve the quality of the bar and bench as stated in Section 2 of RA 7662.
"The state shall undertake appropriate reforms in the legal education system, require proper selection of law students, maintain quality among law schools, and require legal apprenticeship and continuing legal education," the solicitor general said quoting Section 2 of the law.
Leonen noted that based on Calida's response the state-administered law admission exam "may become unconstitutional" as it interferes with a function tasked to the SC — to improve the quality of the bar and the bench.
The justice furthered: "Congress cannot tell the SC how it is going to admit people to the Bar."
He ordered Calida to expound on his justification in their memoranda.
Leonen, during his interpellation of the petitioners earlier on Tuesday, also zeroed in how the centralized law admissions exam may infringe on academic freedom.