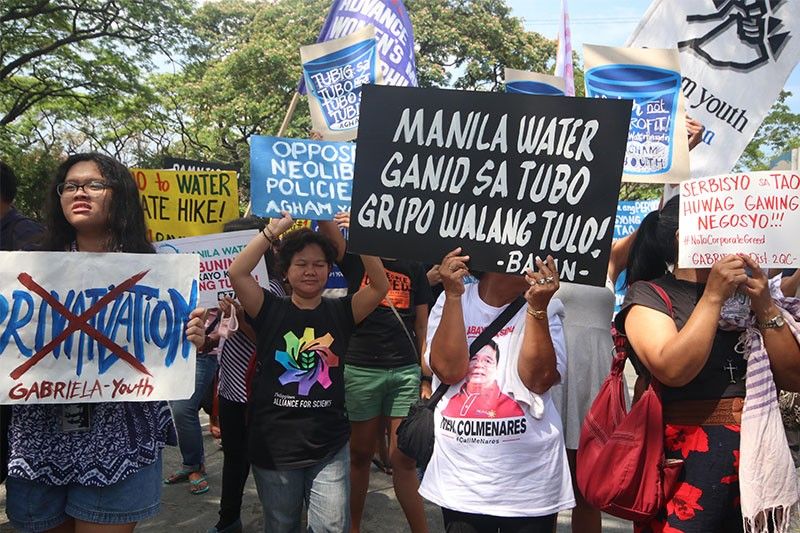 In this March 15, 2019 photo, protesters hold rally outside the Metropolitan Waterworks and Sewerage System headquarters in Quezon City as some areas in Metro Manila continue to experience water supply interruptions.
The STAR/Boy Santos
Manila Water admits violation, faces penalty for service interruptions
MANILA, Philippines — Manila Water on Monday admitted it violated a service requirement in its concession agreement,but said it has yet to compute how much the penalty for breaching its obligation to provide round-the-clock water service will be.
Metropolitan Waterworks and Sewerage System (MWSS) chief regulator Patrick Ty confirmed that the Ayala-led water concessionaire has violated its mandate to provide uninterrupted water service.
"Manila Water violated their water service commitment to provide 24/7 water to their customers," Ty said in a House committee hearing Monday.
The MWSS chief noted that they have sent several notices and reminders to Manila Water for its violation in the past week.
Manila Water president and CEO Ferdinand dela Cruz admitted that the company had breached their concessionaire agreement and that there are penalties prescribed for this violation.
"I think we cannot deny the breach in the 24/7 service becuase the people feel it. There is a prescribed penalty for it if it cannot be corrected in 15 days, 60 days, 150 days as enshrined," Dela Cruz told the House panel.
Dela Cruz said Manila Water has not yet computed their prescribed penalty as they are focused on restoring service to their customers in the east concession zone.
The Manila Water chief also held himself accountable for the sudden drip in the company's service levels, acknowledging the anger of affected customers.
"I'm taking full accountability for what has happened and wherever that leads me to, I will take accountability for that action. I am prepared to resign for failing the customers but my focus right now is to restore the service even if it's in a slow process," Dela Cruz said.
The statement was in response to questioning by Rep. Lito Atienza (Buhay party-list), who asked if those linked to the water shortage are willing to quit.
Penalties
MWSS earlier claimed that its regulatory office does not have the authority to impose fines and penalties.
Asked who will impose penalties, Ty said there are provisions in the concession agreement that of they violate the terms, their tariff adjustment in 2022 would be affected.
The MWSS chief regulator later on clarified that the cost could be deducted from the private concessionaire's projects, citing the Cardona water treatment plant as an example for Manila Water.
Manila Water recently energized its water treatment plant in Cardona, Rizal to supply water to some areas in the province, which have also been experiencing water service interruptions.
"The amount of any such penalty shall be equal to 25 percent of that cost that in the reasonable opinion of the (regulatory office) the concessionaires will incur in order to meet the service obligation in question," Ty said.
Ty said this cost cannot be discussed at the moment as the MWSS has to see the total cost of the service interruption.
"What will happen is that we will check all their cost that they incurred during this time and check if this work were efficient and if these were not efficient, we can disallow them so they cannot recover these costs," the MWSS official said.
During the House committee hearing, Manila Water's Dela Cruz explained that the drop in the water level of La Mesa Dam prevented them from getting 150 million liters per day (MLD). This additional 150 MLD is on top of the 1,600 MLD contractual allocation that Manila Water gets from Angat Dam as the east concession zone's demand has reached 1,750 MLD.
"Without this additional 150 million liters per day of untreated water from La Mesa Reserve, we cannot fully serve the peak demand, at sufficient pressure, of your contituents," Dela Cruz told lawmakers.
As It Happens
LATEST UPDATE: June 17, 2019 - 2:31pm
An environmental watch group advises the public to conserve water all the more as parts of the country grapple with the effects of drought brought by the onset of El Niño.
In a statement, the EcoWaste Coalition calls on Metro Manila households to take water conservation more seriously while also calling on establishments to intensify water conservation measures.
"We join our water authorities in asking household, businesses and government institutions in Metro Manila to use water more wisely amid the declining water level in Angat, Ipo and La Mesa Dams," Aileen Lucero, EcoWaste national coordinator, says.

She adds: "Let us all aim for zero water waste to reduce the impacts of low water supply during the summer months to the people, especially the poor, and the environment."
The water level in La Mesa Dam is now below critical level at 68.93 meters due to the summer season and the El Niño phenomenon.
June 17, 2019 - 2:31pm
Manila Water is now operating an additional 34 deep wells in its concession area to help meet the demand of customers while the new water sources are being completed.
As of June 9, 2019, 43.42 million liters of water per day have been drawn from these deep wells and is seen to bring more water supply upon full operation of more deep wells in the coming months.
"The operation of these deep wells is vital to recovering our service towards 24/7 supply at 7 psi or pressure up to the ground level as one of the means of augmenting the water supply deficit," Manila Water Corporate Strategic Affairs Group Head Jeric Sevilla says.
April 24, 2019 - 8:49pm
Manila Water President Ferdinand dela Cruz says in a statement that he will abide by the decision of the Metropolitan Waterworks and Sewerage System to pay a financial penalty upon over its momentary inability to meet its service obligations to provide round-the-clock water supply to consumers.
The MWSS board has sanctioned Manila Water Company Inc. with a total of P1.134 billion fine and an additional P600 million fund for development of a new water supply source following the water shortage last month that affected parts of Metro Manila and neighboring towns.
April 24, 2019 - 8:39am
The imposition of penalties on Manila Water was due to its failure to comply with Article 10.4 of the concession agreement or the 24-hour available supply in its service areas.
April 24, 2019 - 8:34am
The MWSS Board sanctions Ayala-led Manila Water with P1.15 billion in fines following the supply mess last month.
— The STAR/Maureen Simeon
April 16, 2019 - 11:34am
Manila Water says it accepted the resignation of Chief Operating Officer for Operations Geodino Carpio amid the water shortage that recently hit parts of Manila and Rizal.
The firm has appointed Abelardo Basilio as acting COO for Manila Water Operations.