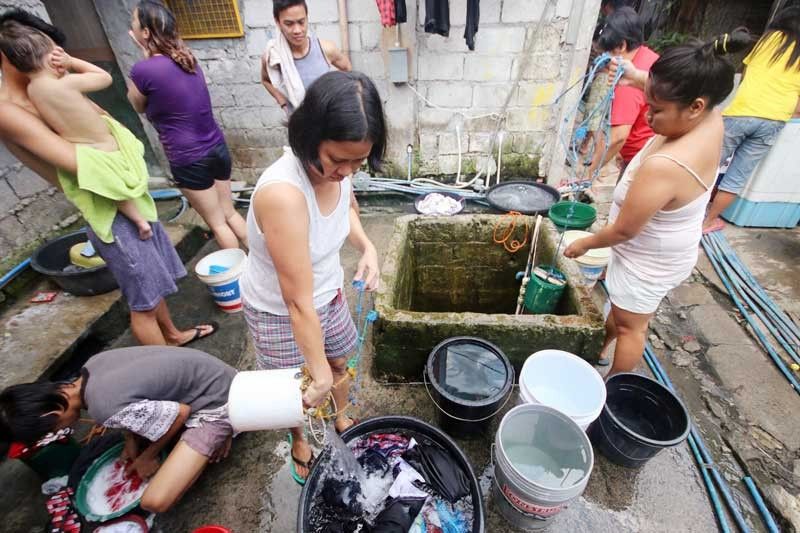 Residents get water from a deep well in Barangay Old Capitol, Quezon City yesterday.
Boy Santos
Maynilad starts sharing water with Manila Water
Jess Diaz
(The Philippine Star) - March 16, 2019 - 12:00am
MANILA, Philippines — Maynilad Water yesterday started sharing up to 50 million liters of water a day to the service areas of Manila Water, which have been experiencing supply interruptions since last week.
Maynilad opened its valve on West Avenue in Quezon City to signal the flow of water to Manila Water areas.
Speaker Gloria Macapagal-Arroyo, Quezon City Rep. Winston Castelo, Marikina Rep. Bayani Fernando and other officials witnessed the sharing of supply between the two concessionaires.
According to Maynilad president Ramoncito Fernandez, supply sharing "in case of emergencies" is part of their concession agreement with the government.
Maynilad is scheduled to open four other valves in Metro Manila to share water with Manila Water.
As for President Duterte's order for authorities to release 150 million liters of water from Angat Dam in Bulacan, Fernandez said there are "physical constraints" for the transfer.
It would require the expansion of some aqueducts and tunnels, Fernandez explained.
To further ease the crisis, Castelo suggested that deep wells be revived.
"Although the law does not allow this, we should be liberal in interpreting it since there is a crisis," he said.
Maynilad and Manila Water officials said they are working with the Metropolitan Waterworks and Sewerage System (MWSS) and National Water Resources Board to get deep wells pumping again.
Some hospitals have proposed that they be allowed to tap underground water.
Castelo's Metro Manila development committee is scheduled to start an inquiry into the tight water supply in the metropolis and nearby provinces.
Two other House members, Michael Romero of party-list 1-Pacman and Bernadette Herrera-Dy of Bagong Henerasyon, said there are pending bills that would help solve the water crisis and future emergencies if enacted into law.
One such measure is House Bill 8165, which seeks the creation of the Department of Disaster Resilience.
"The new department can take the lead in addressing the water crisis, which has been aggravated by the ongoing El Niño drought," Romero said.
Romero urged the President to certify the bill as urgent. The House has approved the measure, which is now with the Senate.
Romero also called on the government to strictly enforce the Water Crisis Act of 1995, particularly its provisions on water pilferage.
"There is so much water loss arising from theft, pilferage and illegal connections," he said.
He said the executive branch has broad powers to promote water conservation and assure the public of steady water supply.
For her part, Dy said there are pending bills "about watersheds, water storage and water systems."
"There is also a bill seeking to amend the MWSS charter. We will sort through those proposed laws to determine which can be expedited now," she said.
Earlier, Isabela Rep. Rodolfo Albano III urged Malacañang to order state agencies to reduce water consumption and for regulators and local officials to ask carwash shops and golf courses to conserve water.
Rep. Lito Atienza of Buhay party-list, on the other hand, proposed that all establishments be required to install rainwater catchment facilities.