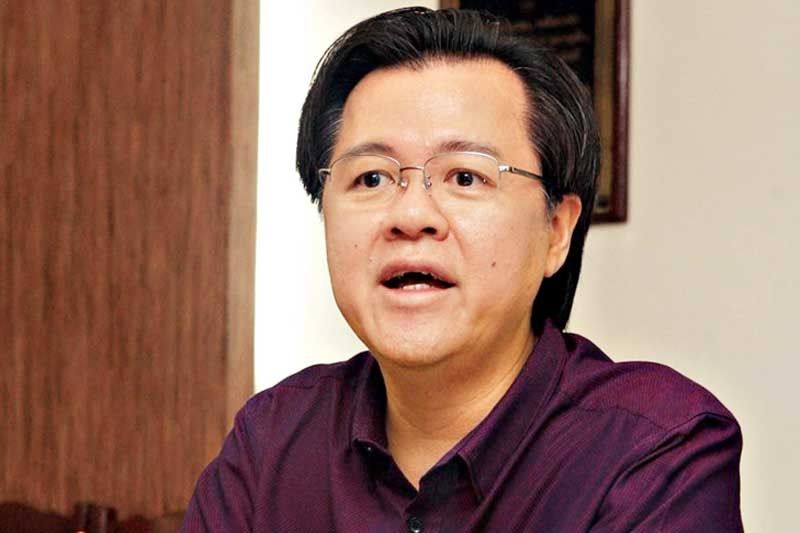 Senatorial candidate Dr. Willie Ong answers questions from editors and reporters during a recent visit to The Philippine STAR office.
Joey Mendoza
Doc Willie: Health sector needs voice in Senate
Ghio Ong
(The Philippine Star) - March 16, 2019 - 12:00am
MANILA, Philippines — The health sector needs a voice in the Senate and cardiologist Willie Ong, despite a lack of financial resources, is seeking to be that voice as he pushes for a truly universal health care system in the country.
Ong has been conducting medical missions for over 25 years, promoting a healthy lifestyle and giving free medical advice that has made him a star on social media. He has written various books and has over 100 videos that can be accessed free on social media.
"Fifty percent of the sick (in the Philippines) die without seeing a doctor," Ong lamented. He believes he can make a big contribution towards a truly universal health care system so that all Filipinos, especially the poor, will have access to medical treatment.
"I'm the only doctor running for the Senate," Ong said. If he makes it, Ong will be the fourth physician to become a senator based on records posted on the Senate website.
The doctors elected in the past were Juan Nolasco, who served from 1931 to 1935; Jose Locsin, 1954 to 1957; Juan Flavier, 1995 to 2007; and Luisa Ejercito, wife of former president and Manila Mayor Joseph Estrada, 2001 to 2007.
Many politicians, including those seeking Senate seats in the midterm elections, have little understanding of the recently enacted Universal Healthcare (UHC) Law, Ong said.
"They have superficial knowledge… Everybody says with UHC you get free healthcare for everyone. (But) we will need a deeper understanding of health issues in our journey to universal health care," Ong told reporters and editors of The STAR during a visit Wednesday night.
For one, Ong pointed out it will be impossible to provide free health care for all as claimed by politicians because given the government's funds, it is "not doable."
Ong, who specialized in internal medicine and cardiology, estimates that the country needs around P1.2 trillion for healthcare every year. For this year, the government has allotted only P235 billion for health expenditures in the national budget.
"Right now the DOH (Department of Health) has P109 billion, PhilHealth (Philippine Health Insurance Corp.) has P111 billion, Pagcor (Philippine Amusement and Gaming Corp.) and PCSO (Philippine Charity Sweepstakes Office) have P15 billion, for a total of P235 billion," he said, adding out-of-pocket spending for health by Filipino citizens, whether from their own income, savings or insurance, reaches P370 billion annually.
With such estimates, the government must have P500 billion more to have an ideal allocation for the health of its citizens.
"The US spends 16 percent of its GDP (gross domestic product) on health while the Philippines only allocates four percent of our measly GDP to health, being a low-middle income country. And Americans are still not satisfied," Ong said.
A key to improving health spending, Ong said, could be to fix the system of how PhilHealth spends its funds, which he found to be "very inadequate."
"PhilHealth is the core of UHC. If we increase the budget for PhilHealth, many things will get better: patients' expenses will go down, there will be free outpatient checkups and more doctors and nurses, improve (government) hospital funds and capability," Ong explained.
"(PhilHealth) can give free checkup to up to 20 million poor Filipinos at P1,800 each every year," he said.
Last month, President Duterte signed the Universal Health Law, which aims to automatically enroll all Filipinos in PhilHealth and make it the national purchaser of health goods and services, especially for Filipinos in underserved areas.
Ong said the government must be able to generate more funds for health aside from increasing sin taxes.
"Catastrophic illnesses cannot be covered by the UHC budget yet – cancer, major operations, heart attack, stroke, dialysis, trauma. Patients will need additional funding from insurance, PCSO, local government units and from their own pockets," Ong said.
Ong said there must be a holistic approach to providing total health care for Filipinos. "Prevention is better than cure. There are many illnesses that should be covered by PhilHealth," he stressed.
He said a lot of things must be done – from improving medical records to hospitals lacking equipment, ensuring the safety of food and medicine in the country, rehabilitation for drug users, getting more rural health workers, among others – to achieve total health care.
Clean victory
Ong, a candidate under the political party Lakas-Christian Muslim Democrats (Lakas-CMD), is campaigning in a different way.
He maintained that he would not rely on campaign donations to avoid becoming indebted to anyone. "I don't want to be caught in a deadly trap," Ong said. "I want to inspire and create a new breed of politicians. I want to bring health back to the people."
Ong is banking on his 9.7 million Facebook followers to carry him through. His YouTube account has one million subscribers and 170 million views so far.
"If the competition is decided by the amount of campaign funds then I will not join that arena…Even if it's a long shot, I would rather focus on doing it cleanly. Thank God for free Facebook, Instagram and YouTube. There are also a few good mainstream media that give free exposure to deserving candidates," Ong said.
"Why did I run for the Senate? I want to see how far a clean candidate can go in this country. My followers know I have been doing medical charity work for 25 years. All my work is for the poor. For may years, I have told my followers that I love them and will do my best to help them. I want them to know that I was serious when I said that," he stressed.