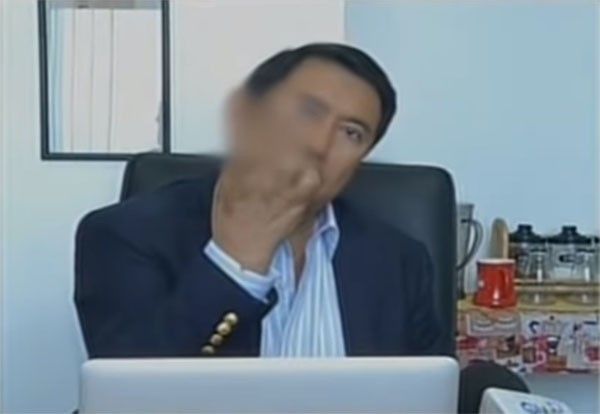 Detail of a screengrab from GMA News' "24 Oras" shows Ramon Tulfo, special envoy to China, giving Filipino workers' groups the middle finger.
Screengrab from GMA News' "24 Oras"
Labor coalition: Tulfo's middle finger response unbecoming but not surprising
(The Philippine Star) - March 13, 2019 - 3:12pm
MANILA, Philippines — Special Envoy Ramon Tulfo using his middle finger to respond to his critics is unbecoming but not surprising, Nagkaisa Labor Coalition said Wednesday, saying the gesture "just compounds the mounting list of offenses he has committed against Filipino workers and the Filipino people."
Tulfo, who has been under fire for saying Chinese workers are preferred by contractors because Filipino ones are allegedly lazy and inefficient, said in report on GMA News' "24 Oras" that he will not resign since he did nothing wrong. He also stressed that he was only referring to construction workers based in the Philippines and not those deployed abroad.
According to the Philippine Statistics Authority, there were more than 3.8 million Filipinos working in the domestic construction sector as of July 2018.
Tulfo also flashed his middle finger when asked to respond to labor groups like the Trade Union Congress of the Philippines that are calling for his resignation.
"That was definitely unbecoming for a government official. But we were not surprised at all with the dirty finger response of Mr. Ramon Tulfo," Nagkaisa Chairperson Sonny Matula, a candidate for senator, said in a statement.
RELATED: Workers on 'lazy' comments: You know nothing, Mon Tulfo
Matula, who chairs a coalition of nearly 50 labor groups and unions, said Filipino workers will not respond to Tulfo in kind since "workers are much more dignified" than the former broadcaster and columnist.
'Indolent in studying facts'
Partido Manggagawa meanwhile said that it is Tulfo who is lazy.
"It is Mon Tulfo who is really lazy, too lazy to investigate. Where is the evidence to back up his assertion that Chinese work harder than Filipinos? Does he have a time and motion study? What is his productivity metric?" Rene Magtubo, PM national chair, said.
"We challenge Tulfo to provide a comparative survey of labor productivity for Chinese and Filipino workers. What is obvious is that Filipino workers are underpaid and overworked," he also said.
He said that although productivity has risen since 2001, real wages have not. He said "the pie has become bigger but Filipino workers have not received crumbs even."
PM has joined the call for Tulfo to resign, saying "as envoy to China, he should be protecting Philippine interests in China instead of being an apologist of Chinese investors in the Philippines."
PGH incident
Tulfo was previously in the news for throwing a tantrum at the Philippine General Hospital in August 2018 after he brought a nine-year-old child who had been run over by a vehicle that was part of his convoy, to the PGH emergency room.
Tulfo harangued PGH staff and recorded a video of the confrontation despite hospital guidelines against doing so.
RELATED: PGH emergency room not a 'public place', data privacy lawyer says
"We saw the video that he himself posted on social media of a health worker at the PGH whom he badmouthed to no end, when the poor stressed and tired doctor was just doing his job, following hospital triage protocol and reminding him of the rights to privacy of the hospital and the child car accident victim," Matula said Wednesday in reference to the incident.
Matula said that Tulfo "has always exhibited a thug and macho persona in his TV shows," but that he should have dropped the act when he was appointed special envoy to China for public diplomacy.
"We don't need more bullies and cold-hearted officials in government. Appointed, elected and career government officials should abide by the lofty standards of honesty, integrity and accountability set out by Republic Act 6713: Code of Conduct and Ethical Standards for Public Officials and Government Employees," he said.