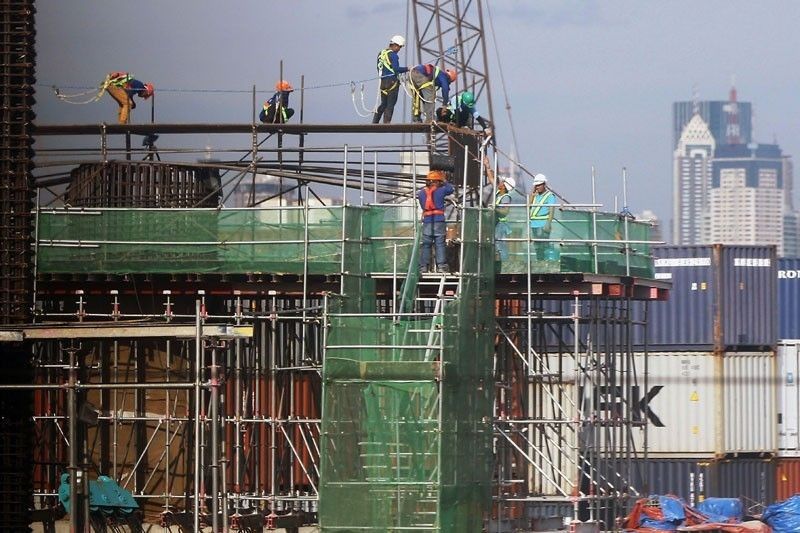 "Do you know how little we earn? Do you know how difficult and dangerous it is to hang from the 75th floor just to finish a project on time?," members of the Construction Industry Tripartite Council said.
Miguel de Guzman/File
Workers on 'lazy' comments: You know nothing, Mon Tulfo
(Philstar.com) - March 11, 2019 - 1:34pm
MANILA, Philippines — A group of construction workers has challenged Ramon Tulfo, special envoy to China, to spend three days at a work site for saying Filipino laborers are lazy slowpokes in his justification of hiring Chinese workers.
In a note shared by Alan Tanjusay of the Associated Labor Unions-Trade Union Congress of the Philipines, "construction workers representing workers in the Construction Industry Tripartite Council" called him out for the comments, which they said were oppressive and offensive.
The group said the CITC is composed of representatives of workers, government and project contractors and owners.
"We, the people, didn't gave you the mandate and authority as Philippine special envoy to China to embarrass and destroy our reputation before our families and to the whole world," they said.
RELATED: Tulfo 'acting like China's envoy to the Philippines,' labor leader says
"If Chinese contractors told you that Filipino workers are inefficent and are slowpokes, why didn't you verify it? Why didn't you even defend your fellow Filipinos from these foreign Chinese contractors," the workers said in Filipino.
"You didn't even check that even the Chinese construction workers we have worked with, as well as other foreign workers are also slow workers because of the high stress and hard work in the heat, cold and harsh conditions at work sites," they also said.
The workers said critical infrastructure like bridges, hospitals, airports, depots, schools, malls, seaports, bridges, and roads would not have been build if not for laborers that Tulfo labelled lazy. They said countless homes, including those of Tulfo and his family would also not have been built if not for construction workers.
Wages, work conditions
"Do you know how little we earn? Do you know how difficult and dangerous it is to hang from the 75th floor just to finish a project on time? Do you know how dangerous it is to install glass at the tops of condominium buildings?" they also said.
According to the National Wages and Productivity Commisison, the minimum wage for non-agricultural workers ranges from a low of P280 a day in the Autonomous Region in Muslim Mindanao to P537 a day in the National Capital Region.
Adjusting for inflation and prices, that is P220.13 (ARMM) to P459.76 (NCR) a day.
The workers added Tulfo seems to have no idea about the substandard safety equipment some workers are forced to use or the living and working conditions of the laborers he easily labelled as lazy.
"Do you know the conditions at the barracks, toilets and showers, and sleeping quarters at project sites?" they also said.
RELATED: Tulfo claim that Chinese workers are better is gossip, labor party says
"We thought you would defend us, the poor and opressed like us who have no voice or power," the group also said, referring to Tulfo's former reputation for siding with the poor.
"We challenge you to spend time with us and immerse in our work so you will see for yourself how we work, how we live, and what the conditions that we go through are before you make your conclusions," they also said.
They said Tulfo can immerse in construction sites for three days from Wednesday, March 13 so he can see for himself.
Labor groups have been criticizing Tulfo since Friday, when he said in a CNN Philippines interview that contractors had told him that they prefer Chinese workers because Filipino ones are inefficient, talk on the job and take too many breaks.
He has since doubled down on the comments, saying only that the truth hurts.
To the Filipino construction workers: Why should I apologize to you for telling the truth that you're basically lazy and a slowpoke? Does the truth hurt?

— Ramon Tulfo (@RamonTulfoII) March 9, 2019
Presidential spokesperson Salvador Panelo, in a briefing on Monday, said Tulfo's comments against Filipino workers is "freedom of expression." He said, though, that the Palace disagrees with the assessment, adding Filipinos are generally not lazy.
Panelo: Ang tingin natin ang mga Filipino masisipag. Ang general impression talaga, masisipag tayo

— Philstar.com (@PhilstarNews) March 11, 2019
According to the Philippine Statistics Authority, there more than 3.8 million Filipinos working in the domestic construction sector as of July 2018.