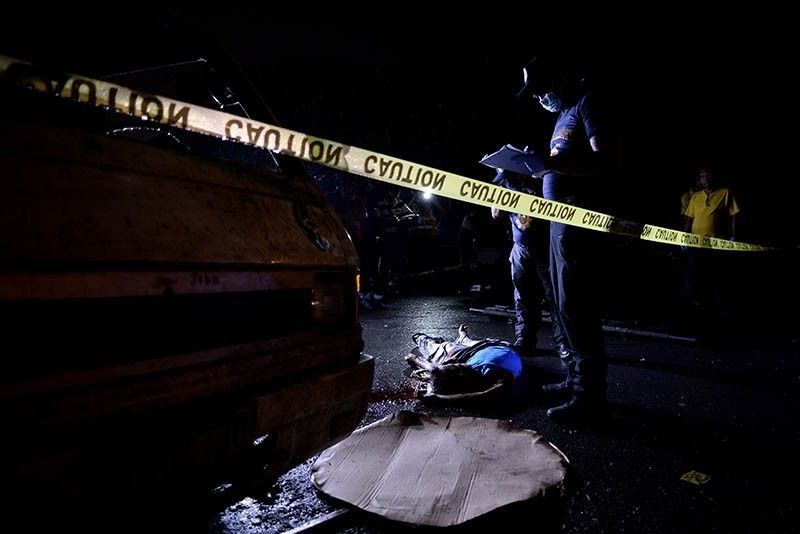 This file photo taken on May 18, 2017, shows police officers investigating an alleged drug dealer killed by unidentified gunman in Manila.
AFP/Noel Celis, File
Philippine Embassy decries Washington Post feature on drug war victim
MANILA, Philippines — The Philippine Embassy in the United States has cried foul over an article of The Washington Post telling the story of one of the victims of the Duterte administration's war on drugs.
In its article titled "This is Manila," The Post narrated the story of Ferdinand Santos, whose body was found floating under a bridge off Pasig River last month.
The victim's legs and arms were tied with a rope while his head wrapped in packing tape when his corpse was discovered on January 14.
On January 14th I found a body shackled down in a river in #Manila The man's name was Ferdinand Santos. His death paints a painful portrait of the cycle of impunity in a city where most murders are not investigated. For @washingtonpost with @RegineCabato https://t.co/E1Tzuk1yiW

— Lynzy Billing (@LynzyBilling) February 23, 2019
"Whether the deaths are mostly related to Duterte's war on drugs is unclear. But what connects them all is a kind of numbed silence," the article read.
In a statement relased Tueday (Manila time), the Philippine Embassy insisted that The Post article does not paint a picture of Manila, contrary to its title, "but of a hasty generalization that has no foundation in reality."
"It is disappointing how this article hides behind the guise of journalism to advance an agenda that seeks to discredit the Philippines in the eyes of the international community," the embassy said.
Citing previous surveys of the Social Weather Stations and Pulse Asia, the Philippine Embassy stressed that majority of Filipinos continue to support the government's crackdown against illegal drugs.
The embassy also pointed out that total crime volume decreased by 30 percent, based on Philippine National Police data.
"The PNP believes that there is a strong correlation between illegal drug use and focus crimes," the statement read.
The embassy also stressed that erring police officers from January 2016 to December 2018 have faced disciplinary actions such as dismissal from service, demotion, suspension, forfeiture of salary, reprimand, restriction and withholding of privileges.
The Philippine embassy reiterated that the country upholds the rule of law and human rights in all of its endeavors.
"We will continue to engage in sincere, constructive and evidence-based dialogue with our international partners in the pursuit of common goals and mutual interests," it said.
The Post article noted that there have been at least 20,000 killings and drug-related deaths since President Rodrigo Duterte assumed office in 2016. This number is based on estimates of rights groups.
Aside from Santos, the main character in the "This is Manila" story, two bodies were also found under the same bridge on the same day the victim was discovered.
New York-based watchdog Human Rights Watch earlier warned that the human rights crisis in the Philippines has "deepened" during Duterte's second year in office.
In its annual report released last month, the human rights watchdog noted that Duterte's drug war has expanded outside Metro Manila.
"President Duterte has used the killing of thousands of largely poor drug suspects as a tool to bolster his popularity. He's also targeting anyone who might undermine that popularity, from outspoken senators to journalists documenting his abuses," HRW Asia director Brad Adams said.