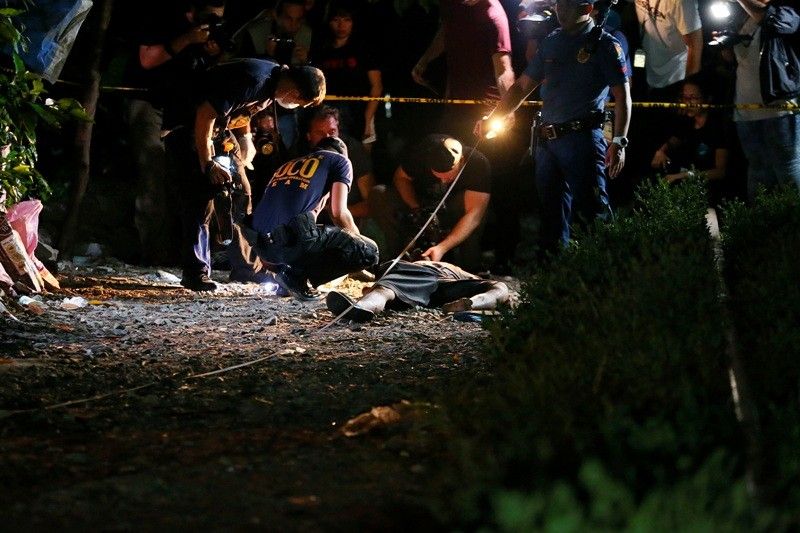 Majority of Filipinos consider the war on drugs as President Rodrigo Duterte's top accomplishment.
AP/Bullit Marquez, File
Drug war, fighting criminality Duterte's top achievement — Pulse Asia
MANILA, Philippines — President Rodrigo Duterte's campaign against the illegal drug trade is his most important accomplishment so far, according to the latest Pulse Asia survey.
The poll found that 69 percent of Filipinos said the Duterte administration's efforts to eradicate the drug menace was his most important accomplishment. This is despite criticisms from the international community following extrajudicial executions linked to the so-called war on drugs.
Ranking second is the Duterte administration's fight against criminality with 50 percent of respondents agreeing that this was the most important accomplishment.
Salary increase for police and soldiers ranked fourth with 30 percent while fighting graft and corruption in government scored 28 percent.
Other important accomplishments of the Duterte administration were: free tuition in public universities and colleges (21 percent), creating more jobs (15 percent), restoring people's trust in government (11 percent), improving the economy (11 percent), five-year driver's license validity (10 percent) and reducing poverty (8 percent).
At the bottom of the list of accomplishments are controlling inflation (8 percent), 10-year passport validity (7 percent), no deposit in hospitals (6 percent), lowering of personal income tax (5 percent) and free wi-fi in public places (3 percent).
The Pulse Asia poll also showed that majority of Filipinos want Duterte to focus on creating more jobs (56 percent) and continue controlling inflation (52 percent) for his third State of the Nation Address.
Other issues that the president should also focus on are improving salary of workers (48 percent), reducing poverty of Filipinos (33 percent), end of contractualization (27 percent) and continuing the war on drugs (26 percent).
Duterte is expected to discuss the West Philippine Sea issue, the Bangsamoro Basic Law, higher prices of goods and legislative agenda on his third SONA on Monday afternoon, according to presidential spokesperson Harry Roque.
The Pulse Asia survey was conducted from June 15 to 21 using face-to-face interviews among 1,800 Filipino registered voters. The poll has a ±2 percent error margin at the 95 percent confidence level.