Sara Duterte not ruling out 2022 presidential run
February 19, 2019 | 12:00am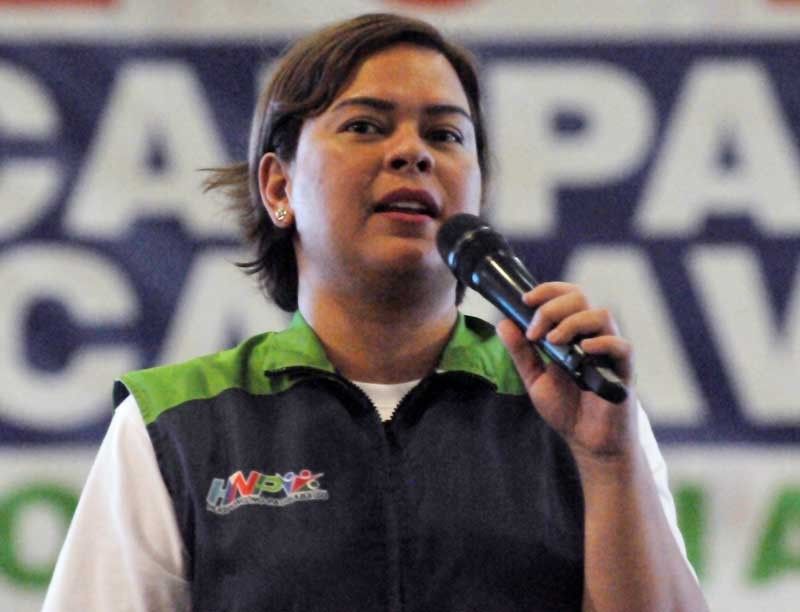 MANILA, Philippines — Another Duterte for president in 2022?
Ask her in 2021, according to the daughter of President Duterte.
Davao City Mayor Sara Duterte-Carpio, asked about her seeking the presidency in the next general elections, did not rule out the possibility.
"It depends on the circumstances. Maybe we can make a deadline in January 2021. Assuming it's automated elections for 2022, the deadline most probably (would) be October of the previous year," Carpio told reporters while on a caravan for senatorial candidates of the Hugpong ng Pagbabago (HNP) in Vigan City yesterday.
As provided by law, the deadline for the filing of certificates of candidacy for those running for president, vice president, senator and other national offices like party-list candidates in the May 2022 general elections is set in October 2021.
Carpio pointed out that running for president is something that should be carefully thought over and not just an overnight decision.
"It is money, machinery and the most important is wisdom and guidance of God because it would be difficult if it's not for you. Magiging madali yan kung intended ng Diyos na para sa iyo (It's easier if God intends it for you)," she said.
She asked people to stop calling her the "next president" as she has been often tagged by certain groups or individuals, including her supporters.
Being tagged as the country's next president is making her a prime target of those eyeing the presidency in 2022, she said.
"I wish they would not talk about me like that because those who are eyeing the presidency as early as now, they would make me number one in their hate list," the presidential daughter said.
Carpio also stressed that what she has been doing is just to help her father in the last three years of his administration.
The Davao City mayor likewise explained she is not using the HNP as a vehicle for her presidential run should she ultimately seek the highest position.
"HNP cannot endorse a presidential candidate and is a regional political party. It so happened that we came out this election because many are asking for help," she added.
Carpio said her father has asked her to help his senatorial candidates, former special assistant to the president Christopher Go, former Philippine National Police chief Ronald dela Rosa and former presidential political adviser Francis Tolentino.
Former president Joseph Estrada has also asked her to support his sons JV Ejercito and Jinggoy Estrada in their senatorial bids this coming May.
Presidency is destiny – Leni Robredo
Amid talks that Carpio is being groomed to succeed her father, Vice President Leni Robredo yesterday said running for president in 2022 is not yet on her mind.
In an interview in Pampanga, Robredo, who chairs the opposition Liberal Party, maintained the presidency is a matter of destiny.
"For me the presidency is destiny. Our history shows that it's not something you can plan," Robredo said when asked to comment on a possible Robredo versus Duterte battle in 2022.
"Many have planned for it, but if it's not meant for you, you won't get it no matter how hard you work for it," she stressed.
Robredo also said she would rather focus on her office's anti-poverty program than prioritize her political career.
"It won't be good if I think of 2022 this early because I have so much to do as Vice President. I have my Angat Buhay," she said, referring to the private-sector funded anti-poverty program she launched in October 2016.
"If I think of 2022, I will always consider the elections. If I consider the elections, I would always have the requirement that I should go to vote-rich communities so I won't waste time," the Vice President said.
She said at Angat Buhay, her team visits adopted communities, which are mostly located in far-flung areas in the country.
"Most of the people here are not voters. They lack political awareness but need help. If I think of my candidacy, all of these (efforts) are done. Angat Buhay will disappear," Robredo said.
Carpio has been going around the country in the past days to campaign for the senatorial bets of her HNP party.
Presidential spokesman Salvador Panelo earlier said it would not be a surprise if the President's daughter becomes the country's next president. – With Helen Flores