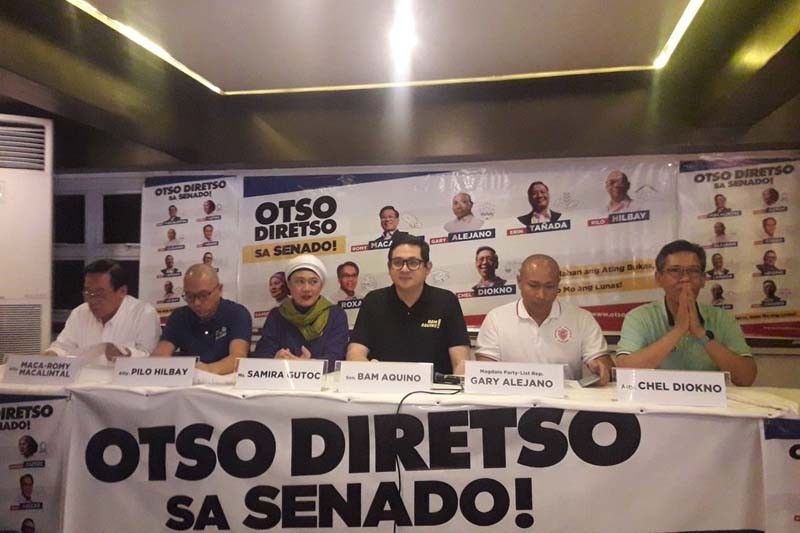 In this Feb. 12, 2019 photo, the senatorial candidates of opposition coalition "Otso Diretso" started their campaign at a small cafe in Caloocan City.
The STAR/Marc Jayson Cayabyab
Opposition coalition kicks off campaign in Caloocan City sans Mar Roxas
(Philstar.com) - February 12, 2019 - 5:56pm
MANILA, Philippines — Opposition coalition "Otso Diretso" began its campaign Tuesday as a senatorial slate in Caloocan City despite the absence of former senator and Transportation department chief Mar Roxas.
All seven other senatorial candidates — lawyer Romulo "Romy" Macalintal, Rep. Gary Alejano, Rep. Erin Tañada, Florin "Pilo" Hilbay, Samira Gutoc, Sen. Benigno Paolo "Bam" Aquino and Jose Manuel "Chel" Diokno — were present at the campaign launch but Roxas skipped the event.
Roxas is in Capiz for his traditional campaign kick-off in his bailiwick. He also posted this on his social media account, saying he has to go back to where he started.
'Where is Mar?'
Activist Juana Change, whose real name is Mae Paner, questioned Roxas' absence. Despite this, Paner said she believes Roxas is still one with the "Otso Diretso" team.
The senatorial slate also shrugged off the observations that they are "not united" amid Roxas's absence.
"I think he guested on a television show where I think he is building his own brand. I think his brand is Otso Diretso because his name is with Otso Diretso," Paner said.
Roxas, who is running under the opposition Liberal Party, was the guest in ANC's "Headstart" on Thursday morning where he mentioned his stance on controversial issues the government is facing.
Paner, meanwhile, asked for Roxas's support for the senatorial line-up, citing the need for election campaign funds.
"He has to join with the team and be one with the team," Paner said.
"Naiyak ako (I cried) because this is the truth of the candidate, ang nagpapanalo sa eleksyon ay pera, wala naman kayo nu'n e (money usually lets candidate win the election). Lucky for Mar he has it, the most of you, you don't, and we need Mar to support all of you," an emotional Paner said.
"I hope Mar supports all of you… I hope you all win," she said.
The opposition slate kicked off its campaign in Caloocan City, known to be a hotbed of killings in the drug war and where the controversial case of 17-year-old Kian delos Santos occurred.
Caloocan City's mayor is Oscar Malapitan who is an ally of President Rodrigo Duterte but it is also under the jurisdiction of LP solon Rep. Edgar Erice. They are also holding a door-to-door campaign to reach residents of the city.
LP President Kiko Pangilinan also joined the Otso Diretso in the campaign kick-off.
The campaign period for national posts officially began on Tuesday. — Rosette Adel with reports from Marc Jayson Cayabyab and Helen Flores