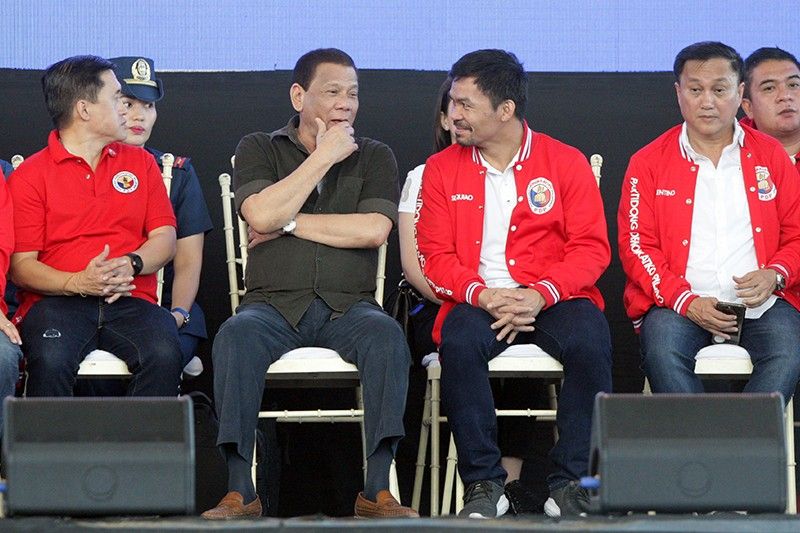 The Palace says President Rodrigo Duterte's comments about spending 10 minutes with former Sen. Kit Tatad's wife is just 'hyperbole'
Krizjohn Rosales/The STAR
Duterte comment on Tatad's wife a 'hyperbole,' says Panelo
MANILA, Philippines — Presidential spokesperson Salvador Panelo called President Rodrigo Duterte's comment on former Sen. Francisco "Kit" Tatad's wife "just a hyperbole."
"People are used to this president. He uses certain situations and makes fun of it," Panelo explained.
The spokesperson was responding to questions over comments Duterte made in San Jose Del Monte, Bulacan, Thursday evening during a PDP-Laban campaign event.
Duterte claimed Tatad, now a newspaper columnist, had disrespected him when he wrote about a supposed kidney transplant.

READ: Duterte hits Tatad for claiming he had kidney transplant
"There is a border between press freedom and disrespecting a person. If you see me, avoid me. I will slap you," the president said on Thursday.
Panelo denied Duterte had a kidney transplant and said the president was watching the biopic of Ronald "Bato" dela Rosa on the date mentioned by Tatad.
"Noy, bagong ka nagpaluwas ning mga column mo, mag verify ka kasi (Before you release your column, you should verify)," Panelo said.
But the comment which earned the ire of critics was when Duterte questioned Tatad's virility.
"Gusto mo subukin kung meron pa? May asawa ka? Pahiram mo sa akin (You want to know if I can still do it? Do you have a wife? Lend her to me)," the president said.
Panelo dismissed the comment directed at Tatad's wife as a joke.
"Sanay na sanay ang mga tao (people are used to it)," he said, explaining that the president was just making people laugh.
This isn't the first time Duterte has been called out for saying sexually inappropriate comments or displaying inappropriate behavior.
Before the president assumed office in 2016, he whistled at GMA News reporter Mariz Umali during a press conference while she was asking a question.
Panelo interpreted the president's behavior, which is viewed as inappropriate on public, as "a compliment."
READ: Panelo: Duterte's wolf whistle a compliment

In June, Duterte gained international attention for kissing an overseas Filipino worker in Korea on the lips.
READ: Duterte draws flak for kissing woman on stage at South Korea meet

Former spokesperon Harry Roque called the kiss a "playful act" at the time, but later said it was "inappropriate" after he stepped down.
In December, Duterte claimed to have touched the underwear of a former household helper when he was younger.

Panelo, who took over as spokesperson in October 2018, said the president's story was not obscene. "They were laughing. If it was obscene, the reaction of the audience would have been bad, they would be angry at him," he said.
The audience also laughed at Duterte's comment about spending 10 minutes with Tatad's wife.

The president spoke for almost two hours at the event, which was his first appearance at a campaign rally leading up to the 2019 midterm elections.