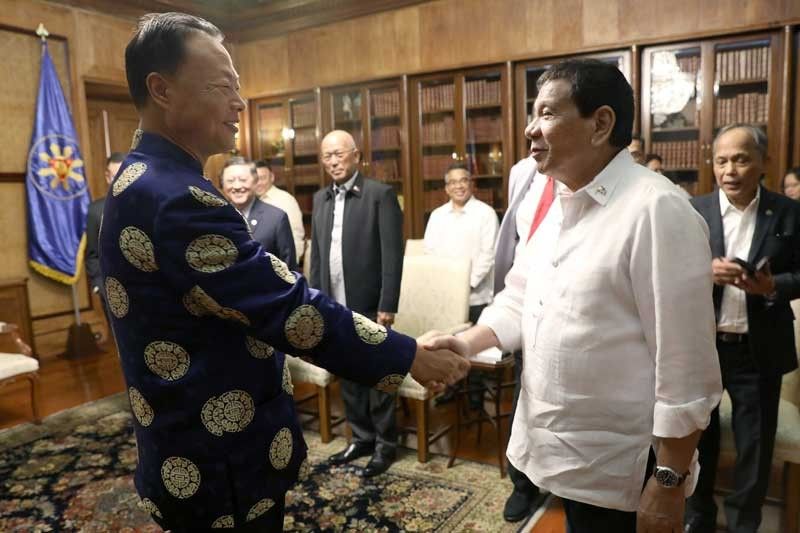 Chinese Ambassador Zhao Jianhua extended the invitation to Duterte for a meeting with Chinese President Xi Jinping.
China invites Duterte to 2nd Belt & Road Forum
MANILA, Philippines — China has invited President Duterte to attend the second Belt and Road Forum for International Cooperation in Beijing in April.
Chinese Ambassador Zhao Jianhua extended the invitation to Duterte for a meeting with Chinese President Xi Jinping.
"China has sincerely invited President Duterte to attend the aforesaid forum," Zhao said.
He said this is "the first year after the relationship of the countries has been elevated into one of comprehensive strategic cooperation."
"We are looking forward to the seventh meeting between the leaders of our two countries which will chart a more magnificent blueprint for bilateral relations," Zhao said in his speech at the reception celebrating the Chinese New Year at the Makati Shangri-La late Tuesday.
During Xi's first state visit to the Philippines in November, he and Duterte agreed to elevate bilateral relations into a "comprehensive strategic cooperation" and continue to manage contentious issues in the West Philippine Sea.
Former president Benigno Aquino III said he does not believe Philippine-China relations would develop into a strategic cooperation. He said a strategic partnership with a country perceived to be a primary threat is unlikely.
"So, what is the impact of the strategic cooperation with China? Well, a strategic partnership as defined by my advisers stated that you have to share a common background, and there are also shared, common aspirations. Therefore, that presents the basis of being, of a closer relationship with each other," Aquino said.
The former president made the statement during the launching of the book "South China Sea Arbitration for Understanding the Awards and for Debating" authored by Alfredo Robles Jr. at De La Salle University in Manila last week.
Zhao urged the Philippines to work hand-in-hand with China to implement the important consensus reached by Duterte and Xi, promote the mutually beneficial cooperation between the two countries in a comprehensive manner and forge an even brighter "golden era" of bilateral ties.
The practical cooperation between China and the Philippines has brought growing benefits to the Filipinos and Chinese in 2018, Zhao said. Last year, China topped the list of foreign investors with P48.7 billion worth of investments, an increase of 8364 percent from P575.8 million in 2017. China has been the Philippines' No. 1 trading partner and import origin, and the fourth largest export market, Zhao pointed out.
He added Philippine companies sold $124 million worth of goods and services during the first China International Import Expo held in Shanghai last November.
China imported more than two million tons of tropical fruit from the Philippines over the past two years and generated a revenue of more than $1.5 billion for 40,000 Filipino farmers.
In 2018, the Philippines received more than 1.25 million Chinese tourists, achieving a 29.6 percent year-on-year increase.
Zhao said China's grants or soft loans fund the construction of drug-rehab centers, two bridges over Pasig River and the Chico River Pump Irrigation Project as well as other infrastructure projects.
"Over the past two years, under the guidance of our two leaders, China-Philippine relations have achieved an overall turnaround, enjoyed a sustained growth with strength and depth and surged forward along a fast track," Zhao said.
Chinese labor invasion
Former president Aquino last week voiced concern over the entry of Chinese workers in the country, saying they may be getting jobs that should be for Filipinos.
Aquino said many of the Chinese workers are working in the construction industry.
The labor department previously reported it has issued almost 52,000 alien employment permits for workers from China.
Malacañang explained the country lacked the necessary labor.
"We lack so many construction workers. Perhaps that's why many Chinese workers were hired. Many Filipinos do not have jobs and yet they lack the skill so we need to teach (them). That would be a good project for TESDA (Technical Education and Skills Development Authority)," presidential spokesman Salvador Panelo said at a press briefing last Jan. 24. – With Alexis Romero