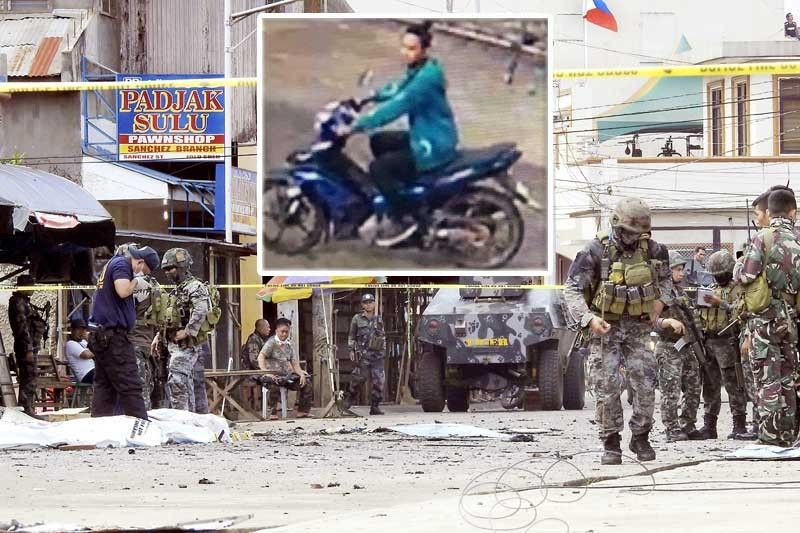 Soldiers stand guard outside Our Lady of Mount Carmel Cathedral in Jolo, Sulu after two bombs exploded during mass last Sunday morning. Inset shows CCTV footage of a person of interest known only as Kamah, the brother of slain Abu Sayyaf sub-leader Surakah Ingog. Kamah was seen with other men near the cathedral minutes before the bombing. The photo was uploaded on Facebook.
AP
Jolo, Sulu on total lockdown
Roel Pareño
(The Philippine Star) - January 29, 2019 - 12:00am
ZAMBOANGA CITY, Philippines — With the perpetrators of the deadly bombings at the Jolo cathedral still at large, authorities have placed the Muslim-dominated city on lockdown.
The two explosions at Our Lady of Mount Carmel Cathedral on Sunday killed 20 people, mostly churchgoers, and wounded 100. Of the fatalities, 13 were civilians, five were soldiers and two were Coast Guard personnel. The terror attack was considered the worst in recent years.
Philippine National Police (PNP) chief Director General Oscar Albayalde said the lockdown, which started yesterday, was ordered by Defense Secretary Delfin Lorenzana.
Albayalde did not explain the scope or coverage of the lockdown or how long it would be in effect. "Maybe if the situation normalizes, probably we will lower the security," he said.
He announced the lockdown minutes after inspecting the blast site ahead of the arrival of President Duterte yesterday.
Lorenzana arrived earlier with National Security Adviser Hermogenes Esperon Jr. and Armed Forces chief of staff General Benjamin Madrigal.
"There will be restriction of people from outside coming in to contain the place," Albayalde told newsmen.
He said roadblocks and checkpoints have been set up as part of intensified security measures in the area.
Jolo is no stranger to lockdown. In 2000 at the height of the Sipadan hostage crisis, the entire Sulu was cordoned off to prevent or limit the movement of the kidnappers of 21 foreign tourists and resort employees taken from a dive resort in Sipadan, Sabah.
The PNP chief also assured the public they have enough security forces in Sulu, including two battalions of the elite Special Action Force (SAF), comprising at least 1,000 men.
He said terror groups, especially the Abu Sayyaf, might exploit the situation and launch attacks.
"We need to intensify the security operation to protect the community," Albayalde said.
He also said he sees no indications the cathedral blast was carried out by a suicide bomber. "Definitely this was electronically detonated because of the timing, that's the initial findings of our EOD (Explosives and Ordnance) experts," he said at a news briefing in Jolo.
"We still have no evidence this was perpetrated by a suicide bomber," he added.
Probers are looking into the possible involvement of the Abu Sayyaf and other like-minded groups in the bombing.
A security camera recording showed alleged bomb maker and Abu Sayyaf member known only as Kamah in the vicinity of the cathedral minutes before the explosion.
The Middle East-based Islamic State (IS) had claimed responsibility for the attack but this could not be confirmed yet, said Albayalde.
"They can claim anything under the sun, but what happened was the handiwork of the Abu Sayyaf group," Col. Gerry Besana, spokesman and civil military operations chief of Western Mindanao Command, said.
The improvised explosive device contained shredded galvanized iron sheets, based on initial findings. Investigators have yet to determine the substance used in the twin explosions.
He said the bombings could not have been the work of just one individual. "There is a bomb maker, there's another who plants it and another one who detonates it. So it couldn't be just one person," he said in Filipino.
Chief Supt. Emmanuel Luis Licup, regional police director for Zamboanga peninsula, said they received information certain quarters were trying to disrupt the security situation and create a scenario against the Bangsamoro Organic Law (BOL).
"Our intensified security have been in place even before the incident because we got information that there are people wanting to spoil the BOL to make a scenario, whether they are for BOL or not," Licup said.
"I have directed the continuous checkpoints and inspections on suspicious individuals," he said.
"We should not be cowed by this threat act, instead we should be vigilant to help our authorities in securing our places," he added.
Security lapses
At Malacañang, presidential spokesman Salvador Panelo said security lapses may have made the Jolo cathedral bombing possible.
"We will have to investigate how it happened. There may be some lapses in security. How they were able to put there – is that a motorcycle with a bomb – despite the fact that there were soldiers securing the place," Panelo said at a press briefing.
"There is no other conclusion to reach. If you have security there and there is one or two bombs being placed inside, then there must be a lapse in security. There is no other reasonable conclusion," he added.
Panelo said the incident, which happened despite the implementation of martial law and the deployment of additional troops in Sulu, should prod government forces into imposing tighter security measures.
"You should be more strict in your security measure. Like that motorcycle, if you inspected that motorcycle before it got into that area, then there would have been no bombing," the presidential spokesman said.
Asked if he meant making security forces in Sulu accountable for the explosions, Panelo replied: "We will have to investigate. Mine is just a reasonable conclusion derived from the circumstances surrounding the bombing."
Mindanao has been under martial law since May 23, 2017. Placing Mindanao under martial law was meant to contain or eliminate terror groups responsible for the siege of Marawi in 2017.
Interior Secretary Eduardo Año admitted there had been security lapses. "All I can say is two bombs slipped past our security protocol," he said in Filipino.
NBI joins probe
Meanwhile, Justice Secretary Menardo Guevarra has directed the National Bureau of Investigation (NBI) to conduct a parallel investigation of the blast.
In Department Order No. 21 issued yesterday, Guevarra directed NBI Director Dante Gierran to "conduct an investigation and case buildup on the bombing of the Cathedral of Our Lady of Mt. Carmel in Jolo, Sulu, and if evidence so warrants, to file the appropriate charges against persons found responsible" for the attack.
Guevarra also required the bureau to submit progress reports on the investigation and case buildup.
The bureau has also been tapped to join police and military operations to hunt down perpetrators of the attack.
"Our NBI field operatives in Zamboanga have already been set to assist in the investigation, and additional law enforcement units have been deployed to hunt and bring the perpetrators to justice," he said in a text message.
Guevarra also condemned the incident, calling it a "mass murder and desecration of a place of worship."
Reports said that a mass in the cathedral was being celebrated at around 8:30 a.m. when an improvised explosive device went off inside.
As troops responded to the incident, a second bomb exploded in the church's parking area.
The Philippine Red Cross (PRC), for its part, placed all its chapters on red alert as it mobilized its resources to attend to individuals affected by Sunday's violence.
"There are no sides for the Red Cross. The humanity must win. We pray and commiserate with our soldiers, fellow citizens and their families who have suffered from this bombing. We are acting at the Red Cross now. All chapters are on full alert," PRC chairman and Sen. Richard Gordon said.
A staff of the PRC Sulu chapter was among those injured in the blast. – With Emmanuel Tupas, Alexis Romero, Non Alquitran