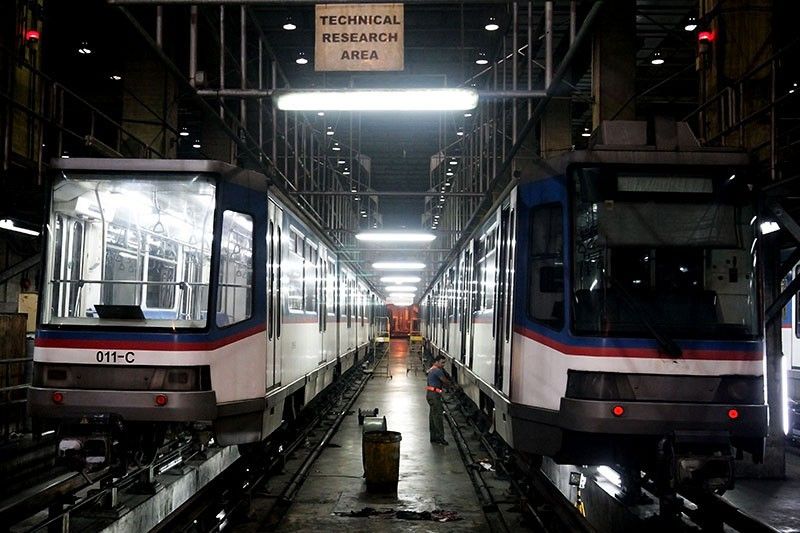 A train personnel conducts maintenance works for Metro Rail Transit-3 trains.
The STAR/Miguel de Guzman, File
DOTr to study proposal to extend MRT hours
(Philstar.com) - January 24, 2019 - 3:18pm
MANILA, Philippines — The Department of Transportation said it would look into the proposal to extend the operating hours of the Metro Rail Transit 3 to accommodate more commuters.
Rep. Winston Castelo (Quezon City), chair of the House Committee on Metro Manila Development, suggested extending the operating hours of the MRT and the Light Rail Transit 1 and 2 until midnight.
This would aid in easing road congestion in the metro and help commuters to get relief from heavy traffic, he said.
In response, DOTr said it would look into adding two more hours to the operating schedule of MRT-3, which runs from 5:30 a.m. to 10:30 p.m. during weekdays and weekends.
"We will study the proposal given the changes in the current MRT-3 ridership profile as compared to when the extended hours was tested in the past," DOTr said in a statement Thursday, noting that the proposal would require additional working hours for train personnel and electricity costs.
The department added that the non-operating hours used for maintenance works would have to be considered. Currently, preventive maintenance works for MRT-3 trains have been squeezed into four hours.
"Please note that while we echo our pledge of providing a quality, fast and reliable service to our commuters, we also need to consider that our two-decade old trains need to have sufficient time for preventive maintenance works," DOTr said.
It explained that maintenance works help ensure smooth train operations, and prevent unloading incidents and service interruptions.
MRT-3, which runs from North Avenue in Quezon City to Taft Avenue in Pasay City, ferries around half a million passengers daily.
LRT Lines 1 and 2, on the other hand, are operated by the Light Rail Transit Authority. They operate from 5 a.m. to 10 p.m. during weekdays and 5 a.m. to 9 p.m. and 9:30 p.m. on weekends. — Gaea Katreena Cabico