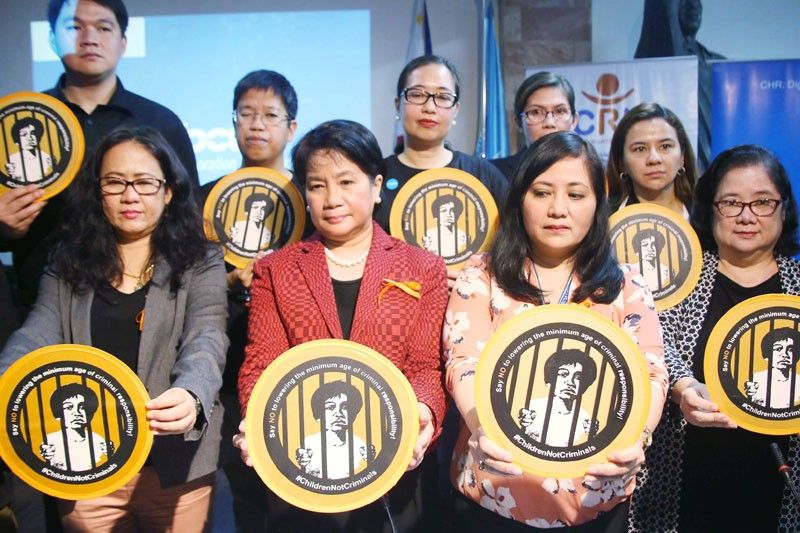 Representatives of rights groups protest the approval of a bill lowering the minimum age of criminal responsibility during a press conference at the CHR office in Quezon City yesterday.
Michael Varcas
Senators eye crime liability threshold of 12 years
Paolo Romero
(The Philippine Star) - January 23, 2019 - 12:00am
MANILA, Philippines — Amid criticism over the House of Representatives' proposed measure lowering the minimum age of criminal responsibility from 15 to nine, senators are eyeing a higher threshold of 12.
The Senate committee on justice and human rights, chaired by Sen. Richard Gordon, started yesterday its hearing on proposals to lower the minimum age of criminal responsibility.
Gordon and Senate President Vicente Sotto III said they are willing to amend Republic Act 9344 or the Juvenile Justice and Welfare Act of 2006 and ensure sufficient funding for the construction and staffing of halfway homes or Bahay Pag-asa for children in conflict with the law.
"Nine years old I think is too tender. I'm leaning now to 12 and then after maybe three years, we look at its implementation and we increase it to 15 and eventually to 18," Gordon said.
Gordon said at 12 years old, a child is leaving elementary school and more or less has "a serious understanding of what is good and what is bad."
With the exception of Senators Grace Poe and Nancy Binay, Gordon said he expects most of his colleagues to agree to 12 years old as the new minimum age of criminal responsibility.
Sotto said he would not only ensure funding for the halfway homes for children in conflict with the law but will put an amendment to let national government agencies take the lead in implementing the law instead of local government units (LGUs).
He said there was no truth that under the present law, or even the proposed amendments, children will be jailed.
Sotto said he was more worried over the crimes of rape, homicide, theft, physical injury reportedly committed by minors than their being used as drug couriers.
He said authorities should go harder after drug syndicates to prevent them from exploiting minors.
Sotto cited 2018 statistics from the Philippine National Police on crimes committed by children 17 years old and below that showed there were 1,813 reported cases of theft, 1,086 cases physical injuries and 862 cases of rape.
Sen. Joseph Victor Ejercito also expressed openness to lowering the minimum age of criminal responsibility to 12 years.
"As a father to a 10-yea- old kid, I know that that age is just too young to assign liability," Ejercito also told reporters.
During the hearing, Juvenile Justice and Welfare Council executive director Tricia Oco reported that 91 percent of the 9,562 children in conflict with the law in 2018 were boys even as she lamented the poor implementation as well as wrong interpretation of the law at many levels.
Oco said the process, the budget and programs needed to implement the law are more important than setting the minimum age of criminal responsibility.
She said many halfway homes they visited have subhuman conditions or "worse than jails" and lacked social workers to watch over the children.
She said many LGUs have been remiss in putting up Bahay Pag-asa in their jurisdictions.
Senate Minority Leader Franklin Drilon and Ejercito said they would push for more funding for the construction of halfway homes as Congress is hammering out the final version of the 2019 budget.
Drilon pointed out that there is no allocation for such in the proposed national budget for this year as the law puts the responsibility of setting up the Bahay Pag-asa to LGUs.
A party-list congressman yesterday agreed with the senators, urging his colleagues in Congress to set 12 years old as the minimum age of criminal responsibility.
Rep. Michael Romero of 1-Pacman said his proposal is a compromise on the bill lowering the age of criminal liability from 15 to nine years.
"Nine years old is simply too young to subject a child to arrest and other criminal procedures. That is Grade 3 age level. The child could be psychologically and emotionally scarred for life," Romero said.
He said a 12-year-old "would already have discernment, be able to distinguish between right and wrong and appreciate the consequences of commission or omission on his or her part that could affect other people."
Another House member, Deputy Speaker and Taguig Rep. Pia Cayetano, is opposed to the bill.
"There should be accountability for young children in conflict with law but not criminal prosecution, especially when the child is at a tender age of nine," she said.
Cayetano proposed that instead of being subjected to criminal prosecution, children-offenders "be required to undergo comprehensive rehabilitation through a range of options that would bring them on the right path."
Rep. Carlos Zarate of Bayan Muna said prosecuting children-offenders would not solve criminality.
Party-list group Gabriela said House members supporting the proposal "are playing with fire in their failure to discern the roots of crimes in the country."
'Potentially deadly'
Malacañang yesterday assailed UN special rapporteur on extrajudicial, summary or arbitrary executions Agnes Callamard for calling the consolidated House bill lowering the minimum age of criminal responsibility a "potentially deadly proposal."
On Sunday, Callamard shared a tweet by the United Nations Children's Fund (UNICEF) Philippines questioning the proposal to lower the age of criminal liability to nine years.
"According to science, brain function reaches maturity only at 16 years old. So why should the age of criminal responsibility be lowered to as young as nine?" UNICEF Philippines said in the tweet.
"The lowering of criminal responsibility to 9 years old is #Philippines new dangerous and potentially deadly proposal. Just shameful," Callamard said.
Presidential spokesman Salvador Panelo said Callamard has no business meddling with Philippine affairs.
"What is shameful is she interferes when she intrudes into the sovereignty of this country. She has no business interfering with the affairs of Congress in the first place or with the executive," Panelo said.
He maintained that the measure would deter crime groups from using children in their operations. He challenged critics of the bill to study its provisions first before questioning it.
"Just the same, 9 is too young and in jail they might become take-out jail meat for pedophiles. I hate men who hunger for young flesh. Disgusting and killable. Don't wanna give them take-out service. As you know any jail guard can be bought," Foreign Affairs Secretary Teodoro Locsin Jr. posted on Twitter on Monday.
Serving as executive director of the inter-agency Council for the Welfare of Children made former lawmaker Mary Mitzi Uy realize the mistake of lowering of the minimum age of criminal responsibility.
"(Now) that I am here in the Council for the Welfare of Children, it takes one to be here for me to retract or reverse whatever my position was when I was a legislator," she said at a press conference yesterday.
Commission on Human Rights (CHR) commissioner Leah Armamento said lowering the minimum age of criminal responsibility would be a nightmare both for the child and the country's jail management system.
CHR commissioner Karen Dumpit said passing the measure would mean reneging on the country's obligations and commitments to the international community, primarily the international convention on the rights of the child (ICRC).
The ecumenical organization National Council of Churches in the Philippines yesterday joined the groups in expressing their opposition to the House bill.
For their part, the Federation of Free Workers said lowering the age of criminal liability could only worsen the problem of child labor.
Senior Insp. Shella Mae Sangrines, chief of the Iloilo City Police Office Women and Children's Protection Desk and concurrent ICPO spokesperson, said they regard children as victims and not criminals.
Sangrines' position was shared by Susan Mogato, head of the Regional Rehabilitation Center for Youth.
Katherine Joy Lamprea of the Juvenile Justice Welfare Council Secretariat said in an interview in November 2018 that they are for the full and proper implementation of RA 9344.
Human rights lawyer Jose Manuel Diokno is opposing the effort to lower the age of criminal responsibility for three reasons – children used by syndicates are victims, jails are congested by 605 percent and the country is a signatory to the ICRC. – With Pia Lee-Brago, Janvic Mateo, Evelyn Macairan, Mayen Jaymalin, Jennifer Rendon, Cecille Suerte Felipe, Alexis Romero, Jess Diaz, Emmanuel Tupas