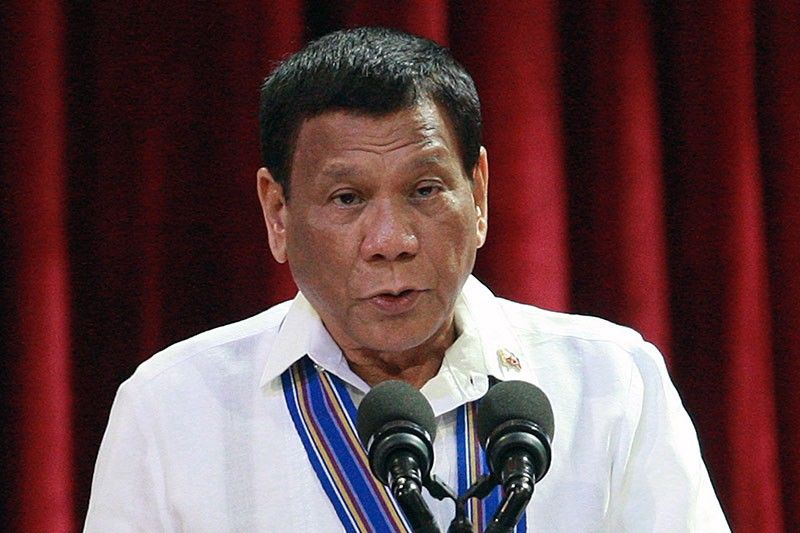 President Rodrigo Duterte at the Philippine Air Force change of command at Villamor Airbase in Pasay City on Dec. 21, 2018.
The STAR/Joven Cagande
Duterte lashes at communism in one of Philippines' CPP hotbeds
MANILA, Philippines — President Rodrigo Duterte Tuesday lashed at communism in one of the country's rebel hotbeds, calling it a "mass insanity" that has claimed many lives in the last 52 years.
Speaking to local leaders in Lucena City, Quezon, Duterte said rebels continue to kill fellow Filipinos even if their model countries China and Russia have abandoned communism.
"Fifty-two years of killing. I have not seen a group of people affected with mass insanity. I listen to (Communist Party of the Philippines founder Jose Ma.) Sison. The problem is, I cannot go into an armed struggle," Duterte said.
"That's what I am telling communists. You have jeopardized, caused sorrow and misery to the country fighting for a lost cause. Wala na 'yang idelohiya ng komunista (The communist ideology is over). It's over and done with," he added.
Duterte said he is ready to send about 10 rebels to China so they could see whether the country still has space for a communist takeover of lands.
"I will ask soldiers to fetch in you field and you will be given passport. We will ask for a visa and then you go and tour China and tell me straight in the face whether the ideology is still right, the way that it's being fought," he said.
"Everyone has adopted democracy. Even China has had an election recently. Well, Russia however it is rigged, if it is really rigged, if at all, if you believe the enemies of (Russian president Vladimir) Putin. But there is a semblance of an election. At least majority of the Russians are happy of the progress of their country now. You cannot totally erase dissent."
Duterte went on to describe Lucena City as his "number one problem" in terms of communist rebellion.
He said "not in a million years" would communists take over the Philippine government because they do not have the support of the public. He also claimed the rebels would never see the success of their revolution within their lifetime.
To encourage communists to abandon the armed struggle, Duterte reiterated his promise to distribute lands to the poor.

"Why are we hanging (on) to lose vacant lands when we can use them to satisfy the fundamental desire of every Filipino, not only agricultural workers but all to own a land?" Duterte said.
"I can join the Communist Party of the Philippines. The problem is I cannot reconcile with the fact that I have to kill my own Filipino brothers to wage a war for 52 years for nothing," he added.