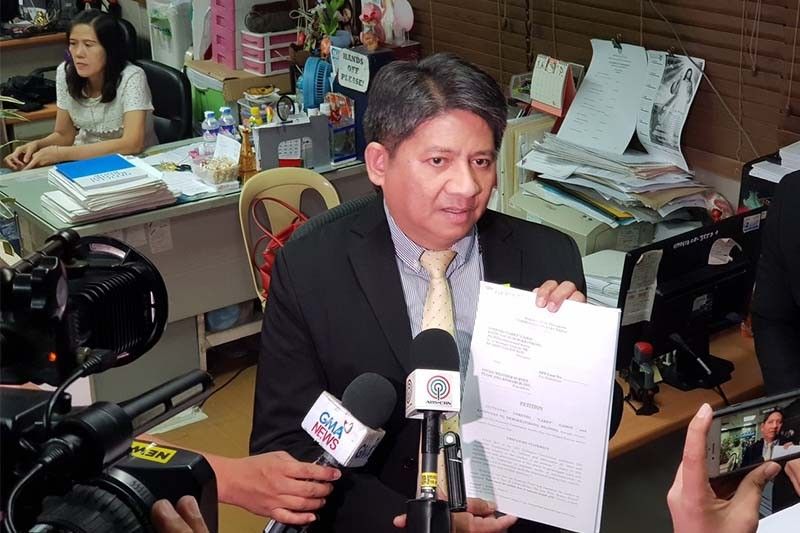 Lawyer Larry Gadon went to the Commission on Elections on Monday, January 21, to ask the poll body to stop the release of pre-election surveys from Pulse Asia and SWS.
The STAR/Sheila Crisostomo
Pulse Asia ready to answer Gadon's petition vs pre-election polls at Comelec
(Philstar.com) - January 21, 2019 - 6:38pm
MANILA, Philippines — The release of pre-election surveys is in line with Pulse Asia's advocacy, the academic group said, amid a petition filed by a senatorial aspirant asking the Commission on Elections to stop publication of poll surveys.
Lawyer Larry Gadon, who seeks a seat at the Senate, asked Comelec to stop Pulse Asia and the Social Weather Stations from releasing pre-election surveys, claiming that these were "biased."
Pulse Asia said that it stands ready to answer Gadon's petition lodged before the Comelec.
"As an academic organization, we are open to review of our survey technical details by other academics and those who truly know the difference between genuine and 'bogus' surveys," Pulse Asia added.
READ: Gadon asks Comelec to bar release of SWS, Pulse Asia surveys
Gadon, in his 10-page petition, alleged that the two poll firms released "biased" surveys as other polls "conducted through other means, by other entities and not by any of the respondents" would show different results.
He pointed out that he made it to the Top 12 in a "Social Media 2019 Senatorial Survey," while he is the perennial laggard in pre-election surveys.
Pulse Asia stressed that the survey results they release to the public are non-commissioned surveys.
"These results capture the disposition of the public on issues, and in the case of pre-election questions, their electoral preference," it added.
"Across the last two decades, our pre-electoral survey results, particularly those done closest to election day or on election day itself (exit poll) were very close to actual results," Pulse Asia also said.
Gadon's petition is not the first one questioning the release of such surveys.
SWS earlier assailed a provision of the Fair Election Act that barred the release of surveys 15 days before national elections and seven days for those involving local ones.
The SC ruled that the provision "imposes a prior restraint on the freedom of expression, a direct and total suppression of a category of expression even though such suppression is only for a limited period, and government interest sought to be promoted can be achieved by other means other than the suppression of freedom of expression." — Kristine Joy Patag