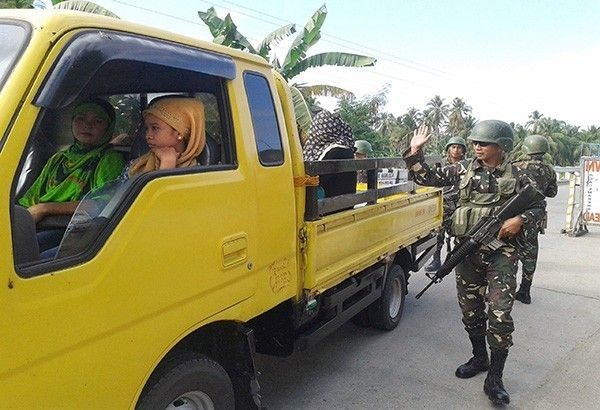 In this file photo, soldiers man a checkpoint on a highway in Maguindanao. At least three petitions challenging the constitutionality of President Rodrigo Duterte's year-long extension of martial law in Mindanao are lodged before the Supreme Court.
Philstar.com/John Unson, File
SC reschedules oral arguments on martial law extension petitions
MANILA, Philippines — The Supreme Court moved the oral arguments on petitions against martial law extension to January 29 and 30.
The court had originally set the oral arguments on the petition filed by the House of Representatives' "Magnificent 7" led by Rep. Edcel Lagman (Albay) on January 22 and 23.
Two more petitions have since been filed from lawmakers of the Makabayan bloc and a group of human rights lawyers led by Christian Monsod, one of the framers of the 1987 Constitution.
The petitioners assert that the extension of martial law in Mindanao lacks factual basis provided by the Constitution.
Article VII Section 18 of the Constitution held that the president may place the Philippines or any place in the country under martial law "in case of invasion or rebellion, when the public safety requires it."
But Solicitor General Jose Calida insisted that rebellion still exists in Mindanao and public safety is still in peril.
The government's chief lawyer added that Duterte specifically mentioned in his letter to the Congress that there were at least four bombings in 2018 and violent incidents committed by the Abu Sayyaf Group and Bangsamoro Islamic Freedom Fighters.
SC consolidates petitions
The SC, in an advisory sent by its Public Information Office, also said that the court moved to consolidate the three petitions.
The tribunal ordered Calida to file the government's comment on the two other petitions before January 25.
The petitioners and respondents were also directed to file their respective memoranda on February 1.